So you already know I'm a huge fan of stir fry, and not to toot my own horn, but  I'm getting pretty good at making it (toot). This recipe is about as easy as it gets, and it involves ingredients that you probably already have in your fridge – or you should.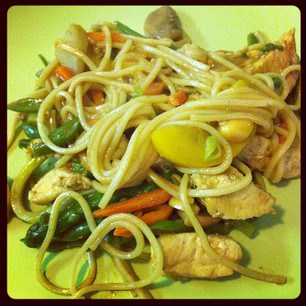 What you need:
Asian noodles cooked according to package (I used pad thai noodles, but if I wasn't broke I'd use Annie Chuns healthier variety)
1 chicken breast
Frozen stir-try vegetables (I used asparagus stir-fry)
Fresh ground ginger and garlic
Dime-size amount of sesame oil
For the sauce: soy sauce, almond or peanut butter, sriracha, honey, peanuts
What you do:
1. Heat sesame oil in a wok or pan (add extra vegetable oil if needed)
2. Add ginger and garlic, saute for a few minutes, then add veggies and pre-cut chicken. Cook until done.
3. Meanwhile, whip up your peanut sauce. I just eyeball the amounts: stir together soy, sriracha, honey and nut butter in separate bowl.
4. Add sauce to wok, along with peanuts to garnish, and stir fry for a few minutes. Enjoy!