I'm not sure anyone loves fall more than me, but if they think they do I'll thumb wrestle them for the title of All Time Biggest Fall Lover. Okay maybe that's being dramatic but I really am a big fan of the season. And I'm an even bigger fan of pumpkin flavored everything! So, when I saw pumpkin truffles on Pinterest, I immediately knew what I'd be doing with my Saturday.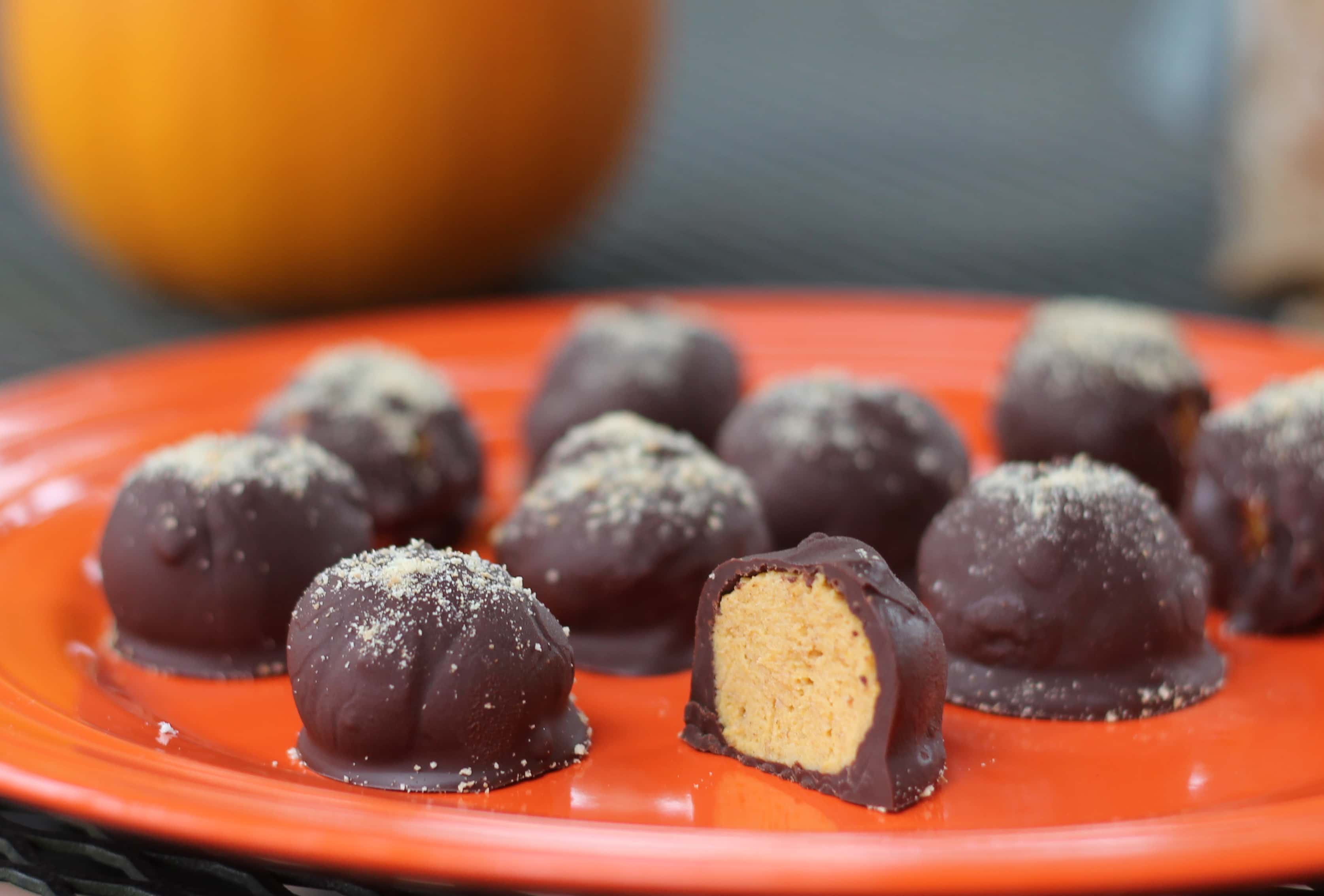 The center of the pumpkin truffles is really sweet, so the bitter dark chocolate coating is perfect. I'm not even a dark chocolate fan, but these are good. Like, really good. Perhaps one of the best pumpkin dessert recipes I've made.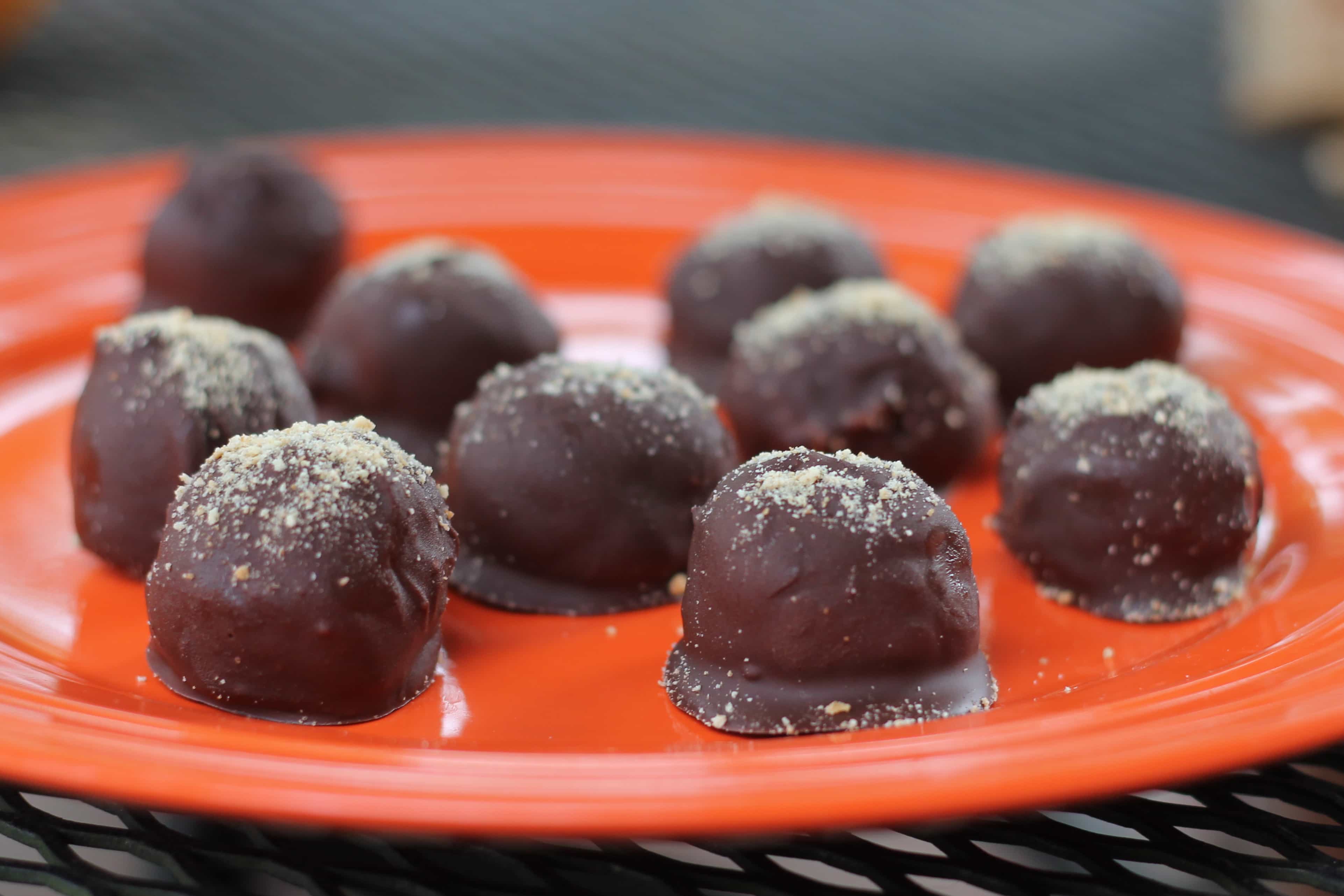 Although the recipe is pretty straightforward, if you've ever tried to make chocolate-covered anything, you know how much of a pain in the rear it can be. The recipe I followed said to microwave the dark chocolate, but chances are if you try it that way your chocolate will dry out or be too hard to dip the truffles in. So what you must do is … jerry-rig a double boiler.
Sure you could get a fancy double boiler pan, but who has money for that?! Instead, you get a pot, a metal object (I used a nut cracker HA) and a coffee mug and make the magic happen. Oh and I have a special trick for making your chocolate thinner (i.e. more dippable) – add vegetable shortening! (Then don't tell anyone you added vegetable shortening to chocolate) Further instructions below.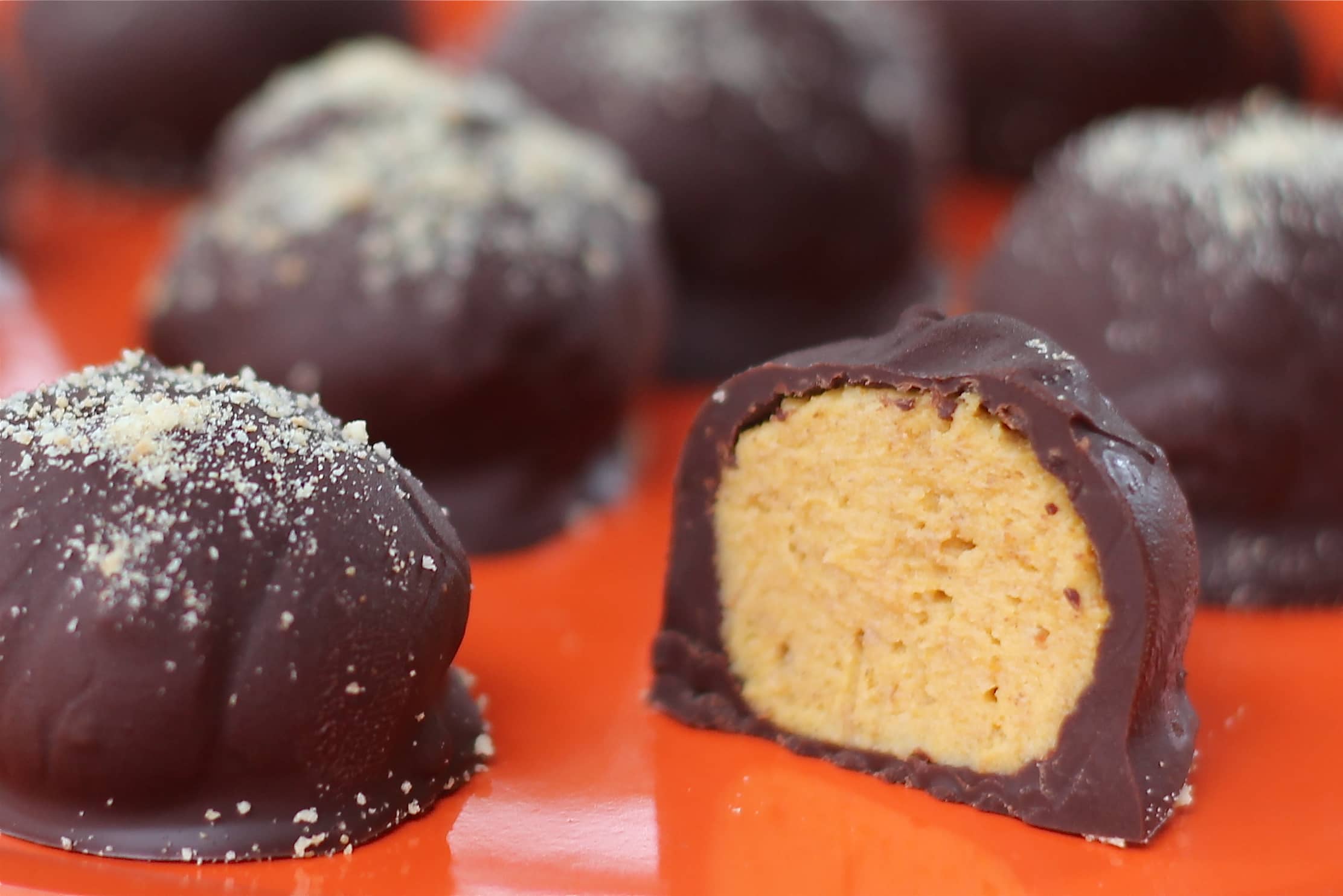 Dark Chocolate Pumpkin Truffles
Yield: 18 truffles
Plan for 3 hours chill time
What You Need:
1/2 cup white chocolate chips
1/4 cup canned pumpkin puree
2/3 cup crushed graham crackers, plus extra for garnish
1 ounce cream cheese
1 tablespoon powdered sugar
5 ounces dark chocolate
2 teaspoons vegetable shortening (trust me on this)
What You Do:
1. Melt the white chocolate in a microwave safe bowl for 60 seconds, then 15-second intervals until it's completely melted.
2. Add the white chocolate, pumpkin, graham crackers, cream cheese and powdered sugar to a food processor. Blend until a dough ball forms, refrigerate dough for 3 hours or until pretty firm.
3. Roll the dough into 1-inch balls (it should be pretty sticky) and place on a parchment lined baking sheet. Freeze the balls for 15 minutes.
4. Now, set up your double boiler contraption: Put your dark chocolate chips in a ceramic mug and place the mug inside of a large stock pot. Fill the pot (not the mug) with water until the fill line is halfway to the top of the mug. If you have some kind of metal object (I used a metal nut cracker) to set between the pot and the mug, it will prevent the mug from getting too hot on the bottom.
5. Bring the water to a SLOW boil, while gently stirring the chocolate as it melts. Once melted, use a toothpick or fork to dip the truffle balls into the chocolate and place back on parchment paper. If your chocolate becomes too thick to work with, gently stir in 1 teaspoon of vegetable shortening at a time – it will thin it right out!
6. Let the truffles harden in the fridge for about an hour before serving.
Also, girls will be girls. And by that I mean the fall references on every social media channel aren't going away. Until it snows.