So, I was just about to add a different, much less appealing recipe and came across this photo sitting in my media folder. OHHHH! How could I almost forget about this one? It's a paleo breakfast casserole that's layered with eggs, sweet potato, turkey sausage and vegetables. And it is amazing. It was my breakfast for a whole week during the time that I was in cruise-preparation mode.
Now this isn't my first or second sweet potato breakfast recipe, but this might be my favorite. I'm not a huge fan of sweet breakfasts, so savory recipes that can be made ahead of time are sort of my thing. This one's perfect because you can cut it, freeze it, and take a piece to work for breakfast each day! It reheats beautifully … a perfect quick paleo breakfast casserole recipe if you ask me.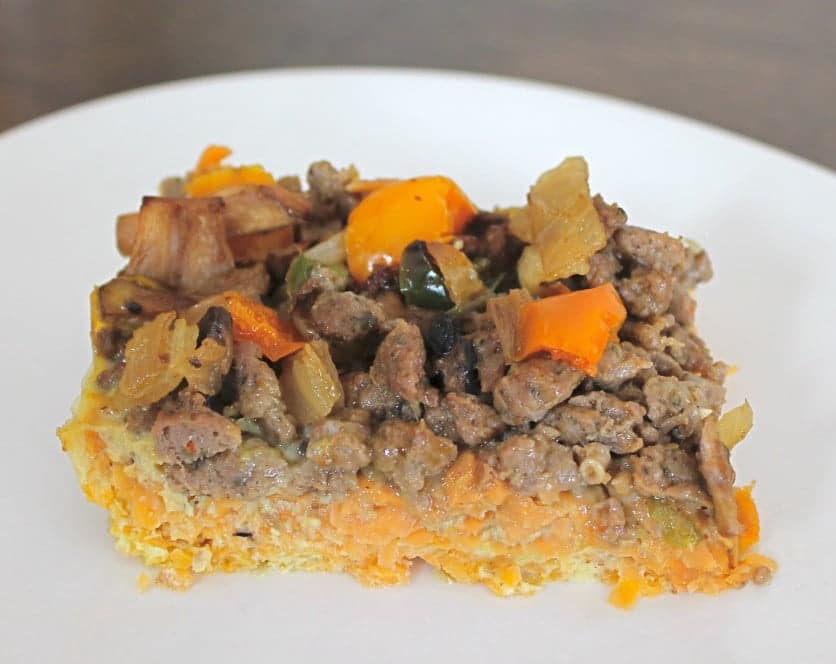 Paleo Sweet Potato Layered Breakfast Casserole
What you need:
2 small sweet potatoes
3 tablespoons coconut oil
1 bag precooked turkey sausage crumbles (you can use any sausage you like!)
½ onion, diced
1/2 green and orange bell pepper, diced
5 eggs
½ cup coconut milk
¼ teaspoon sage
Red pepper flakes (to taste)
Sea salt and pepper (to taste)
What you do:
1. Preheat oven to 350 degrees F.
2. Grate the sweet potatoes, place in a microwave-safe bowl, and microwave for 2 minutes to soften them up. Pat with paper towels to get rid of extra moisture.
3. In a medium skillet, heat coconut oil and sauté the onions and bell peppers. If your sausage is not precooked, cook it at this time in the same skillet.
4. Beat the eggs in a bowl, then stir in coconut milk, sage, red pepper flakes, salt and pepper. Spray a 9 x 13-inch casserole pan with cooking spray, then assemble the casserole. Spread the sweet potatoes on the bottom, then add the sausage, then the vegetables. Pour the egg mixture all over the top.
5. Bake uncovered for about 45 minutes or until a toothpick comes out clean.