GUEST POST! Okay, so this isn't the kind of guest post written by another paleo-loving food blogger. Instead, it's a recipe submitted to me by my sister, who has always been a much better cook than me. But don't tell anyone I just admitted that.
Since anyone who knows me knows that I can't cook or eat anything without first snapping a picture of it, my sister was nice enough to photograph this lovely meal so I could share the recipe with you! It's a spaghetti squash "fried rice" flavored with all my favorite Asian ingredients: sesame oil, garlic, ginger and soy sauce. The beauty of this grain free treat is that it's super easy to make and a great way to use up extra veggies and whatever protein you have on hand.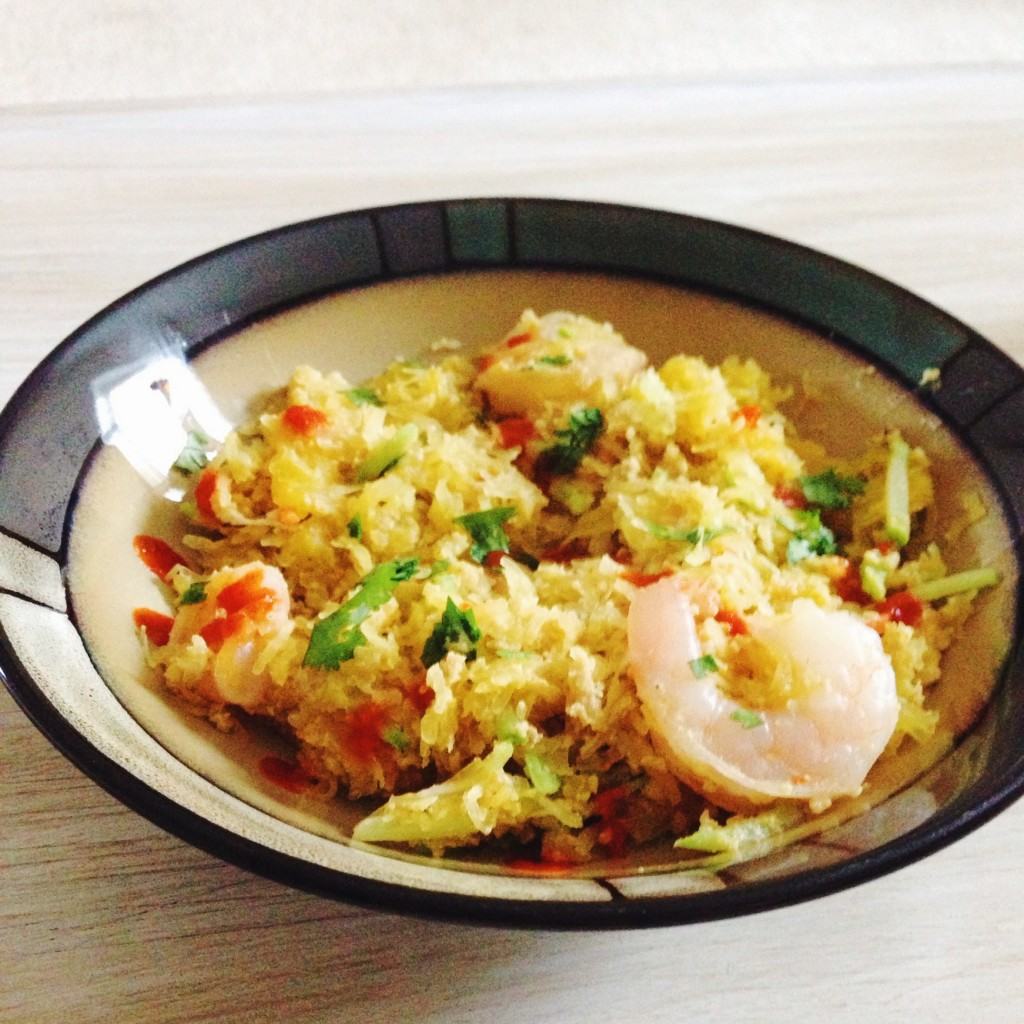 Spaghetti Squash "Fried Rice"
Ingredients
1 spaghetti squash
2 teaspoon olive oil, divided
1 teaspoon sesame oil
1 egg
1 egg white
Shrimp or other protein
1/2 cup broccoli slaw (to taste)
4 cloves garlic, minced
1 tablespoon fresh ginger
2 tablespoons soy sauce (GF if needed)
Instructions
Pierce your spaghetti squash all over with a knife. Microwave for 8-10 minutes until soft to the touch or roast in the oven for 45-55 minutes at 425. Once cooled, carefully open, scoop out the seeds, and pull into strands using a fork. You can cut the squash into "rice" sized pieces if desired.
Heat 1 tsp of oil in your pan over medium high heat. Whisk together the egg and egg white. Season with salt and pepper. Add the eggs and cook until just scrambled. Remove and set aside.
In the same pan, sauté shrimp on both sides until cooked through. Remove and set aside.
Add the sesame oil and remaining olive oil to the pan. Then add the broccoli slaw, garlic, ginger, and any other veggies you like. Cook for 1-2 minutes until they just begin to soften.
Add the spaghetti squash and cook for 2-4 more minutes, stirring constantly, until it begins to crisp up.
Add the soy sauce, egg and shrimp. Stir together and cook for 1 more minute.
If you love spice as much as I do, top it with a little schiracha!
7.6.4
13
http://smilesandwich.com/2014/04/14/spaghetti-squash-fried-rice/