Have you ever heard of PaleOMG? Well … she can pretty much convince anyone to adopt a paleo lifestyle with her delicious (and easy to make) recipes. I once spent multiple hours just scrolling through her entire archive of recipes and didn't even regret it after. She also happens to be the queen of paleo banana bread recipes. When I came across her recipe for Paleo Coffee Cake Banana Bread, I all but ran to Whole Foods to buy almond and coconut flour. I mean, this bread combines my two favorite things and is healthy all at the same time. No-brainer.
The taste of this paleo banana bread is amazing. It has great sweet banana flavor (use those black nanners) but the cinnamon streusel on top sends it right over the edge. The difference between this paleo bread and normal banana bread is in its consistency. When I made this bread, it turned out VERY moist. Which isn't a bad thing … just always be sure to have napkins when eating it. 🙂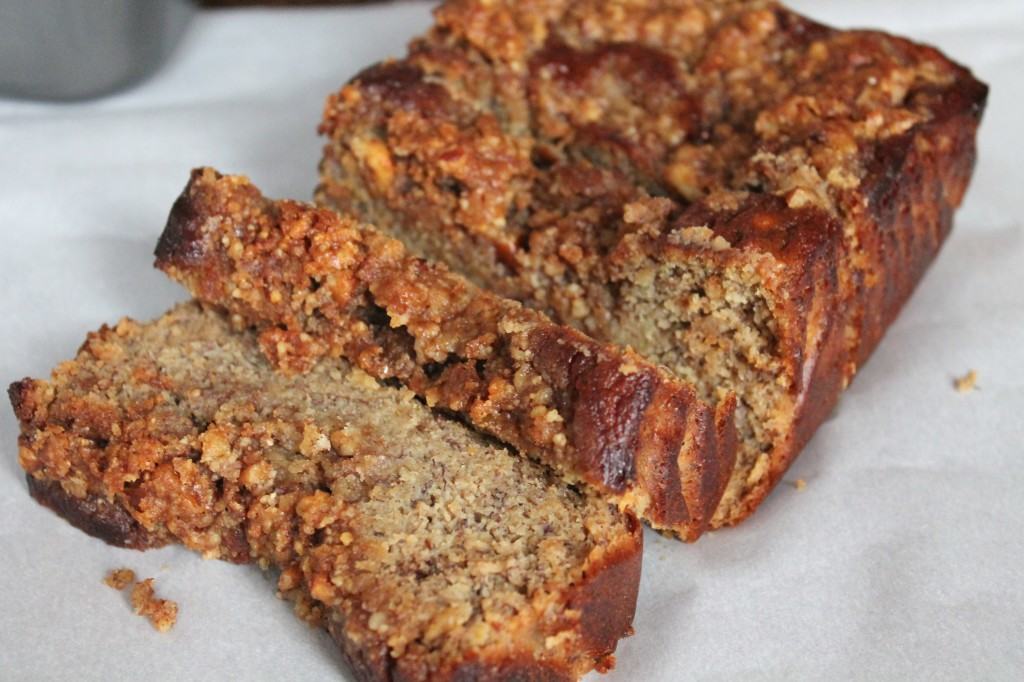 Paleo Coffee Cake Banana Bread
Ingredients
3 brown bananas, mashed
¼ cup maple syrup
1 teaspoon vanilla extract
3 eggs
½ cup almond butter (or other nut/seed butter)
¼ cup coconut flour
½ teaspoon baking soda
½ teaspoon baking powder
1 teaspoon cinnamon
pinch of salt
For the toppings
4 tablespoons (1/4 cup) grass fed butter, at room temperature (or coconut oil)
2 tablespoons coconut sugar
2 tablespoons almond flour
1 teaspoon cinnamon
¼ cup pecans, crushed
Instructions
Preheat oven to 350 degrees F. Grease an 8.5×4.5 baking dish with oil then line the middle with parchment paper.
In a large bowl, mix together bananas, maple syrup, vanilla extract, eggs, and almond butter. Add coconut flour, baking soda, baking powder, cinnamon and salt and mix well.
Pour batter into baking dish.
In a small bowl, add butter, coconut sugar, almond flour, cinnamon, and pecans. Use your hands to mix the toppings together.
Sprinkle the toppings on top of the banana bread mixture.
Place the bread dish on a baking sheet and bake for 50 minutes.
Remove from oven, place on cooling rack and let rest for 5-10 minutes before cutting and serving.
7.6.4
17
http://smilesandwich.com/2014/05/14/paleo-coffee-cake-banana-bread/