This Easy Chili Stuffed Spaghetti Squash is the perfect quick dinner idea – whether you're using up leftover chili or simply want to serve a fall meal that's comforting and filling.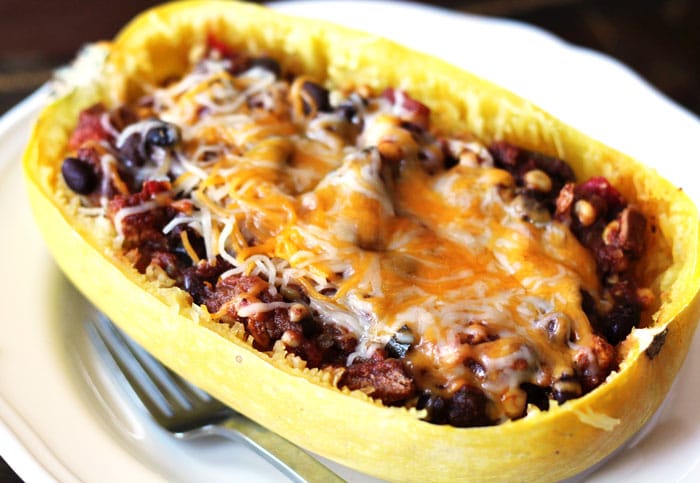 I'm going to try something different today and show you a recipe involving chili. HA!
Get it? Because I've posted approximately 17 chili recipes already this fall?
But I'm telling you … this one is worth it. Easy Chili Stuffed Spaghetti Squash is an amazing fall dinner idea that's the perfect way to use up leftover chili. Since I've made several batches of chili already this fall, I've been having fun coming up with new ways to serve it. This was definitely one of my favorites.
If you have yet to discover the magic of spaghetti squash, I suggest you run to your store and buy some of these yellow beauties soon. I get embarrassingly excited every time they come back into season because I just love them so much. Use spaghetti squash in place of pasta, served with butter and spices, or stuffed with any delicious creations you can think of.
Easy Chili Stuffed Spaghetti Squash is a stuffed spaghetti squash recipe with leftover chili (any you like!) and cheese. That's it! Just three ingredients and you'll have this delicious dinner ready in no time.
What makes it so easy is that it's all prepared in the microwave. Now, you can use your oven if you have time, but if you're in a rush just microwave the squash, stuff it with chili and cheese, then continue heating until the cheese is melted. How easy is that!?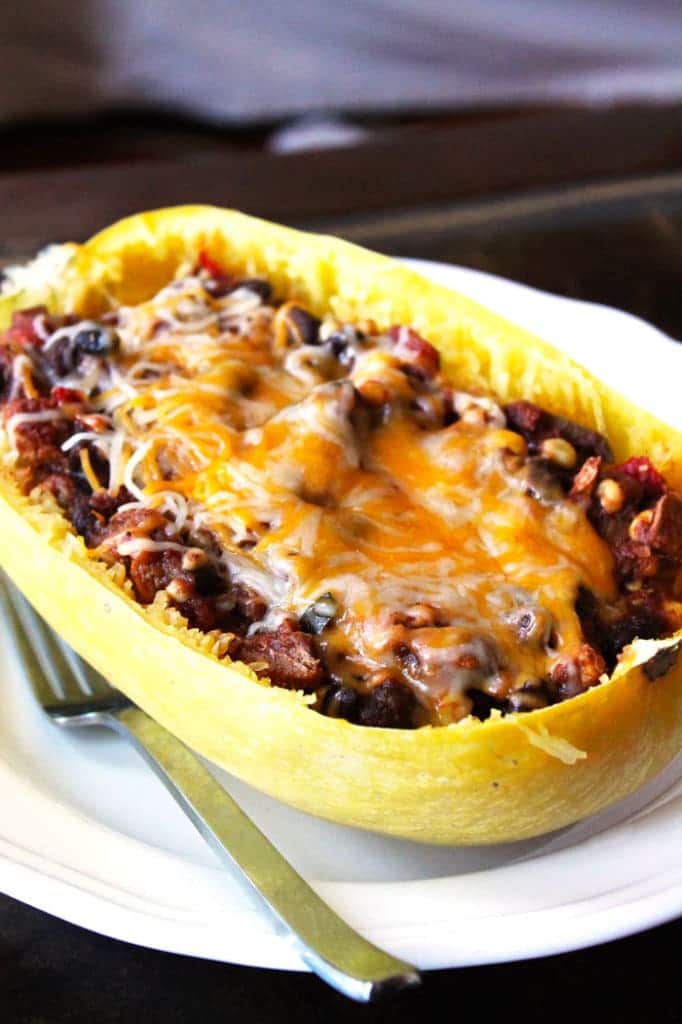 Easy Chili Stuffed Spaghetti Squash
Ingredients
1 small to medium spaghetti squash
2 cups chili (homemade from your favorite recipe, leftover, frozen, canned, whatever!)
1/2 reduced fat cup Mexican blend cheese
Instructions
Using a very sharp knife, cut the squash in half lengthwise. Scoop out and discard the seeds and guts. Place both squash halves face down in a microwave safe bowl with a couple tablespoons of water. Microwave on high in 5-minute increments until the squash is soft and the "noodles" are easily peeled from the skin. Mine took about 10 minutes.
Let the squash cool enough to handle. Use a fork to peel away all the squash from the skin, setting aside the skin for stuffing later.
Place the squash back in the empty bowl and microwave 2 minutes longer. Drain the excess liquid.
Microwave your chili for about 1 minute, just until it starts to get warm.
Place the squash back in the shells, top each with warm chili and cheese, then microwave just until the cheese is melted.
7.6.4
79
http://smilesandwich.com/2014/11/13/easy-chili-stuffed-spaghetti-squash/