These Sweet Potato Breakfast Burritos are super easy to make ahead of time and freeze for quick breakfasts! With sweet potato and red bell pepper hash, bacon, eggs, cheese and salsa, this is one delicious and easy healthy breakfast recipe.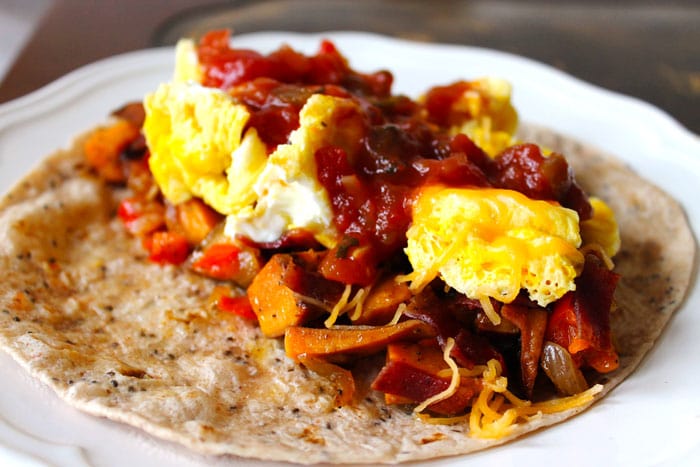 So …. heat is expensive. Sometimes I think about what I could buy each month with the money I spend just on our gas bill.
New shoes …
My gym membership …
A fur coat to keep me warm …
17 new blankets …
See. A new pair of shoes every month would be great. Instead, I throw all my money away just trying to survive the Chicago winter. Being an adult is hard. After our record-breaking month of December, I've officially resorted to placing three blankets on top of my comforter and turning the furnace down to 60 degrees. As I type this post right now I wish I had gloves on.
Damn it feels good to be a gangsta.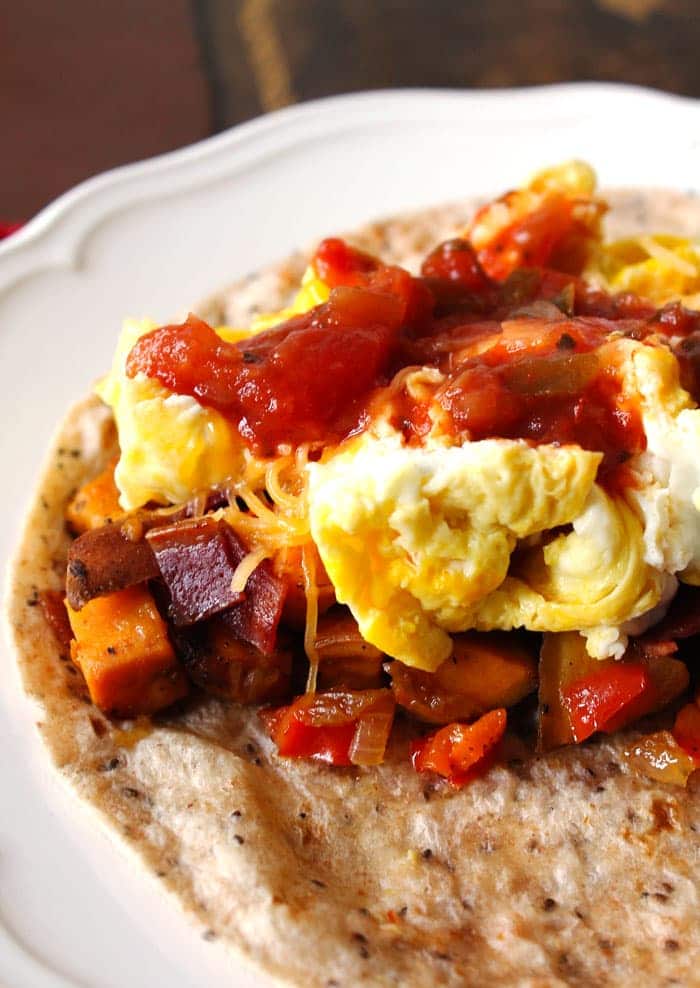 So each morning when I reluctantly drag myself out of bed and break the icicles of my nose and eyelashes, I heat up one of these delicious Sweet Potato Breakfast Burritos. This the perfect make-ahead breakfast recipe to prepare on a Sunday and freeze for quick breakfasts all week, or even month!
Just assemble the Sweet Potato Breakfast Burritos, wrap them individually in plastic wrap, label with the date and freeze! Grab one in the morning, microwave for about 1-2 minutes, and ENJOY! If you're freezing these, leave the salsa out and spoon it on top after microwaving.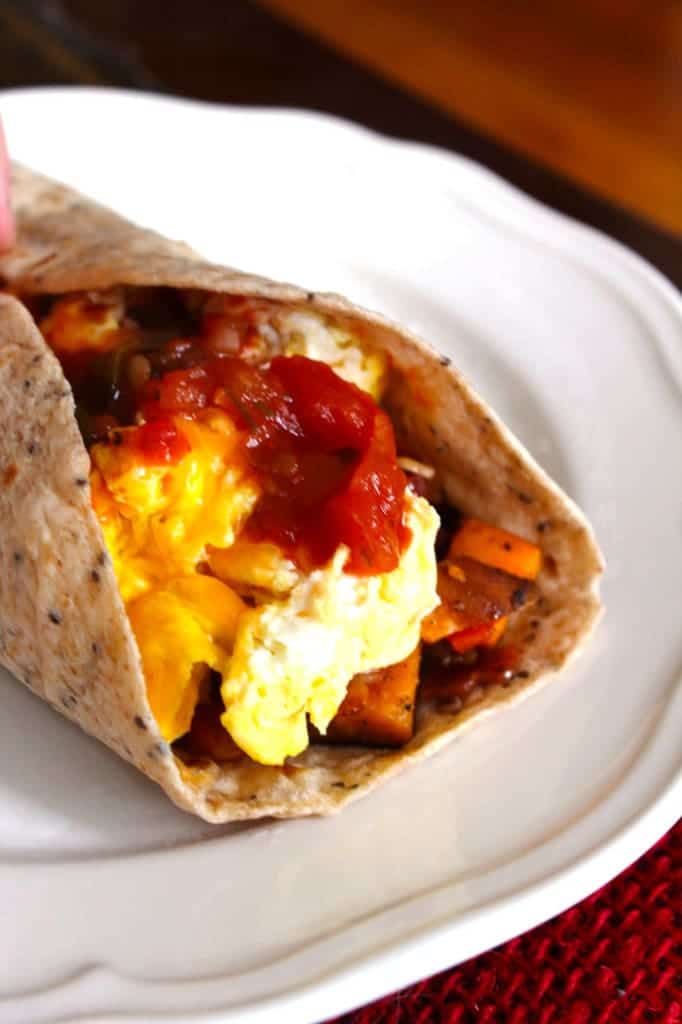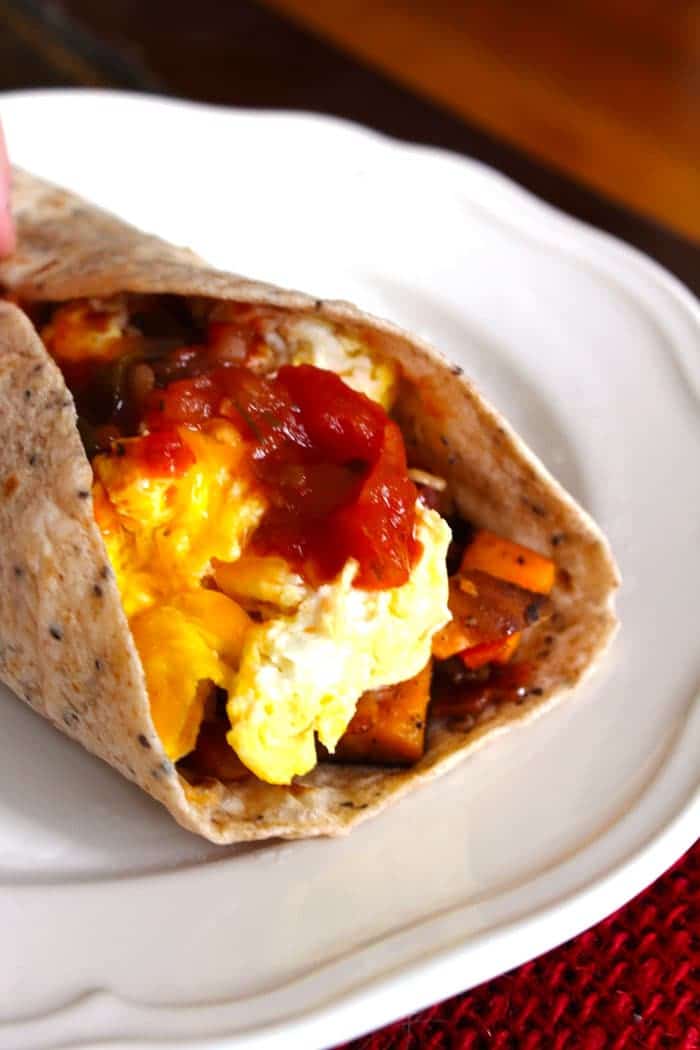 Sweet Potato Breakfast Burritos are filled with sweet potato hash, bacon, eggs and cheese. They taste like classic breakfast burritos, with the added health benefit and flavor of sweet potatoes in place of regular potatoes. The bacon, egg and melty cheese pairs perfectly with the sweet potato hash to create the perfect wholesome, protein-packed breakfast.
Oh, and since we're on the topic of breakfast, I wanted to share with you a guest post I wrote for Groupon of 9 Of The Best Bottomless Brunches in Chicago! If you're a Chicagian, or ever visit, why not get your drink on while enjoying one of the chicest meals of the week? 😉
Sweet Potato Breakfast Burritos
Ingredients
8 whole wheat tortillas (I actually used Trader Joe's Chia Seed Flour Tortillas)
8 slices turkey bacon
1 tablespoon olive oil
2 small sweet potatoes, diced
1 onion, chopped
1 red bell pepper, chopped
10 eggs
salt and pepper
shredded cheddar cheese
salsa
Instructions
In a large skillet, fry bacon until crisp in batches. Remove, set aside, and dice or crumble.
If there's no grease left in the pan, add oil. Combine sweet potatoes, onion, and pepper in the pan and let cook until the potatoes are soft. Add salt and pepper to taste, remove from heat.
Whisk the eggs together (you can add a dash of milk, salt and pepper if you wish), and scramble in a separate pan.
Next, assemble the burritos. Place some of the potato hash on a tortilla, topped with bacon, eggs, cheese and salsa. Roll and ENJOY!
To freeze, assemble burritos without the salsa. Cover individually with plastic wrap and freeze. To eat, microwave for 1-2 minutes or until hot and top with salsa.
7.6.4
101
http://smilesandwich.com/2015/01/29/sweet-potato-breakfast-burritos/