Steak, red potatoes, peppers, onion and egg are combined to make this super easy breakfast recipe! One Pan Steak and Red Potato Hash is the perfect recipe to use up leftover steak or beef tenderloin.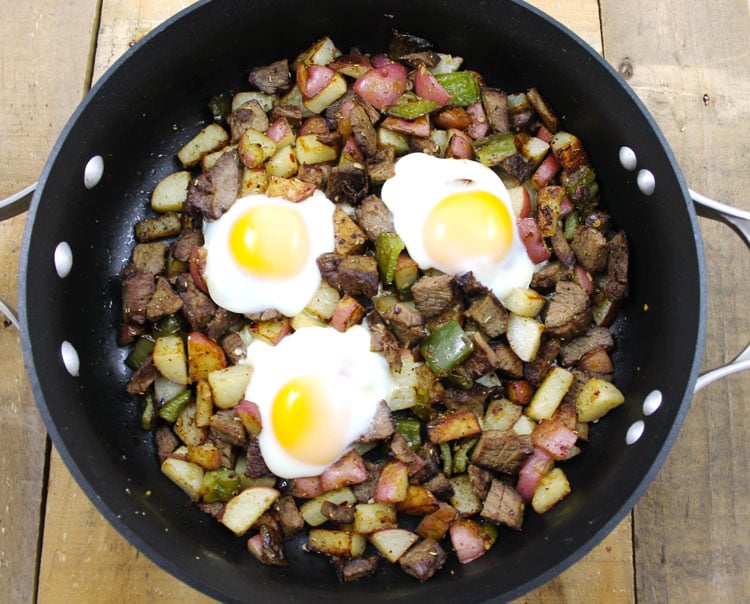 There are few breakfast foods I like more than a skillet with meat, eggs, and potatoes. Which is why it's no surprise that this One Pan Steak and Red Potato Hash is one of my favorite recipes I've made.
It's a super easy breakfast recipe packed with protein … and it tastes delicious! I mean, how can you go wrong with tender steak, slightly crispy red potatoes, and runny eggs on top? This is one of those breakfast recipes you can feel confident that everyone will love.
One Pan Steak and Red Potato Hash is especially great if you have leftover steak that you don't know what to do with. I used leftover beef tenderloin to make this hash, and I happily ate it for dinner, breakfast the next day, and breakfast again the next day. Three days in a row means it must be good, right?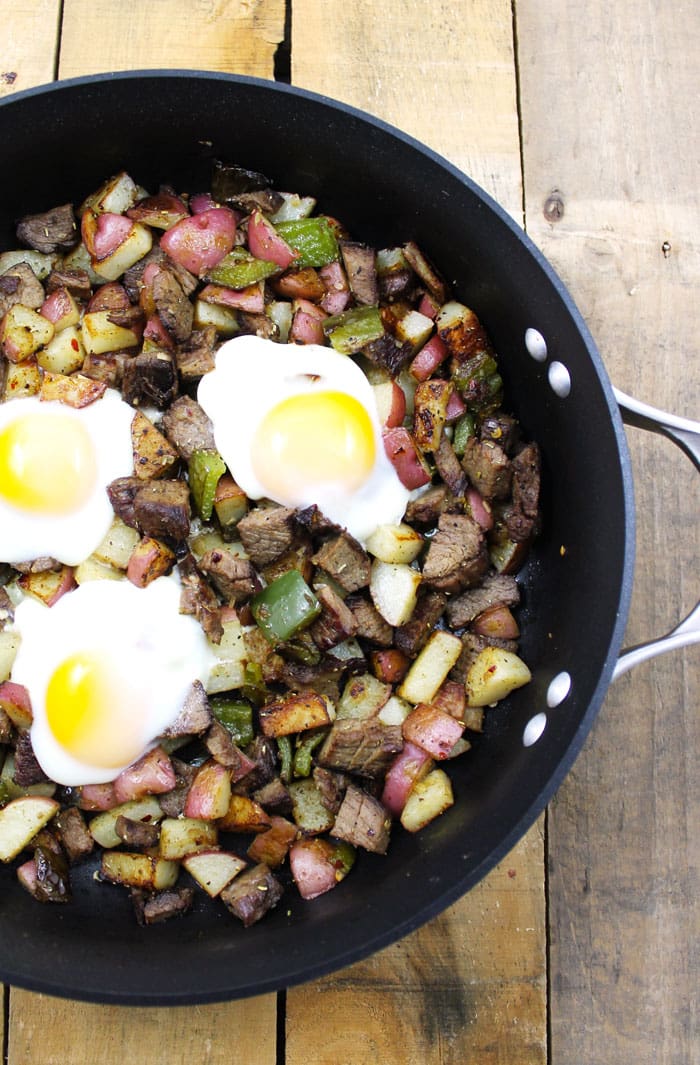 Even better, this is a one pan recipe that will save you time on dishes. Because who wants to be doing dishes in the morning or on the weekends when you're just trying to relax with a big bowl of hash? Am I right?!
This recipe was partly inspired by the rosemary red potatoes my dad used to make us all the time. A simple mixture of butter, onion, red potatoes, rosemary, salt and pepper makes the most amazing breakfast potatoes of your life. I took that recipe and simply added peppers, steak and runny eggs on top. And wouldn't you know, it turned out ahhh-mazing.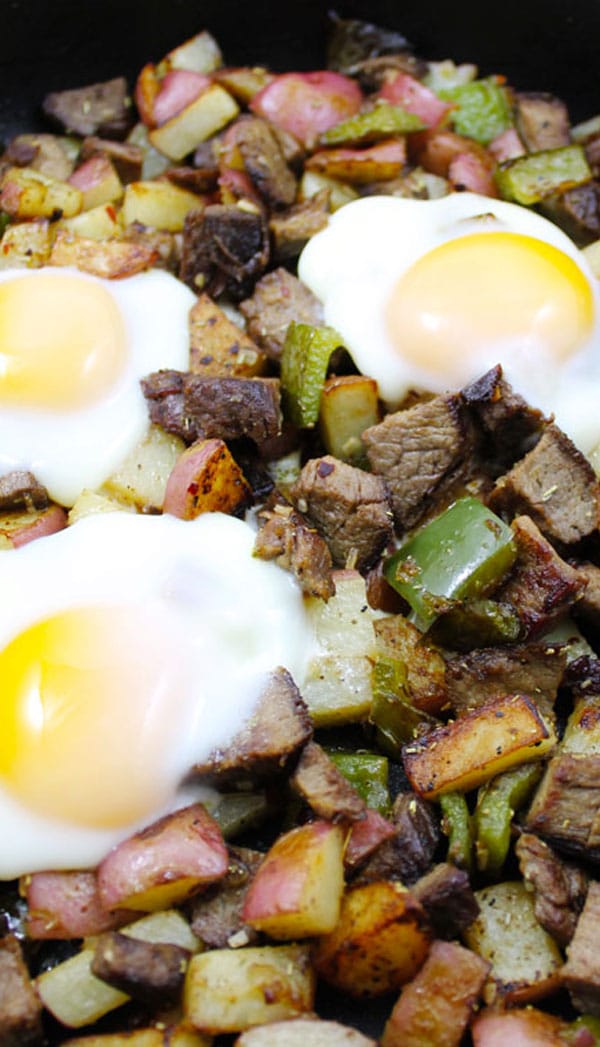 Steak and Red Potato Hash
Ingredients
2 tablespoons butter
1 onion, chopped
1 green pepper, chopped
5-6 small red potatoes, chopped
1.5 cups steak or beef roast, cooked and chopped
2 teaspoons dried rosemary
Salt and pepper, to taste
Eggs
Instructions
Heat butter in a large oven-safe skillet. Add onion, green pepper and potatoes and season with salt and pepper. Let cook until the potatoes are soft, stirring occassionally. If they start to burn, add some olive oil to the pan.
Add in the steak, rosemary and more salt and pepper (if desired) and cook for about 5 minutes more.
Preheat your oven's broiler.
Crack the desired amount of eggs right into the pan of hash. Transfer the pan to the oven under the broiler and let cook until the yolks turn white, or the eggs are done to your liking.
(Alternatively, you can fry the eggs in a separate pan and serve them overtop the hash).
7.6.4
117
http://smilesandwich.com/2015/03/30/one-pan-steak-and-red-potato-hash/