This Easy Stovetop Pulled Indian Chicken is a super simple paleo dinner recipe that only takes about 30 minutes to prepare!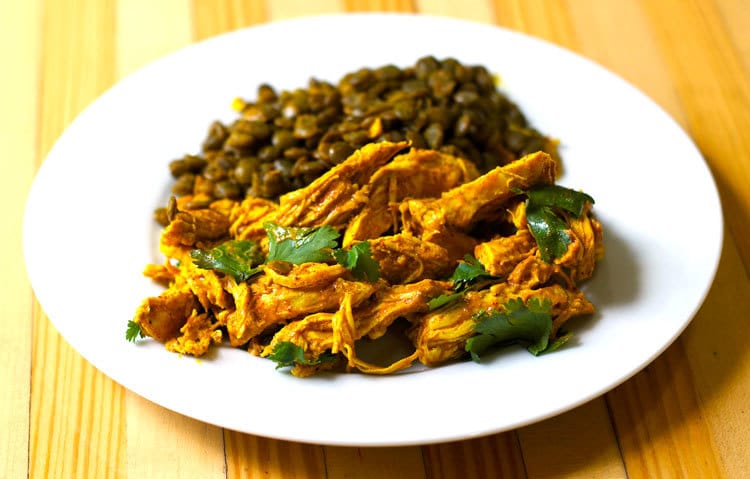 Here goes another one of Jordan's crazy diets.
I recently read Tim Ferriss's 4-Hour Workweek and 4-Hour Diet, both of which I would recommend for sure. And well, they inspired me so much that I'm officially eating lentils and spinach for breakfast.
This Easy Stovetop Pulled Indian Chicken is a paleo-friendly recipe for dinner that takes under 30-minutes to make. It's full of spices, so it's positively bursting with flavor. The only bad thing about it is that it makes your office smell very distinct when you re-heat it at work. (Ask me how I know).
It's made with coconut milk, but I promise you won't taste the coconut. It just gives the chicken a delicious creaminess. Indian spices are added to make this taste just like butter chicken from your favorite Indian restaurant.
Add some cilantro on top and you've got yourself a delicious low-carb meal that's hard to mess up.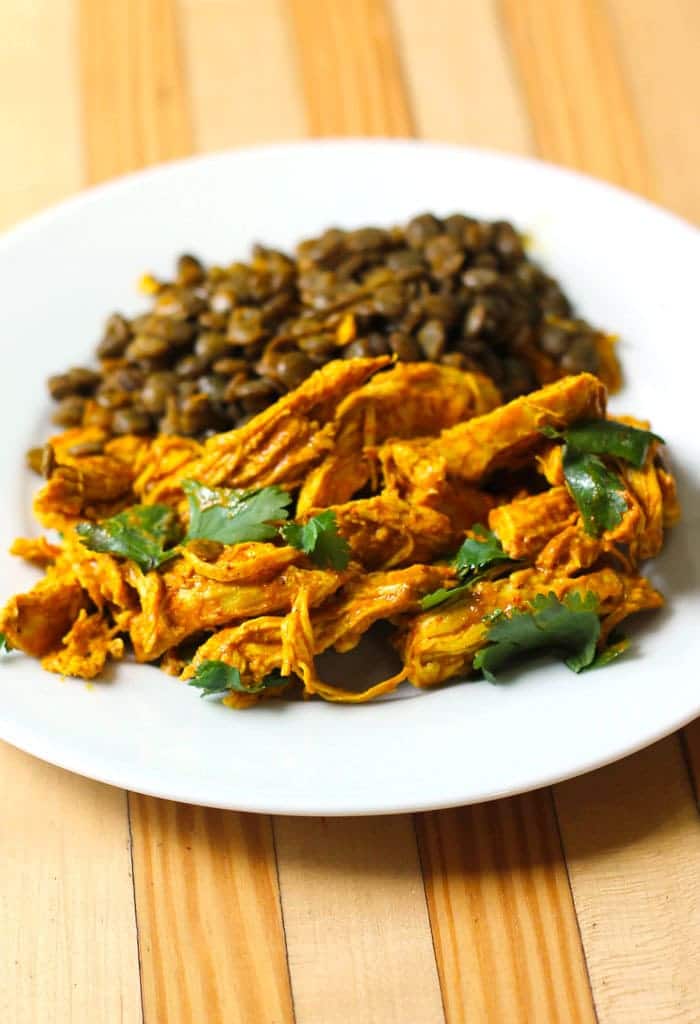 If you're following the 4-Hour Diet, serve this delicious Indian chicken alongside lentils with some curry powder and cayenne. This meal is super filling!
If you're paleo, serve it with some cauli rice or a big green salad.
If you're normal, eat this over rice or with naan bread or both. Go crazy.
(Adapted from The Big Man's World)
Paleo Stovetop Indian Chicken
Ingredients
2 pounds boneless, skinless chicken breasts
4 cups low sodium chicken stock
1/2 onion, chopped finely
1/2 cup coconut milk (or plain yogurt)
2 cloves garlic, minced
1 teaspoon sea salt
1 teaspoon smoked paprika
1 teaspoon cayenne pepper
1 teaspoon cumin
1 teaspoon turmeric
1 teaspoon black pepper
Fresh cilantro, to taste
Instructions
Pour the chicken stock into a large pot and bring to a boil. Add onion, garlic and chicken and boil until chicken is no longer pink.
While the chicken is boiling, mix together coconut milk, garlic and spices.
Once the chicken is done, drain the chicken stock. Remove the chicken from the pan and shred with two forks. Add it back into the pot with the burner off and stir in sauce.
Garnish with fresh cilantro and enjoy!
7.6.4
134
http://smilesandwich.com/2015/06/10/easy-stovetop-pulled-indian-chicken-paleo/