Use up all your extra veggies from the week in these Make-Ahead Brown Rice Breakfast Bowls! Easily customizable and can be made ahead of time for a filling and healthy breakfast all week.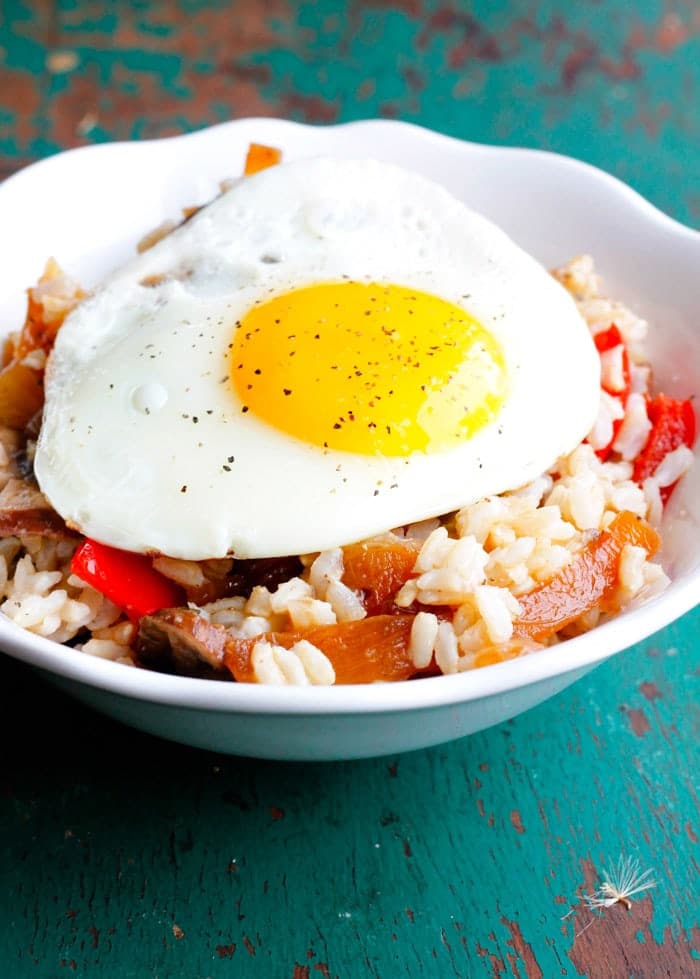 Oatmeal is sssoooo last week. Introducing: MAKE AHEAD BROWN RICE BREAKFAST BOWLS.
Brown rice for breakfast?! Yup, you read that right. Next time you have some leftover brown rice from dinner, turn it into this delicious bowl of goodness to jump start your day. Top this savory grain bowl with a fried egg and that runny yolk will bring it to the next level.
You'll never look at brown rice the same way again.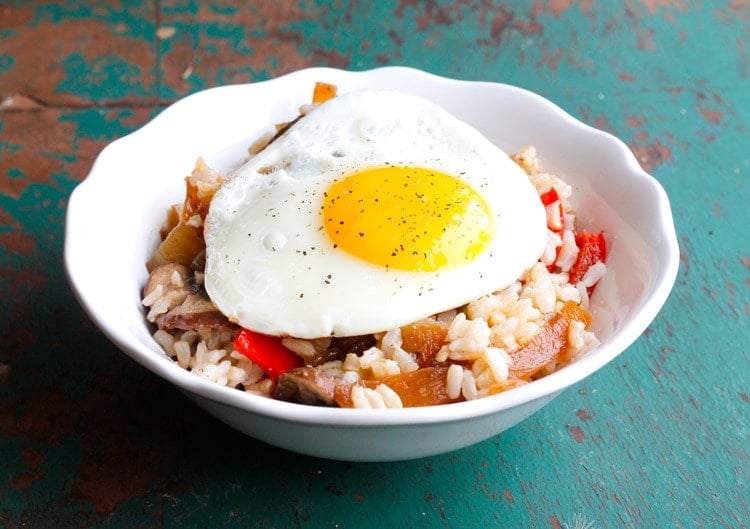 This is more of an idea than an actual recipe because you can literally throw anything you like into these Make Ahead Brown Rice Breakfast Bowls.
All kinds of roasted vegetables. Any cheese you want. Any leftover chicken, beef, bacon, or sausage you happen to have on hand. Just throw it all in there. It's a clean out the fridge kind of meal! The possibilities are endless.
The best part is, this healthy breakfast recipe can be made ahead of time so you can nuke it quick before running out the door in the morning. Make a big old batch of brown rice for dinner one night, then save the rest for breakfasts! Bam! No need to eat rice-y meals 7 nights in a row.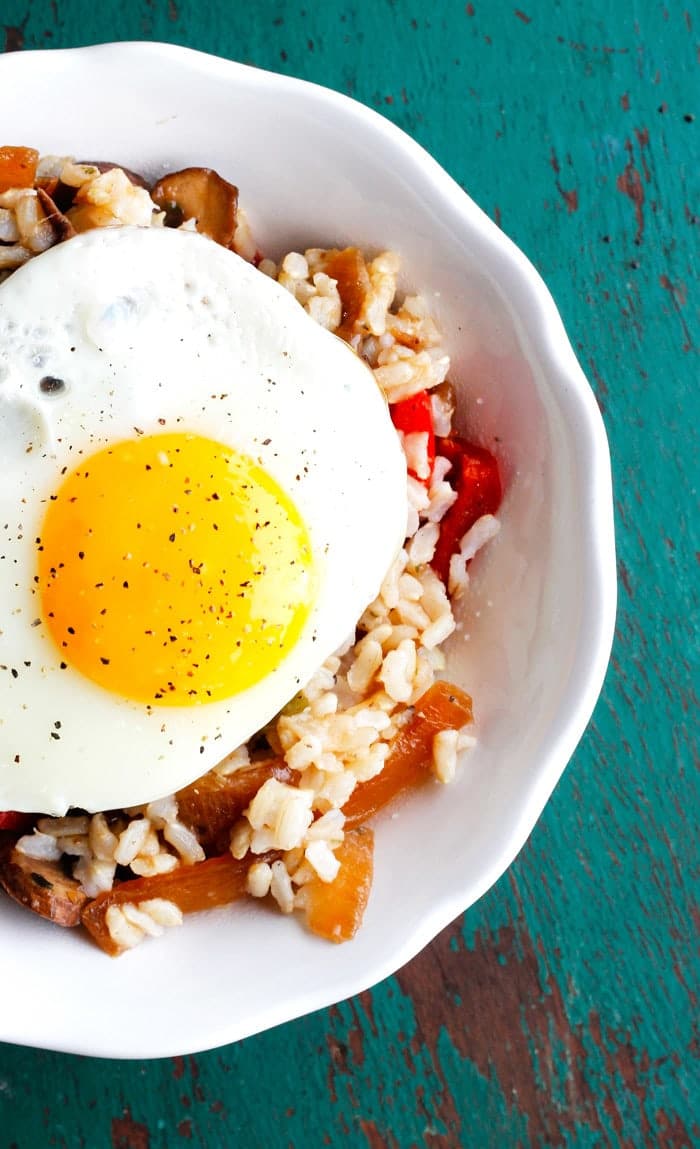 Just the mushrooms alone in this recipe is my all-time favorite way to prepare mushrooms. I could literally slather them on everything and be the happiest gal alive. If you want more of a gravy, add some corn starch at the end. Get on with your bad self.
I like to make this all ahead of time and store it in separate containers. That way, the mushrooms can be used to top meat or potatoes or mashed cauliflower, and the peppers/onions can be used in sandwiches or a whole myriad of other ways.
Make-Ahead Brown Rice Breakfast Bowls
Ingredients
1 onion, sliced
1 red bell pepper, sliced
1 green bell pepper, sliced
1 (8oz) package mushrooms, sliced
2 tablespoons butter, divided
1/2 teaspoon reduced-sodium beef bouillon
1 teaspoon thyme
Salt and pepper, to taste
2 cups cooked brown rice
Eggs
Instructions
Heat 1 tablespoon of the butter in a large skillet. Place onions and bell peppers in the skillet. Sprinkle with salt and pepper and cook, stirring occasionally, until soft and they onions are beginning to brown but not burn.
(At the same time if you're a double tasker) Heat the other 1 tablespoon of butter in a separate skillet. Add mushrooms and cook until they begin to soften. Mix the beef bouillon with 2 tablespoons of water and add to the pan. Sprinkle with thyme, salt and pepper. Cook a few minutes longer until they're done to your liking.
At this point, store everything in the refrigerator if you're making these ahead of time.
To assemble, mix brown rice with onion and pepper mixture and mushrooms, then top with a fried egg. Enjoy!
7.6.4
143
http://smilesandwich.com/2015/07/31/make-ahead-brown-rice-breakfast-bowls/