This Lemon Blueberry Breakfast Quesadilla takes under 10 minutes to make and is the perfect new addition to your breakfast routine.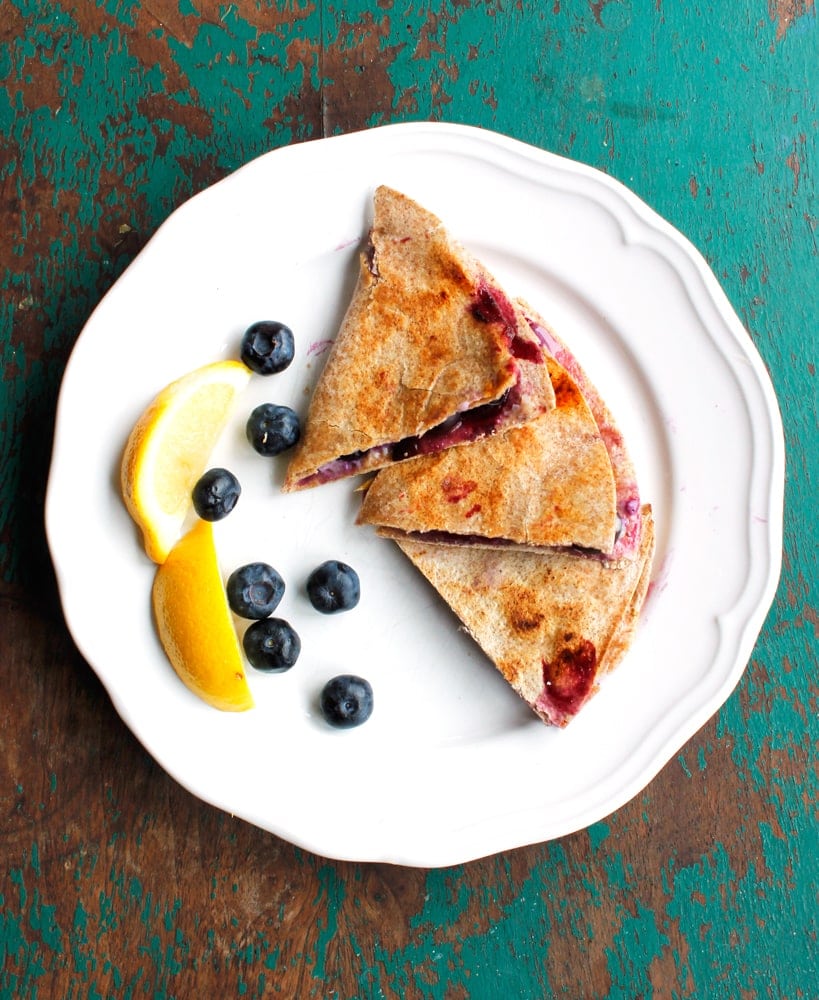 I'm baaaaack!
Okay, probably no one noticed I've been gone but I feel like I dropped off the Earth for a week because I've had pneumonia! And even though I've had ample quality time with my bed this week, I still haven't had time to figure out how to spell that word.
I hate being sick so much because of course I'm miserable, but also because I feel so unproductive. The most productive thing I've done in the past week was watch two seasons of Dexter. Sigh.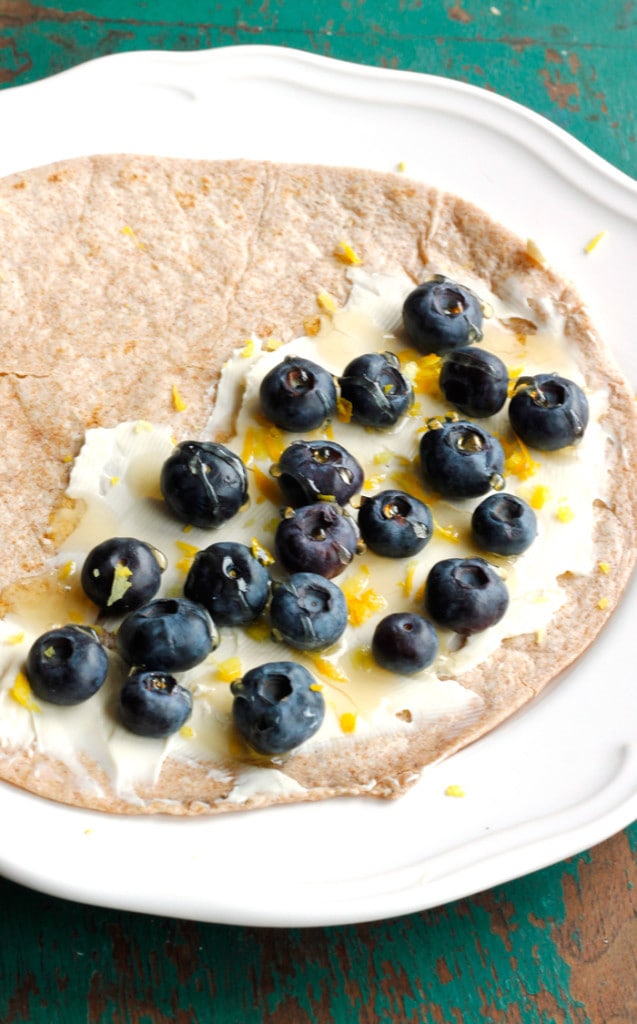 But now I'm on the road to recovery, which means more mornings starting with this Lemon Blueberry Breakfast Quesadilla! I love this recipe because it literally takes less than 10 minutes to make, and it uses ingredients I almost always have on hand anyways.
I love using Laughing Cow cheese wedges to make this quesadilla (only 35 calories per wedge!), but you can also use low fat cream cheese and cut down on the sweetener.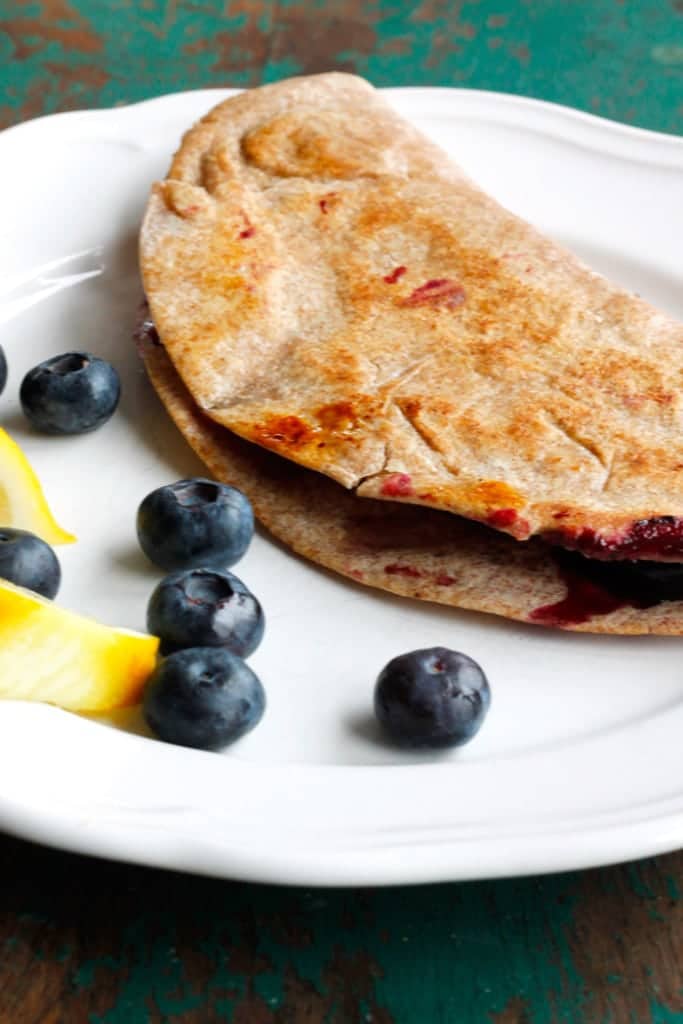 The lemon zest adds a delicious citrus flavor to the sweet and tart blueberries. I pretty much love lemon blueberry flavored anything, so these Lemon Blueberry Breakfast Quesadillas are added to my list of new favorite breakfast recipes.
Once you learn the beauty of fruit quesadillas, you can play around with a whole host of flavors! I love peanut butter banana quesadillas, strawberry chocolate chip quesadillas … the possibilities are endless.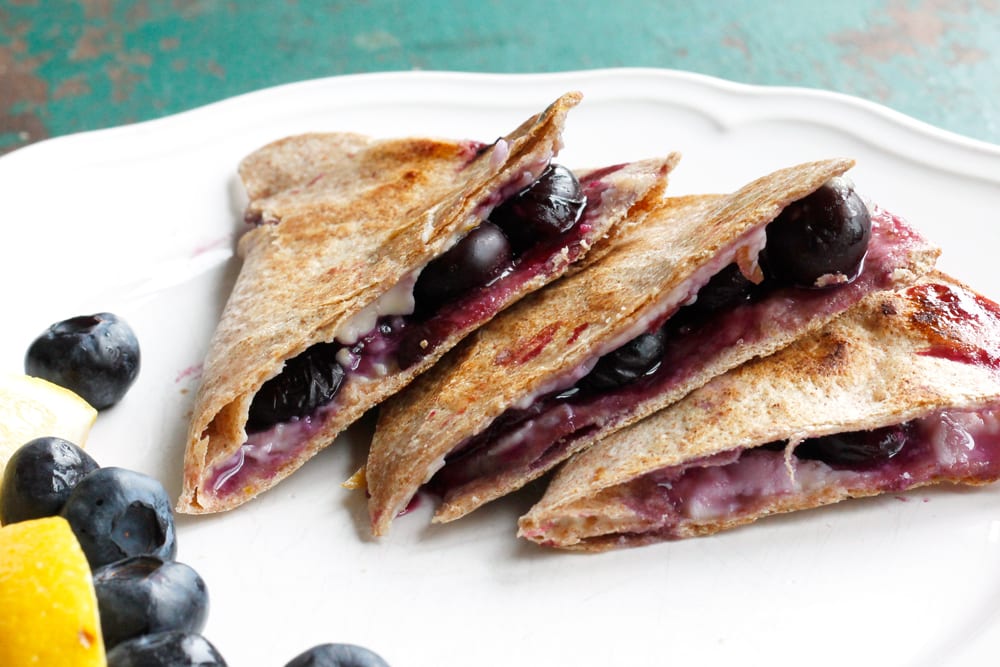 So move over cheese, there's a new kind of quesadilla in town! Sweet quesadillas are where it's at … and this Lemon Blueberry Breakfast Quesadilla is the perfect place to start.

Lemon Blueberry Breakfast Quesadilla
5 minCook Time
5 minTotal Time
Ingredients
1 whole wheat wrap or tortilla
1/2 cup blueberries
zest of 1 lemon
1 wedge light swiss Laughing Cow cheese
1 teaspoon liquid agave
1/2 teaspoon cinnamon
Instructions
Heat a non-stick skillet over medium heat.
In a small bowl, mix the Laughing Cow cheese with agave, cinnamon, and half the lemon zest.
Spread the cheese mixture on the tortilla. Top with blueberries and more lemon zest.
Spray the skillet with non-stick spray, fold the tortilla in half, and grill the quesadilla until golden brown, about 2-3 minutes on each side.
Enjoy!
7.6.4
148
http://smilesandwich.com/2016/03/18/lemon-blueberry-breakfast-quesadilla/
Recipe adapted from
Green Lite Bites
.