Big Mac Salad is an easy salad recipe with all the ingredients of your favorite fast food cheeseburger! Plus, copycat Big Mac sauce for the dressing … I mean come on.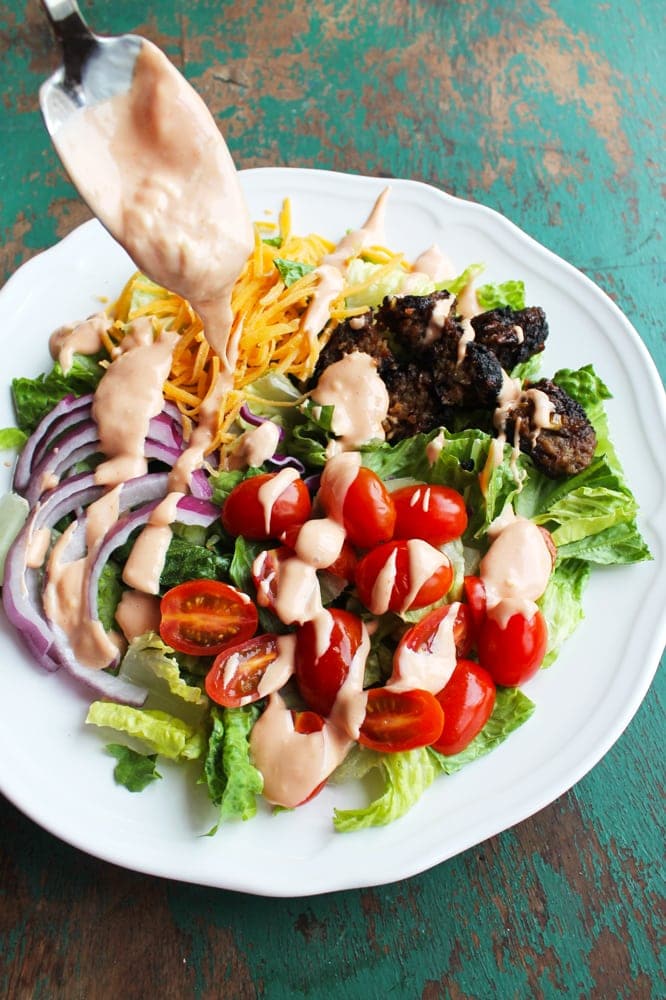 Can we talk about diets for a second? The older I get, the more I'm starting to believe that it really is a four-letter word.
I've tried every single diet known to man, so I consider myself somewhat of an expert. (Totally kidding, I'm no where near an expert). But, in my experience, depriving myself completely of the foods I love has caused nothing but grumpiness and guilt.
If you follow my Instagram, you can see that now-a-days I don't usually spare myself any calories. Pizza, cheeseburgers and donuts are my favorite things on Earth. And by golly if you put them in front of my they will be going in my mouth.
I've learned to manage my diet in a way that's easy and not to restricting. I be sure to always eat healthy when I'm cooking for myself. I pack a healthy breakfast and lunch, plus on the nights I'm home I cook healthy. That way, when I want to treat myself, I do so without remorse.
So, while the food you see here is healthy homemade recipes, I would like to encourage you to adopt the "eat healthy when I'm home, treat myself when I'm out" mentality.
Because if I had to choose between happiness and a hot bod, I'd choose happiness every time.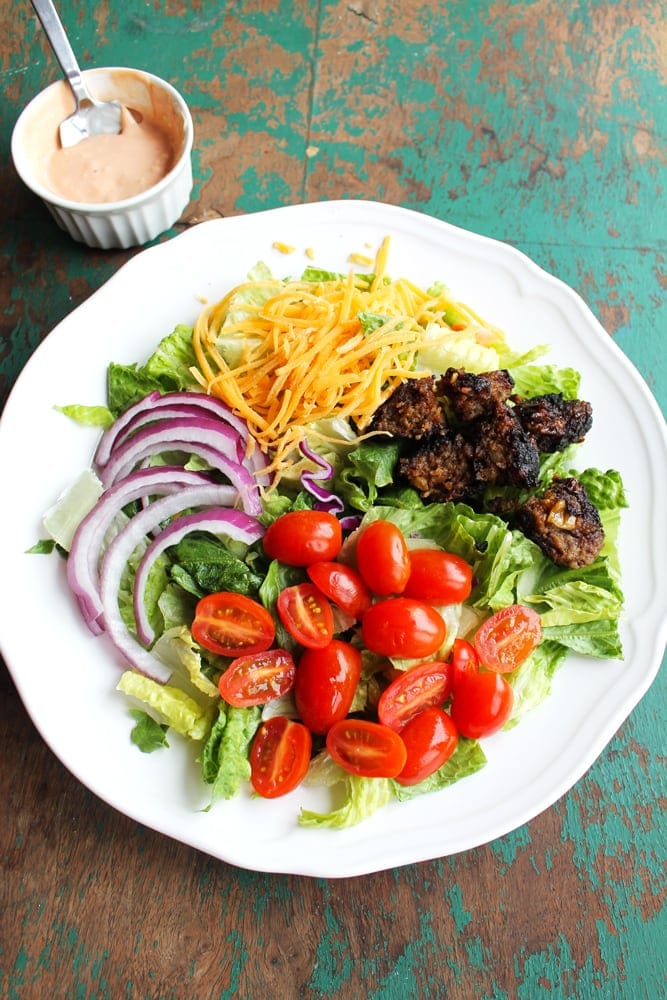 Which brings me to my next point: McDonald's.
If you say you don't love Big Macs you're a Big Liar. That heavenly sauce, combined with those greasy patties and melty cheese. I could probably eat Big Mac sauce with a spoon. Which is why I jumped for joy when I saw this salad recipe idea in my Cooking Light magazine.
Little do you know, Big Mac sauce is just a combination of mayonnaise and ketchup! This Big Mac Salad is a lightened up version of your favorite fast food meal because it uses ground turkey for the burgers, and a bed of lettuce instead of a bun.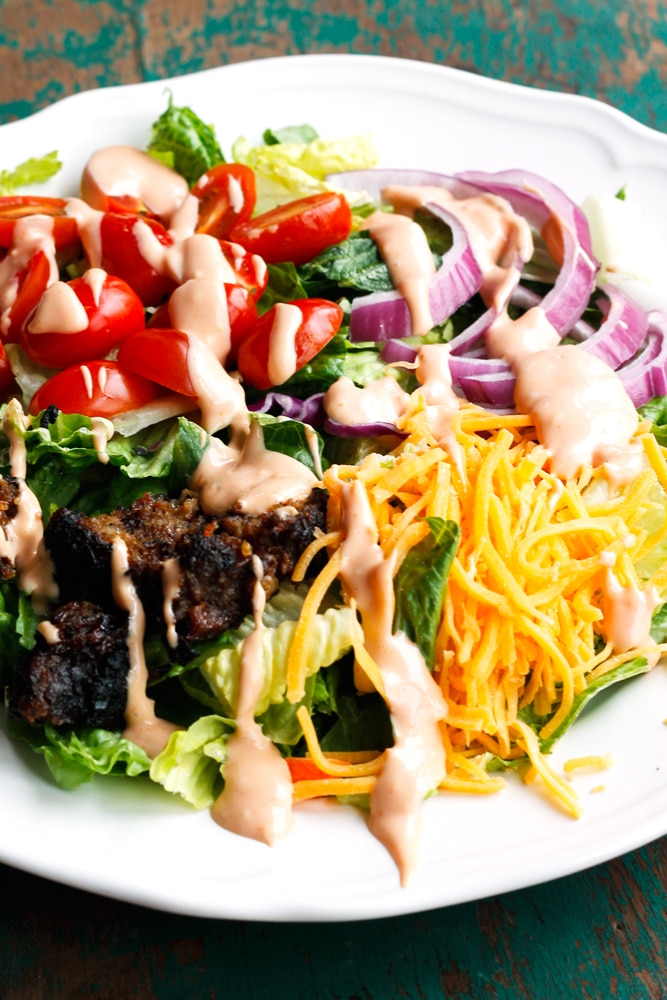 I might have actually physically jumped for joy when I tasted this. It really does taste very reminiscent of that towering burger I love so much.
And while this might not be the healthiest salad recipe in the world, it's a heck of a lot better than the drive-thru. Count it!!!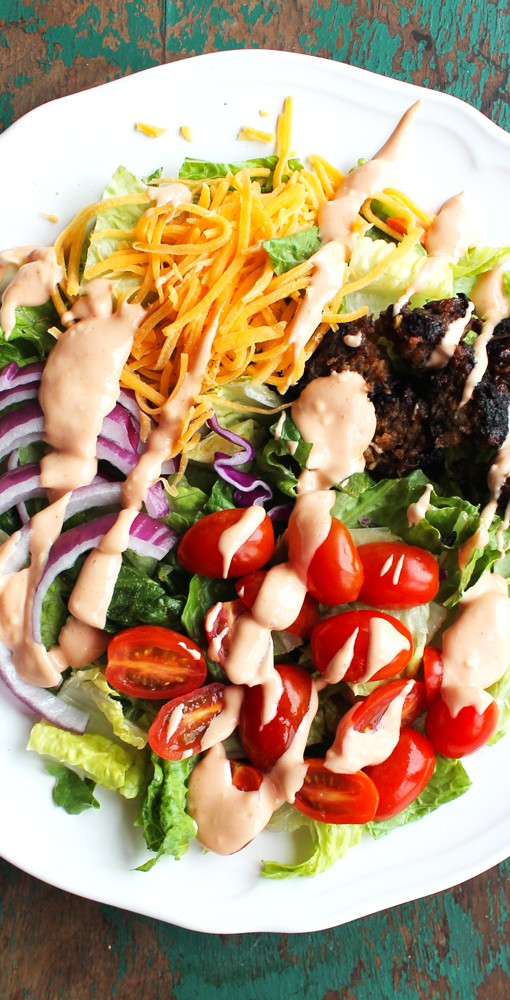 I urge you to make this Big Mac salad recipe. If you don't like it, I will personally buy you a Big Mac to drown the sorrows of time and groceries wasted.

Ingredients
12 ounces ground turkey
Salt and pepper, to taste
1 red onion, thinly sliced
1 (10-ounce) package chopped romaine hearts
1.5 cups chopped tomatoes
3 ounces reduced-fat cheddar cheese, shredded
1/3 cup reduced fat mayonnaise
1/4 cup unsalted ketchup
Instructions
In a large bowl, mix the ground turkey with a generous amount of salt and pepper. Form into patties and cook on the stove or grill.
If on the stove, heat a large skillet on medium-high heat. Spray with non-stick cooking spray. Cook each patty for 5-6 minutes on each side until the center is no longer pink.
Remove the burgers and cut each into large pieces.
Assemble the salad with lettuce, red onion, tomatoes, cheese, and turkey burger pieces.
Mix together mayonnaise and ketchup until smooth. Pour over the salad and serve!
7.6.4
196
http://smilesandwich.com/2016/04/18/big-mac-salad/