These Chorizo and Potato Taco Lettuce Wraps are a low carb version of one of my favorite foods! Perfect for your Cinco de Mayo celebration.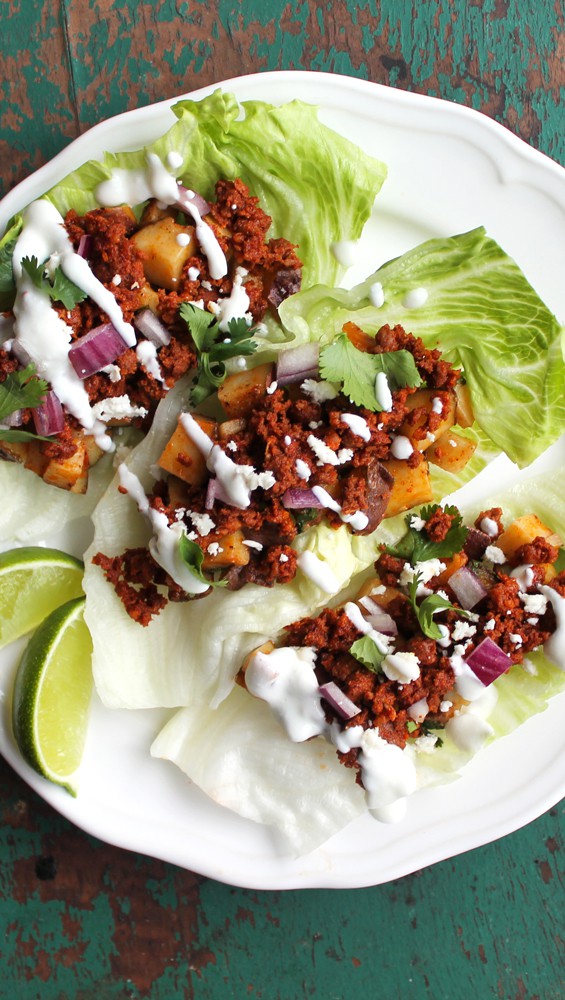 It's almost time for one of my favorite holidays: Cinco de Mayo! And by "almost time" I mean it's two days away … but better late than never when it comes to Chorizo and Potato Taco Lettuce Wraps recipes right? Besides, these lettuce tacos are a great dinner or lunch recipe for any time.
I threw a pre Cinco de Mayo party in April to gear up for the holiday, and realized that Costco is your Mexican-themed party's best friend. The products I buy on repeat are:
Premixed margaritas. Add a bit of your own lime and people will assume they're homemade!
Big old tub of Garden Fresh Gourmet salsa. It's the bees knees.
Big old bag of tortilla strips – perfect for dipping!
24-pack Beers of Mexico.
Can I get a hip-hip for Costco?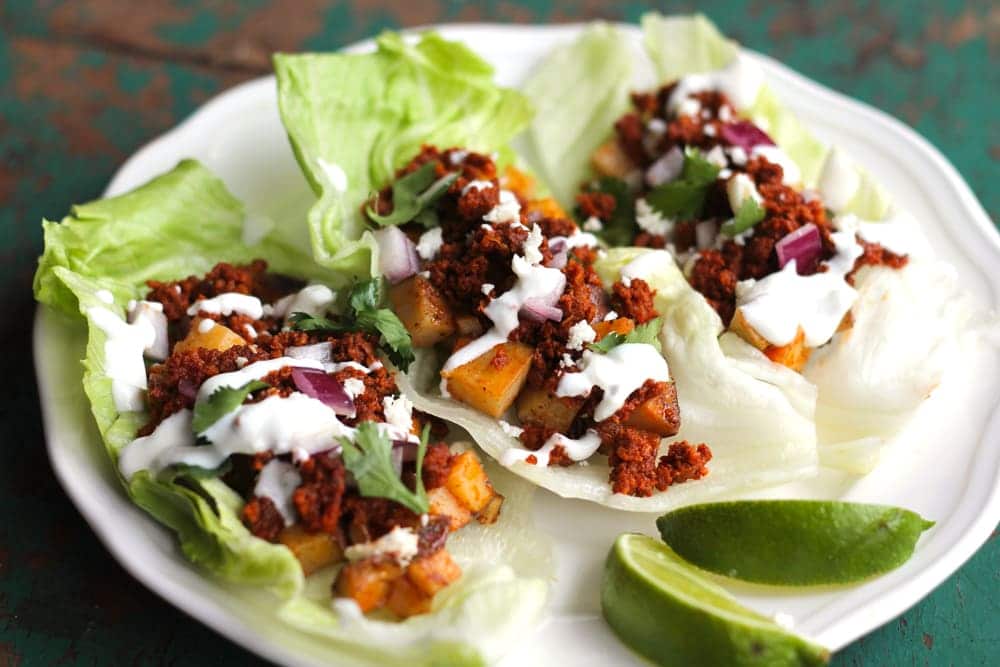 If you have yet to try chorizo, I definitely recommend giving it a go. It's a spicy Mexican sausage that's super inexpensive and perfect when paired with red potatoes and a little cheese.
I love using lettuce wraps in place of tortillas in this recipe because the potatoes provide enough carbs to satisfy without the added carbs in a tortilla. These Chorizo and Potato Taco Lettuce Wraps are super easy to make, and can be cooked in the same pan!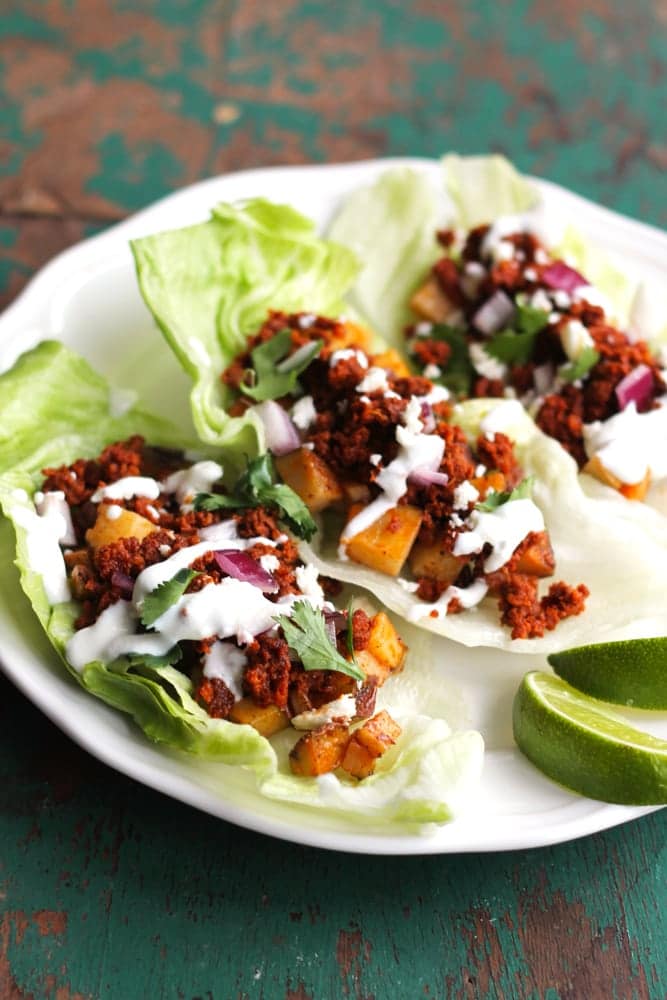 I like to cook the chorizo first, then drain all but a little bit of the fat from the meat to cook the potatoes. Being bad feels so good.
Then, all you have to do is assemble the tacos in lettuce wraps, top with any of your favorite toppings, drizzle with sour cream or plain Greek yogurt, and enjoy! These tacos are a bit on the spicy side depending on the spice level of the chorizo you buy. BUT, they're packed full of flavor and are great as leftovers the next day as well.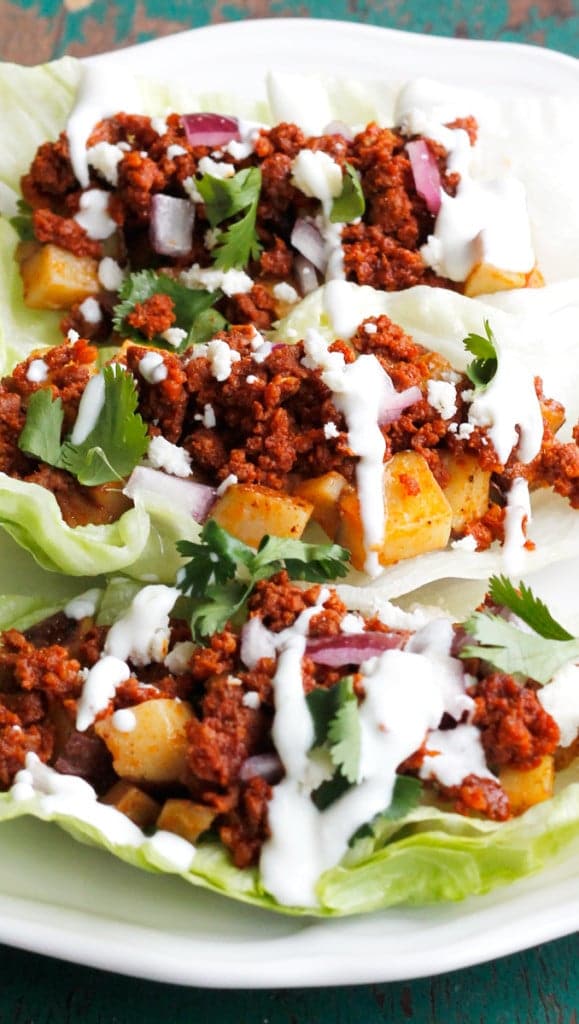 Happy Cinco de Mayo, everyone. Cheers to margaritas and tacos.

Yields 8
Chorizo and Potato Taco Lettuce Wraps
Ingredients
8 ounces chorizo, casing removed
2 red potatoes, diced into small cubes
1 head lettuce, washed with the leaves individually removed
Juice of 1 lime
1/3 cup fresh cilantro
1/3 cup red onion, diced
1/3 cup crumbled cotija
Sour cream
Instructions
In a large skillet, cook the chorizo for about 10 minutes while breaking it up with a spoon. Once it's cooked through, remove from the pan and set aside.
Drain all but a small amount of the grease from the pan. Add potatoes and cook until soft.
Add the chorizo back into the pan and squeeze the lime over the mixture.
Top each lettuce cup with the chorizo mixture, then top with cilantro, onion, cheese and sour cream. Enjoy!
7.6.4
198
http://smilesandwich.com/2016/05/02/chorizo-potato-taco-lettuce-wraps/