This Paleo Brazilian Fish Stew is one of my favorite healthy meals with salmon, bell peppers, coconut milk and tomatoes. Serve over cauliflower rice or brown rice if you're not paleo.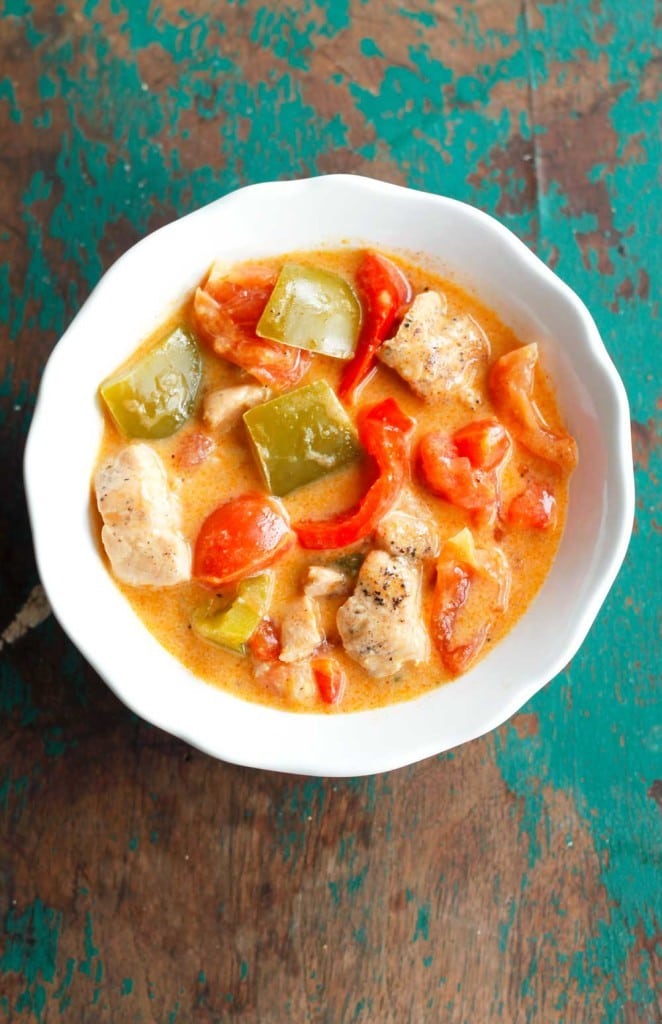 Oh how this recipe brings back the memories … of college! With limited cooking skills and an even more limited budget, this Paleo Brazilian Fish Stew was one that my sister and I would make together all the time. The reason is that it's super easy to make, requires just a few ingredients, and it's also relatively budget-friendly!
If times were really tough, we used all tilapia. Or, if we wanted to treat ourselves, we used a combination of tilapia, salmon and shrimp. No matter what fish you use in this recipe, trust me on this one … it's delicious.
Now, Paleo Brazilian Fish Stew might make you a little bit skeptical. I mean, just the term "fish stew" was a little unsettling to me at first. Not to mention it's not exactly the prettiest dish you'll ever make. But once you get over those heeby jeebies, you'll learn to love this super easy and healthy recipe.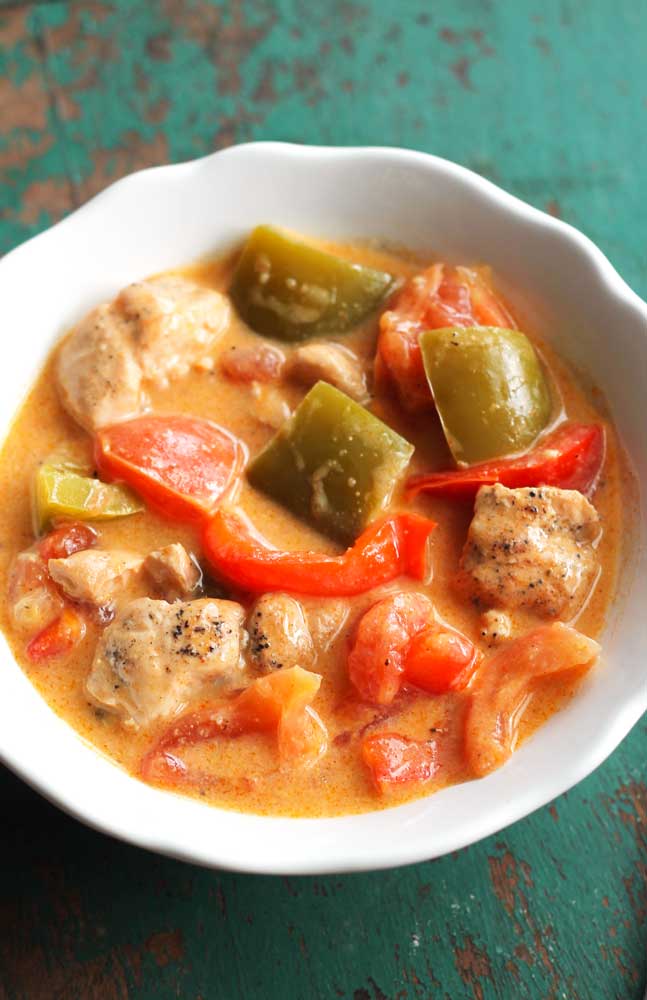 The combination of coconut milk and diced tomatoes makes a simple yet fantastic broth to cook the fish in, plus the bell peppers add some nice color and crunch. I first learned to make this recipe from my sister's college roommate, who is Brazilian. She made it for us and served it over rice and we were immediately hooked!
If you're following a paleo or low carb diet, I'd definitely recommend serving this over cauliflower rice. Some grocery stores even sell bagged cauliflower rice now! I found mine at Trader Joe's. How cool is that?!
This Paleo Brazilian Fish Stew is also great served over brown or white rice, or I've even eaten it by itself.
So, next time you're looking for a new easy Paleo dinner recipe to try out, I'd definitely recommend this Brazilian Fish Stew. It's a classic dish that couldn't be easier to make, only requires one pan, and tastes amazing!

Paleo Brazilian Fish Stew
15 minPrep Time
20 minCook Time
35 minTotal Time
Ingredients
Juice of 1 lime
1 tablespoon ground cumin
1 tablespoon paprika
2 teaspoons minced garlic
Salt and pepper, to taste
1 1/2 pounds salmon, cut into 1-inch pieces
1 onion, chopped
1 red bell pepper, chopped
1 green bell pepper, chopped
1 (16-ounce) can diced tomatoes, drained
1 (16-ounce) can coconut milk
Cilantro, chopped (for garnish) (optional)
Instructions
In a bowl or large Ziploc bag, combine lime juice, cumin, paprika, garlic salt and pepper. Add salmon pieces, cover, and refrigerate at least 20 minutes.
Add 1 tablespoon olive oil to a large pan or pot. Cook onions until they begin to soften. Add peppers, diced tomatoes, salmon and coconut milk to the pan. Gently mix to combine.
Cover and simmer for about 15-20 minutes, stirring occasionally, until the salmon is cooked through.
Serve over cauliflower rice or brown rice. Garnish with cilantro.
7.6.4
202
http://smilesandwich.com/2016/06/22/paleo-brazilian-fish-stew/