This Grilled Zucchini Caprese Pasta Salad is a simple and healthier pasta salad recipe with whole wheat pasta, fresh mozzarella, tomatoes, basil and grilled zucchini!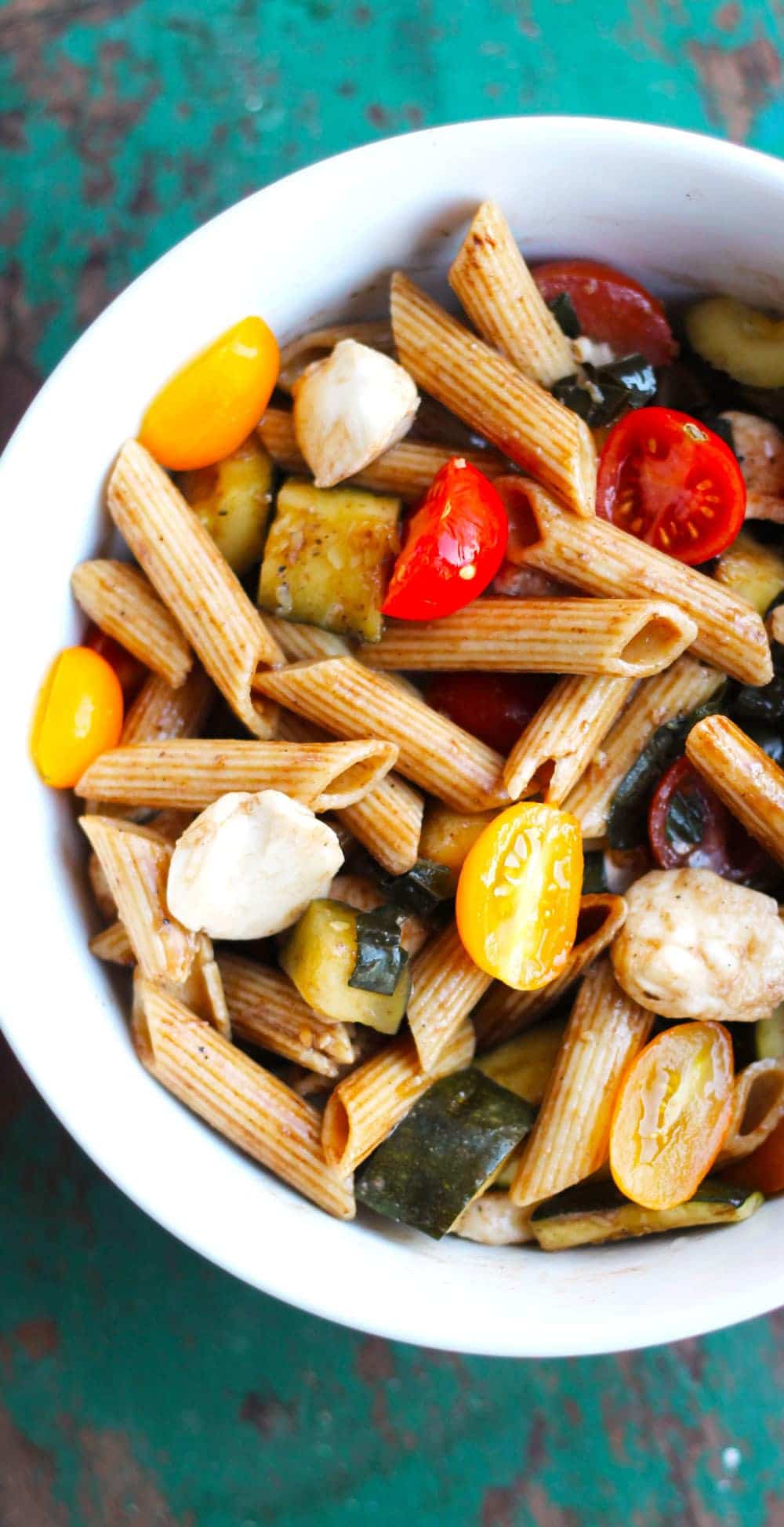 Yay for celebrating one of summer's finest crop: ZUCCHINI. I always see a huge spike in interest for zucchini in the summer, most likely because everyone's plants are growing, or they scored some great squash at the local farmer's market.
My love for zucchini started when my sister and I ordered our vegetable CSA a few years ago. Our weekly deliveries would often include an over abundance of zucchini and summer squash, so we had to come up with creative ways to use it.
This Grilled Zucchini Caprese Pasta Salad is one of my favorite pasta salad recipes because it's lightened up and super simple to make. The addition of grilled zucchini is the perfect complement to fresh mozzarella, fresh basil, and colorful summer tomatoes.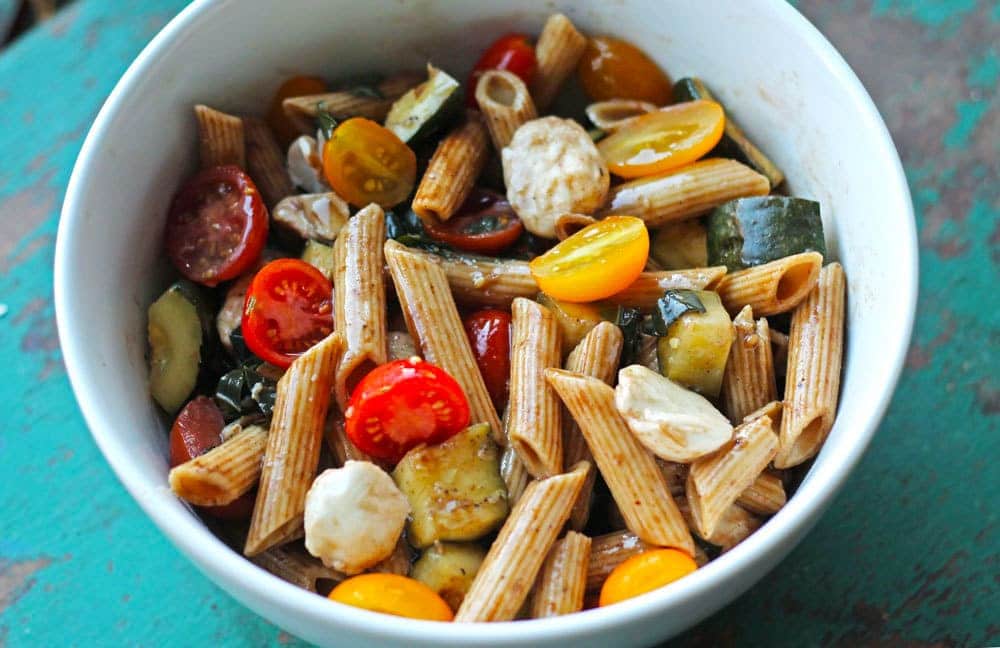 The balsamic dressing is just a simple combination of ingredients you probably already have on hand in your kitchen. Plus, I use whole wheat pasta in place of white.
You can use your grill to grill the zucchini if you happen to be cooking something else, or I've even used a grill pan or George Foreman to get the same effect.
The result is a delicious and good-for-you pasta salad recipe that's a true crowd pleaser. Grilled Zucchini Caprese Pasta Salad is definitely on rotation in my house this summer. I hope it is for you too!
Plus, don't miss my popular recipe for Cheesy Zucchini "Bread"sticks and Crockpot Zucchini Chicken Parmesan.
Enjoy!

Grilled Zucchini Caprese Pasta Salad
Ingredients
2 zucchini squash
1 16-ounce box whole wheat pasta (I use penne)
1 8-ounce container cherry tomatoes, halved
1 8-ounce package mozzarella pearls, halved
1/2 cup fresh basil, chopped
Dressing:
1/3 cup balsamic vinegar
1/3 cup olive oil
11/2 teaspoon minced garlic
1/2 teaspoon basil
1/2 teaspoon oregano
1/8 teaspoon honey
Salt and pepper, to taste
Instructions
Cook the pasta according to box directions. Once al dente, remove and run under cold water. Drain.
While the pasta cooks, cut each end off the zucchini and cut lengthwise into four strips. Grill each side of the zucchini until you see grill marks and the zucchini begins to soften. (You can use a grill, grill pan or George Foreman). Remove and cut each strip into pieces.
In a small bowl, combine dressing ingredients. Whisk until well combined.
In a large bowl, add pasta, squash, tomatoes, mozzarella and basil. Pour the dressing over and mix to combine.
Chill for at least 30 minutes before serving. Enjoy!
7.6.4
204
http://smilesandwich.com/2016/08/15/grilled-zucchini-caprese-pasta-salad/