Paleo Ground Beef Spaghetti Squash Skillet is a one pan recipe that combines spaghetti squash, ground beef, vegetables and tomato sauce!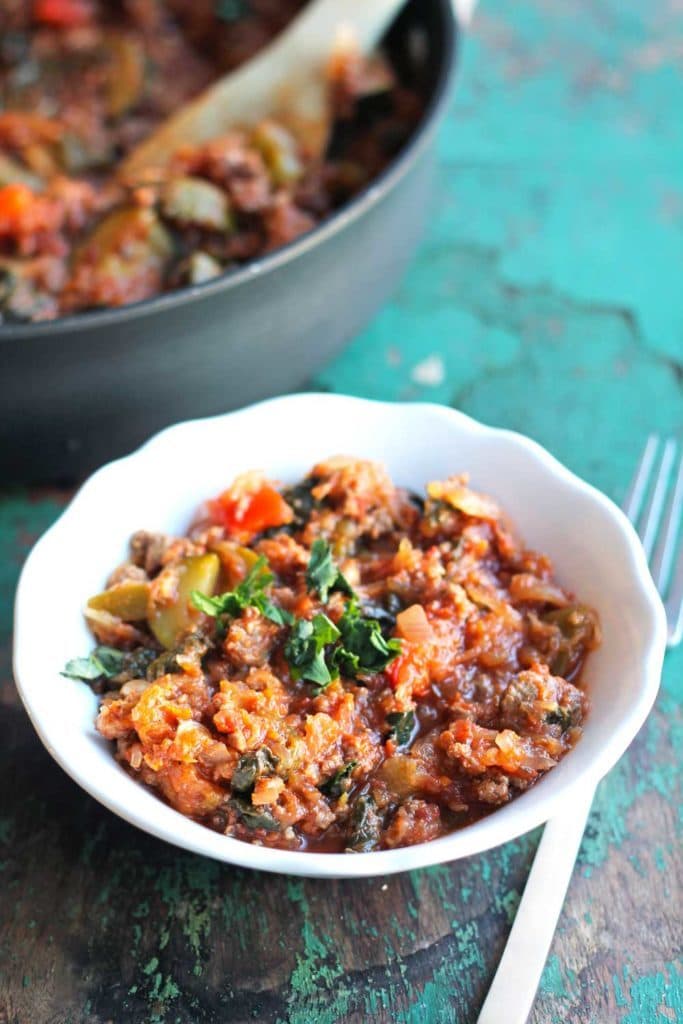 So I know I'm supposed to be all like OMG you guys look at how good this Ground Beef Spaghetti Squash Skillet looks! Don't you want to run to your kitchen and make it!?
But … let's be honest. This dish isn't the prettiest of foods. So you're just going to have to trust me on this one because I know your mom told you not to judge a book by its cover. Or a Paleo Ground Beef Spaghetti Squash Skillet by its you-know-what in a pan look.
This is seriously one of my all-time favorite meals because it reminds me of pasta, but without the carbs. It's a great way to clean out the old produce drawer of pretty much any vegetables you have on hand, plus who doesn't like spaghetti squash?!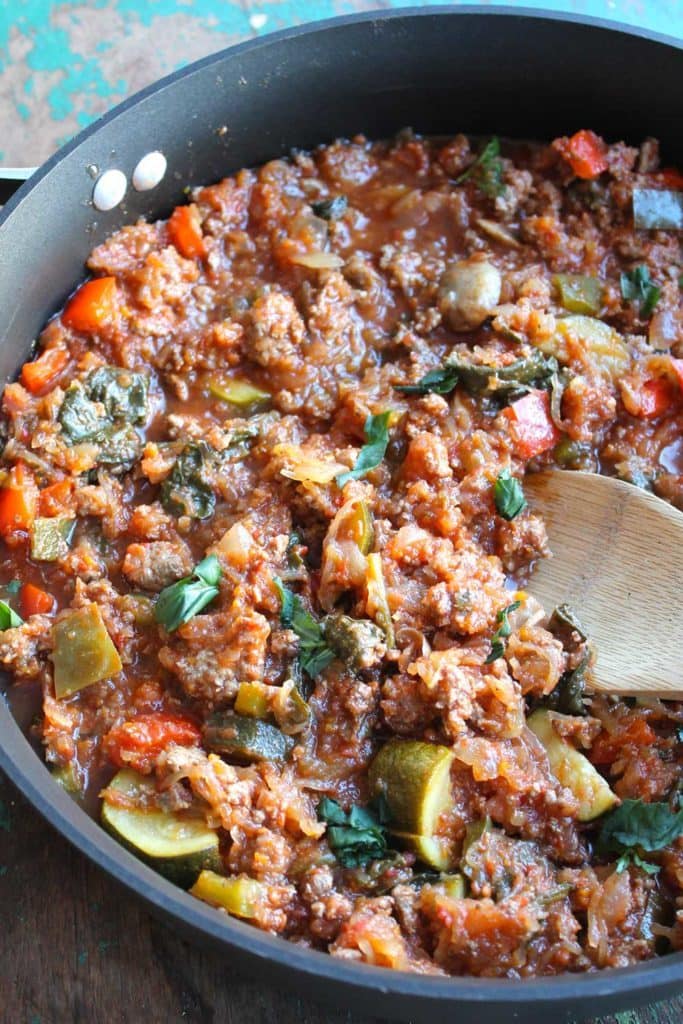 I used ground beef for this one pan recipe because my saint of an aunt gave me some from a cow that she bought. Yes … she bought a whole cow to eat. Add that to your life goals. However, you can also use ground turkey or chicken!
My secret for saving time on my beloved Paleo Ground Beef Spaghetti Squash Skillet is microwaving the squash. You can even do it ahead of time and store the squash strands in your freezer.
Then, all you have to do is cook the vegetables and ground beef, add marinara sauce, and stir in the spaghetti squash and you've got yourself a delicious low carb dinner! You can also create the sauce to top the spaghetti squash separately.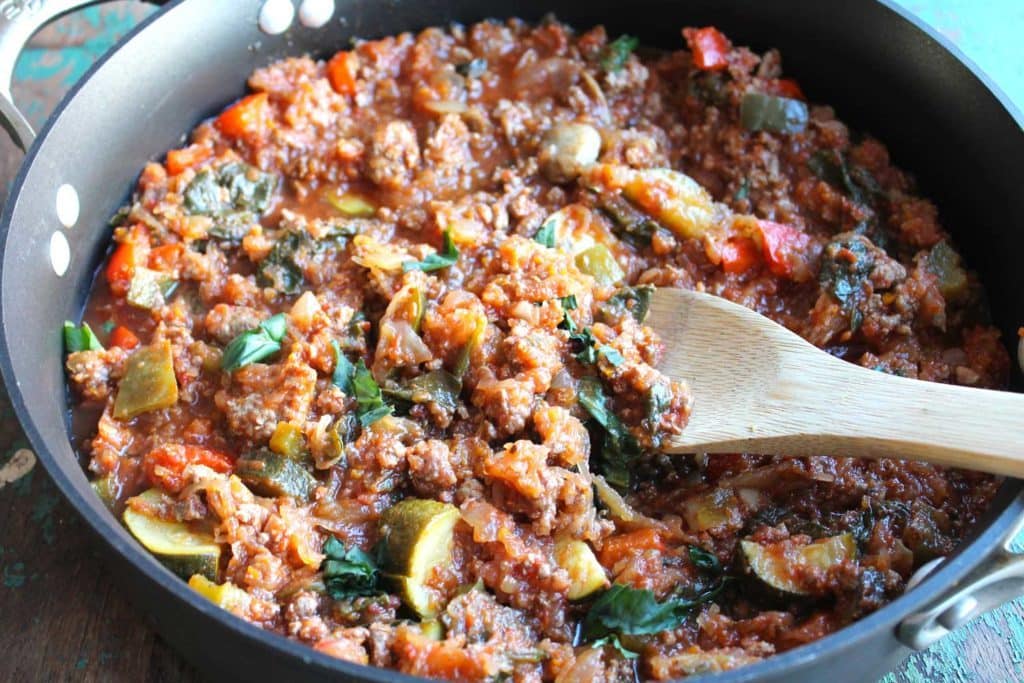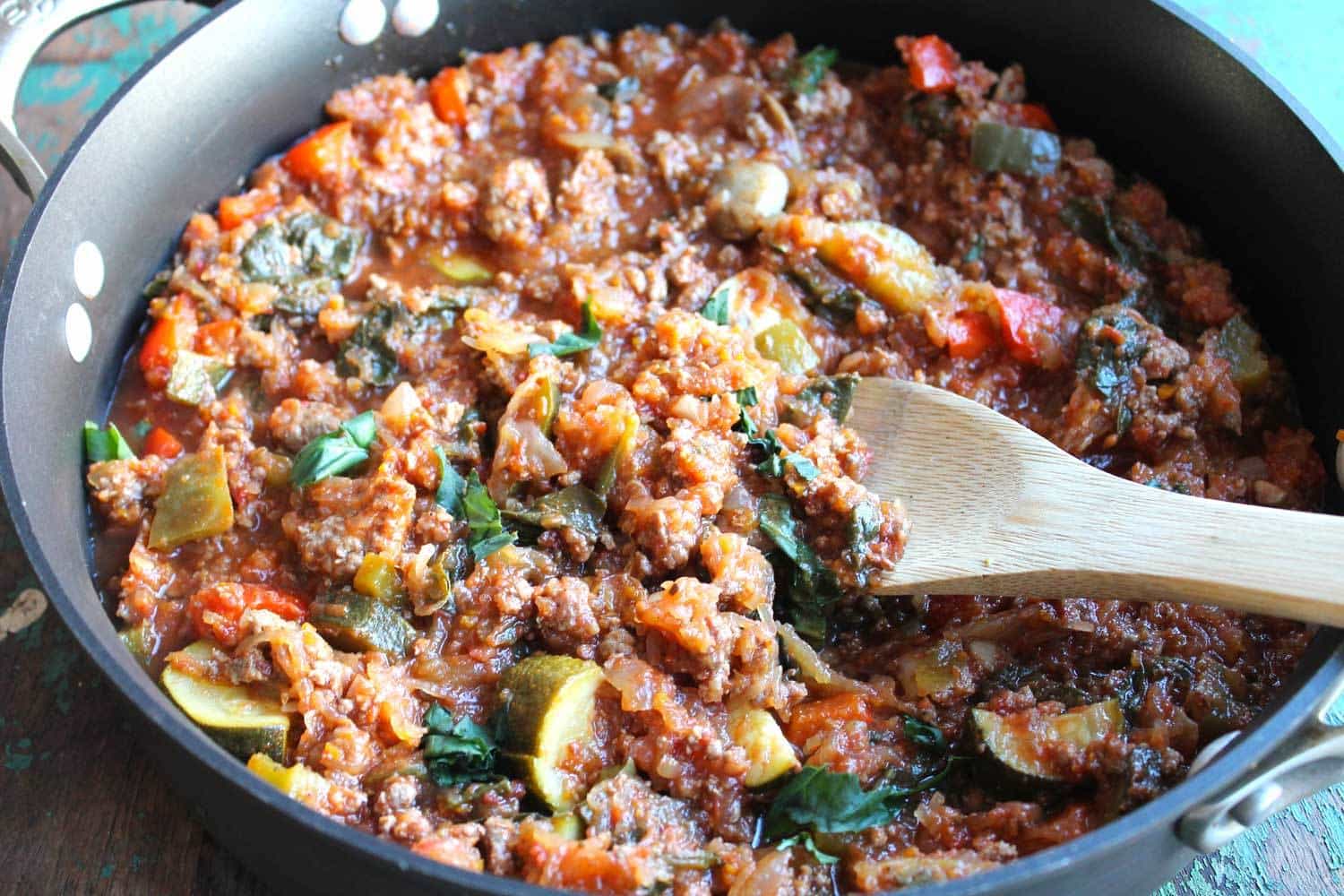 So if you like one pan recipes, and ground beef, and spaghetti squash, and a life that is easy and stress-free, and plenty of time for watching Netflix, give this Paleo Ground Beef Spaghetti Squash Skillet a try. It's a quick and easy recipe you'll make over and over again.

Paleo Ground Beef Spaghetti Squash Skillet
Ingredients
1 spaghetti squash
1 pound ground beef
1 tablespoon olive oil
1 zucchini squash, cubed
1/2 red and green bell pepper, diced
1/2 onion, diced
1 cup mushrooms, sliced
1 cup spinach
2 cups marinara sauce (if paleo, make homemade sauce!)
salt and pepper, to taste
Instructions
To cook the squash, cut it in half lengthwise and scoop out the seeds. Place skin side up in a microwave-safe dish and add about 1/2 inch of water. Microwave for 5 minutes, flip and microwave for 5 more minutes or until flesh is tender. Remove the squash strands with a fork and discard the skin. Set aside.
Meanwhile in a very large skillet, cook the ground beef until no longer pink. Drain grease from the pan, remove the beef and set aside.
Add olive oil to the pan (you can also reserve some beef grease for this) and sauté zucchini, bell pepper, onion and mushrooms until soft. Add the beef, marinara, salt and pepper back into the skillet and mix to combine.
Stir in the spinach until it's wilted. Carefully stir in spaghetti squash. Let the mixture simmer on low for 5-10 minutes.
Serve. Enjoy. Give yourself a pat on the back. Now go relax, You deserve it.
7.6.4
205
http://smilesandwich.com/2016/09/26/paleo-ground-beef-spaghetti-squash-skillet/