Sponsored post written by me on behalf of Smithfield® Marinated Pork. The opinions and text are all mine.
One Pan Pork Loin Filet is a super easy sheet pan dinner recipe that's made even easier with Smithfield Marinated Fresh Pork.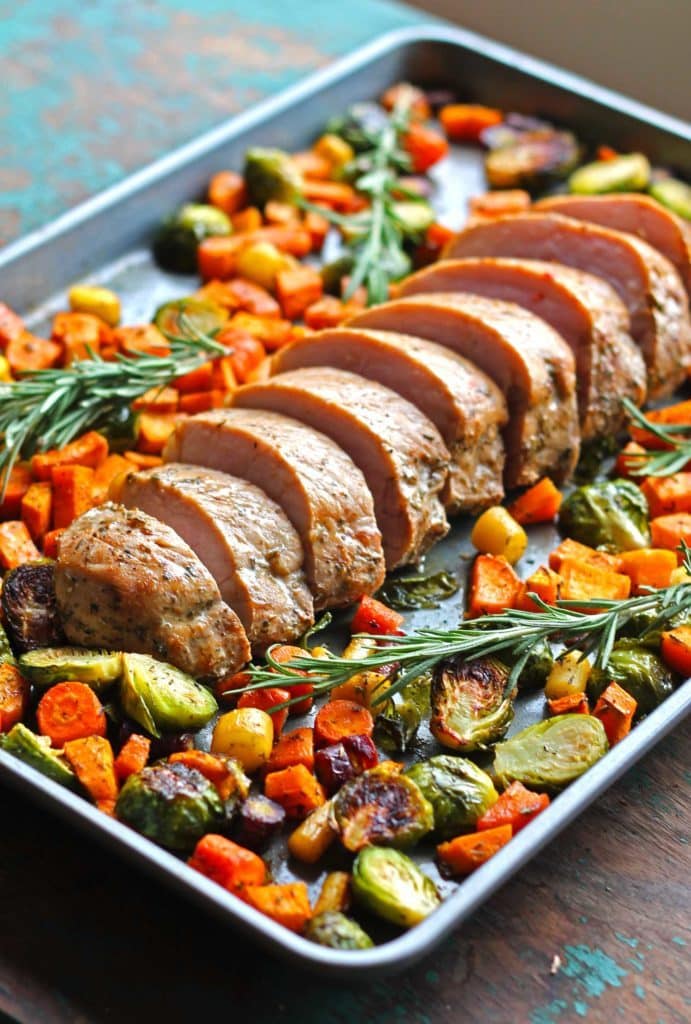 Can I get a hip hip for fall?! Although I'm super sad to see summer (and what little tan I have) go, I'm super excited for my all-time favorite food season.
Fall is always a busy time at work in preparation for the holidays, so I seldom have time to spend hours cooking a meal at the end of the day. Since fall flavors are my all-time favorite, I'm always looking for ways to incorporate them in quick, easy and delicious meals!
This One Pan Loin Filet recipe is one of my favorites because it takes just 30 minutes to make, it's basically fool-proof, and includes delicious fall vegetables like Brussels sprouts, sweet potatoes and heirloom carrots! I love making this at the beginning of the week so I have leftovers for lunch the next day!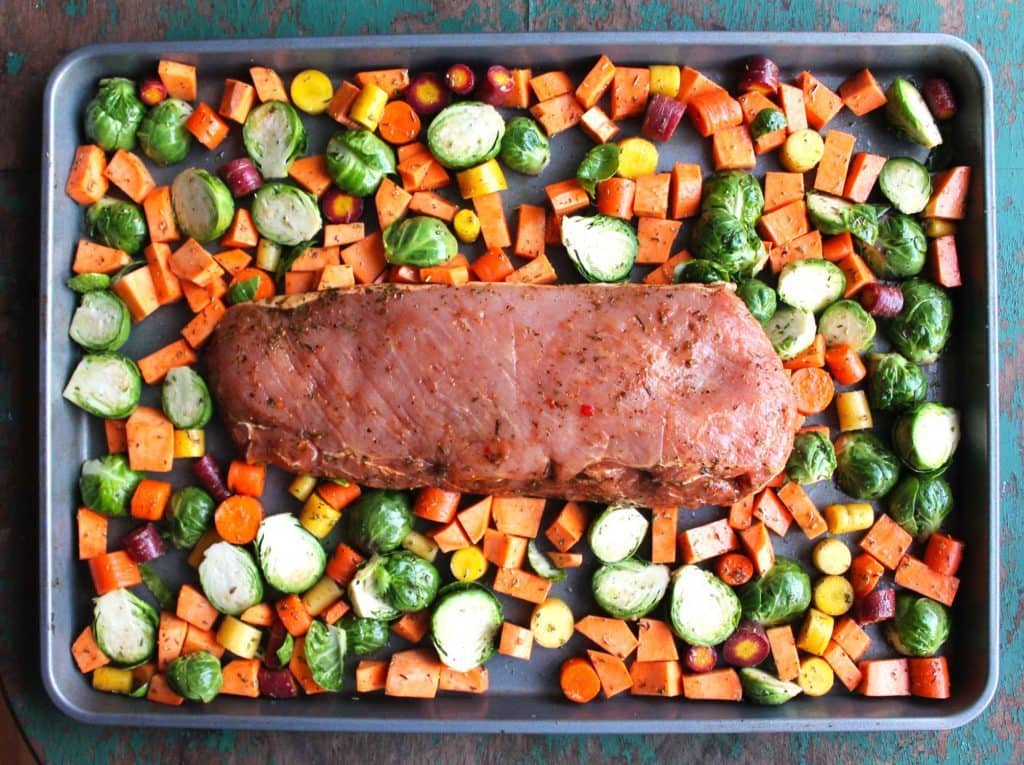 I headed to Kroger this week to pick up some Smithfield Marinated Fresh Pork … and talk about Real Flavor Real Fast! The beauty of this pork loin filet is that it comes pre-seasoned in a variety of delicious flavors, so it goes from package to pan in one fell swoop. No marinating required. Because let's be honest, I'm hardly organized enough to remember to pre marinate my meat. When I want pork, I want it now.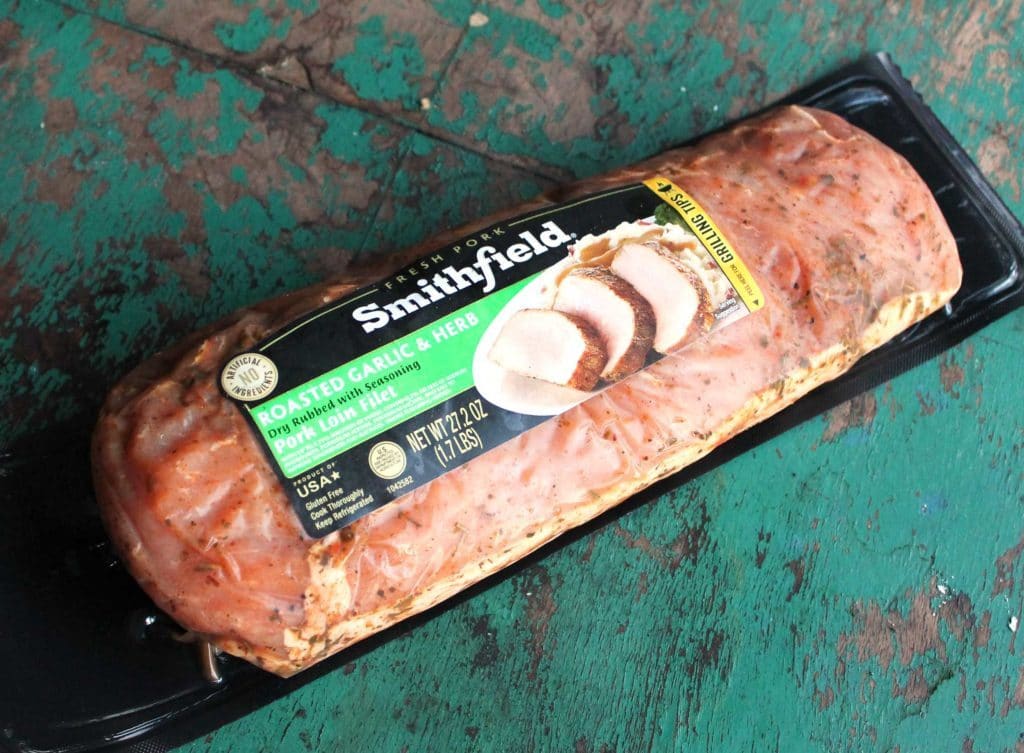 Which brings me to my next favorite thing about this recipe: it's ready in 30 minutes! To save even more time, I like to wash and cut the veggies on Sundays, so all there's left to do when I get home from work is arrange everything on a pan and bake.
I decided to go with the Smithfield Marinated Roasted Garlic & Herb Pork Loin Filet for this recipe, but you can mix it up with any flavor your heart desires. Since I discovered the convenience of Smithfield, I can't wait to try grilling pork this fall. (Could anything be more impressive at a tailgate?! I think not. Bring on the cool points.)
Smithfield Marinated Fresh Pork comes in different cuts including: Tenderloins, Pork Loin Filets, and Sirloins. You can purchase all of these cuts in a variety of flavors including:
Smithfield Roasted Garlic & Herb
Smithfield Roasted Garlic & Cracked Black Pepper
Smithfield Sweet Teriyaki
Smithfield Southwest Style Peppercorn
Smithfield Slow Smoked Mesquite
Any combination would be perfect for any night of the week!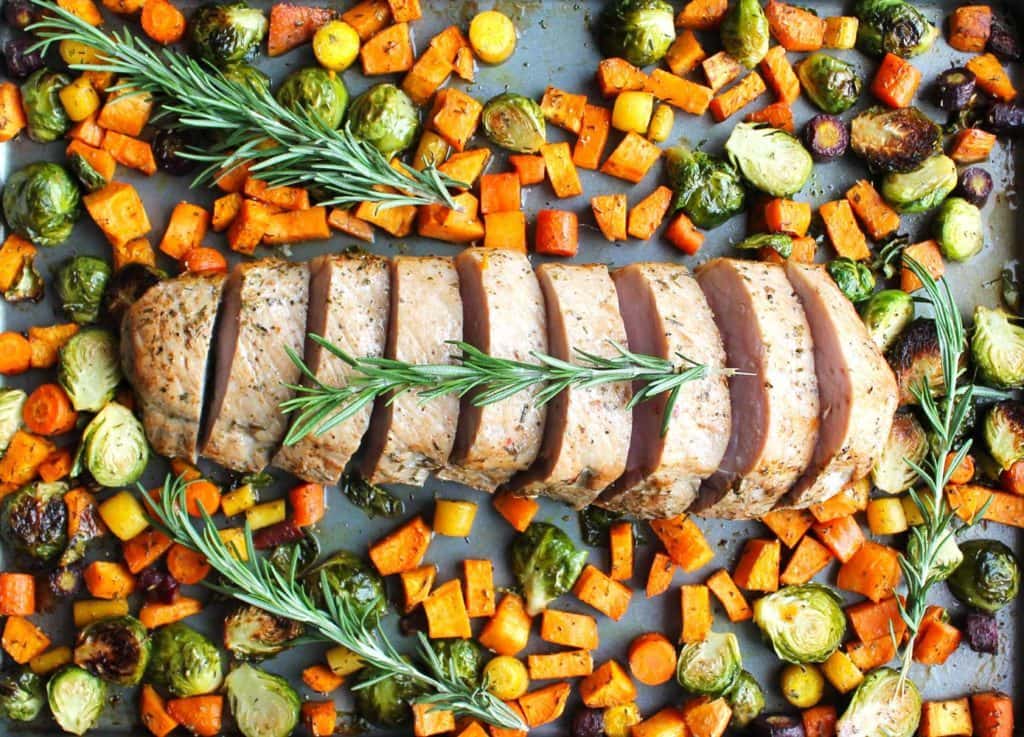 This One Pan Pork Loin Filet recipe also happens to be super versatile. For this version, I used Brussels sprouts and carrots for some vegetable action, and sweet potatoes as my starch. The veggies get an amazing maple glaze that makes even the pickiest of eaters clean their plate. Plus, the entire meal is cooked on one pan so you don't even need any additional side dishes.
I love playing with different vegetable combinations like red potatoes, asparagus, cauliflower, or butternut squash. The possibilities are endless!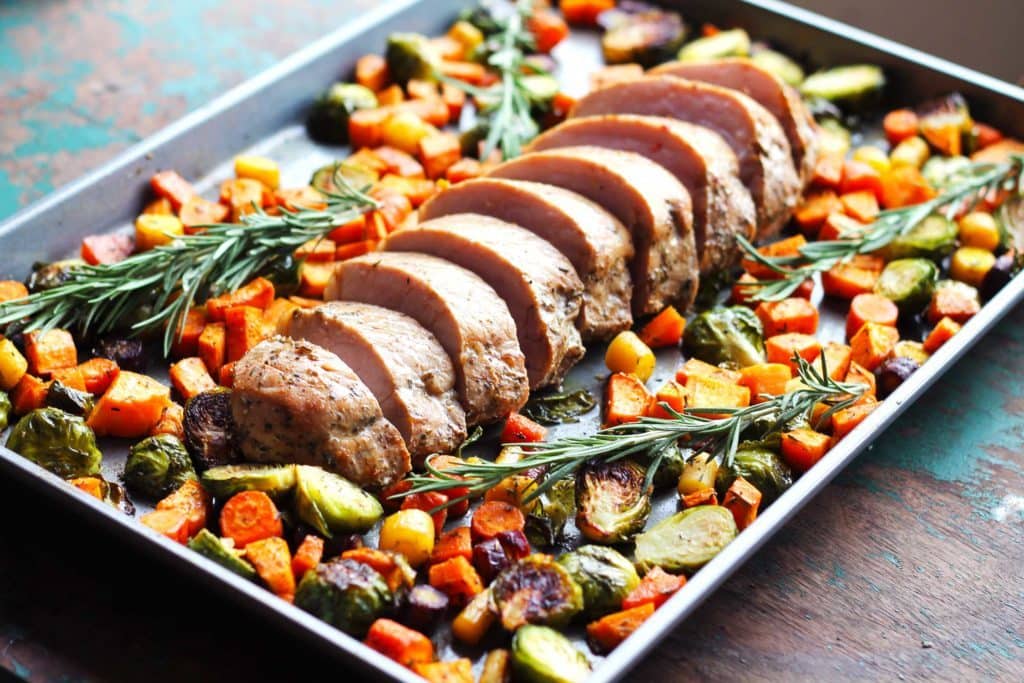 When I store leftovers of this recipe, I like to keep the pork in a separate container to be reused in other recipes throughout the week – from Pork Enchiladas, to a Pork Breakfast Scramble, to Pork Quesadillas!
So, next time you're looking for a quick and easy one pan dinner recipe, give One Pan Pork Loin Filet a try. And then click your feet for fewer dishes! Winner, winner, pork loin filet dinner in my face.
Be sure to head on over to Smithfield for more easy, 30-minute recipes. Then, tell me in the comments below what Real Fast recipe did you try first?
One Pan Pork Loin Filet with Fall Vegetables
Cook time:
Total time:
Ingredients
1 Smithfield Marinated Fresh Pork Loin – any flavor
1 large or 2 small sweet potatoes, peeled and diced
2 cups Brussels sprouts, ends trimmed, cut in half
1 bunch heirloom carrots (or regular), chopped
1 table spoon extra virgin olive oil
2 tablespoons maple syrup
1/2 teaspoon each dry thyme and rosemary
salt and pepper, to taste
Instructions
Preheat oven to 425 degrees F.
Place all the vegetables in a large bowl. Pour olive oil and maple syrup over the vegetables. Sprinkle with thyme, rosemary, salt and pepper. Toss to combine.
Spray a large pan with non-stick cooking spray. Place the pork loin in the center of the pan.
Arrange the vegetables evenly around the pork.
Bake for 20-35 minutes or until pork is cooked through. Thermometer temperature should read 150 degrees F.
Allow to rest for 5 minutes, slice and serve!
What is your favorite meal tip?
#RealFlavorRealFast @SmithfieldBrand