Chicken Tikka Masala Meatballs have all the flavors of the Indian dish, but use chicken meatballs instead of chicken breast.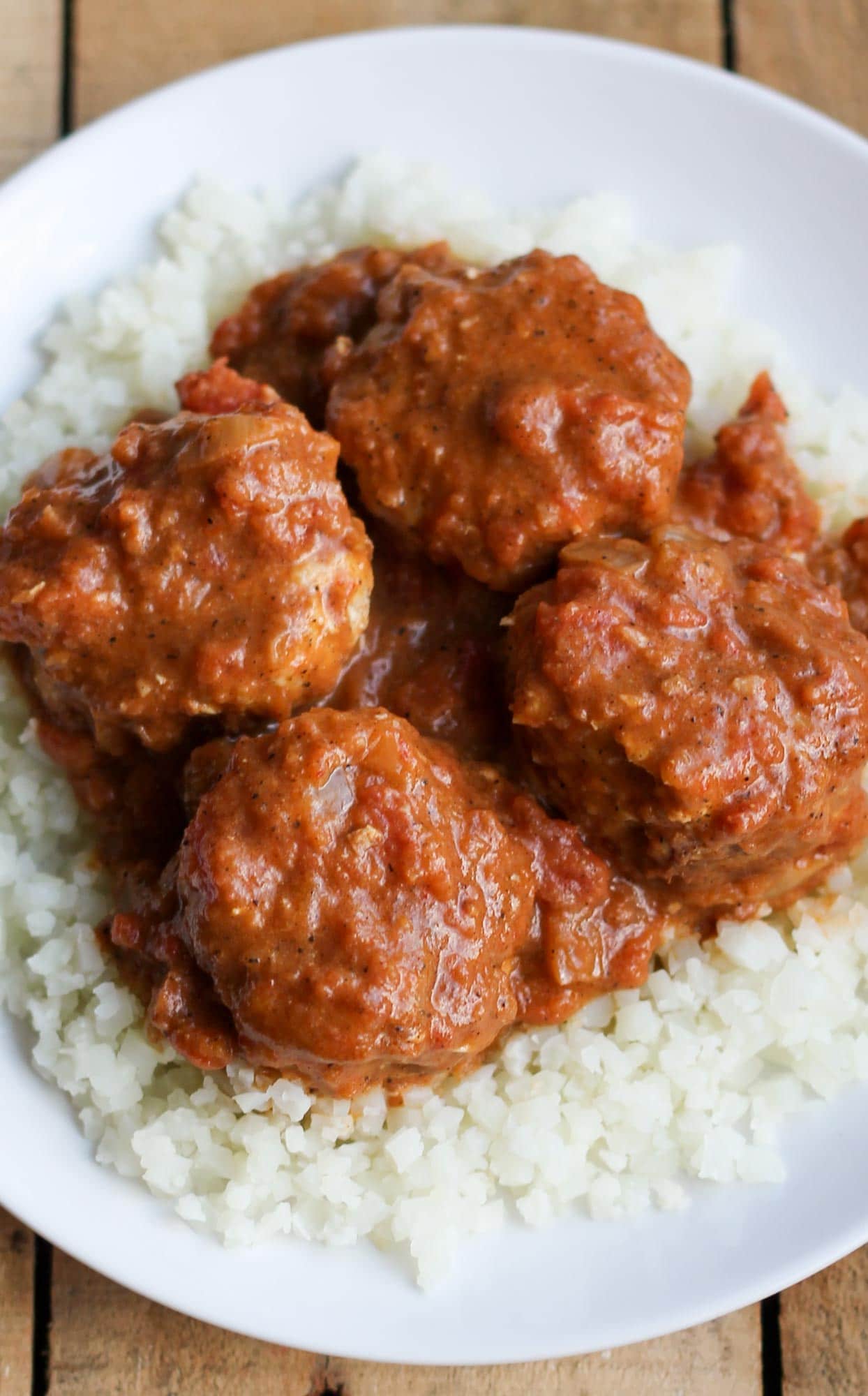 I really hope we're nearing a day when everyone has given Indian food a try, because I just know that everyone will love it as much as I do.
If you've never tried Indian recipes, chicken tikka masala is a great place to start! It's super easy to make and can be made very healthy.
In this recipe for Chicken Tikka Masala Meatballs, I substituted chicken Meatballs for chicken breast because I just love meatballs so much.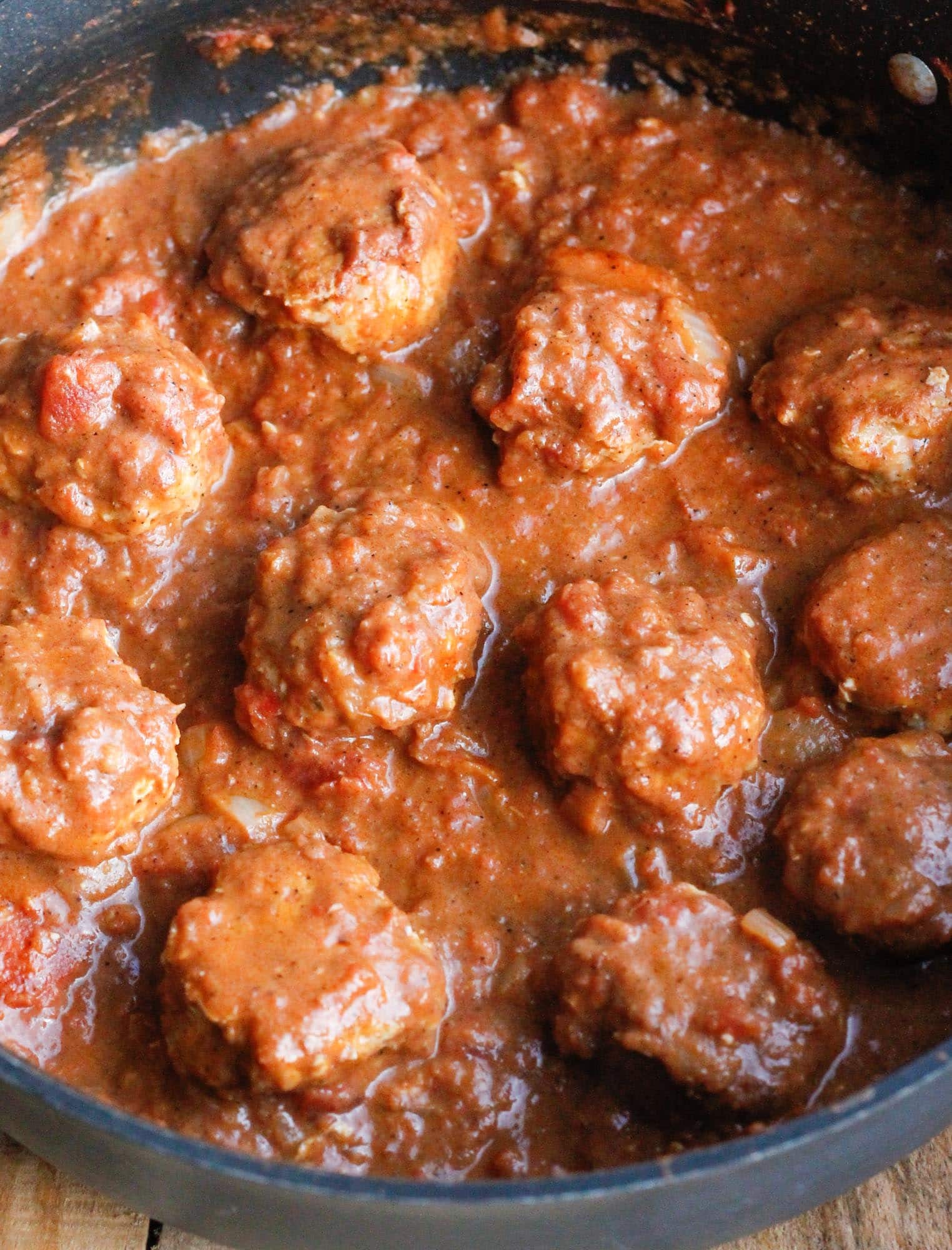 The sauce that covers the meatballs is the same as classic chicken tikka masala recipes, but I serve mine over cauliflower rice!
If you prefer, this recipe is also great served over quinoa, brown rice, or basmati rice.
The sauce is nice and thick and flavorful, so you can barely even taste the cauliflower underneath! (I'm all for masking vegetables).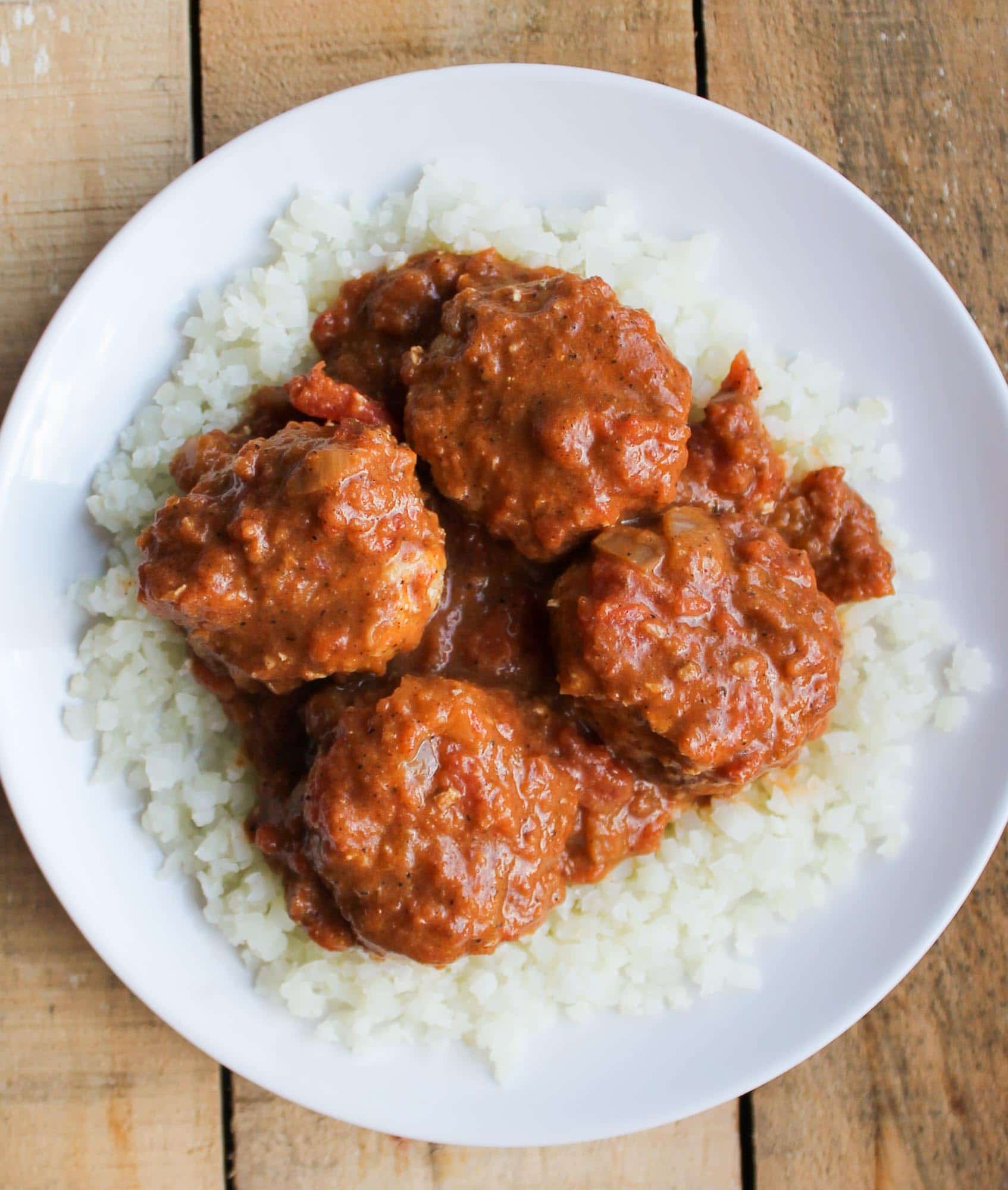 I used an immersion blender to get the sauce smooth, but it didn't completely blend the onions. To achieve a smoother sauce, use a food processor or blender!
If you like Indian food recipes as much as I do, give this Chicken Tikka Masala Meatballs recipe a try. It's a healthy dinner or lunch recipe that's full of flavor.
Chicken Tikka Masala Meatballs
Ingredients
For the Meatballs:

1 onion
3 garlic cloves
½ teaspoon garam masala
2 teaspoons curry powder
1 teaspoon salt
1 pound ground chicken
1 egg
1 tablespoon bread crumbs
Coconut oil

For the Sauce:

1 onion, finely diced
3 cloves of garlic, minced
2 tablespoons garam masala
1 tablespoon turmeric
1 1/2 tablespoons tomato paste
1 (15 ounce) can chopped tomatoes
1/2 cup coconut milk
Instructions
In a food processor, combine onion and garlic and pulse until blended.
Add garam masala, curry powder and salt to the food processor. Pulse to combine.
In a large bowl, mix onion mixture with ground chicken, egg and bread crumbs. Use your hands to mix until everything is combined. Roll into meatballs.
Heat coconut oil in a large skillet. Cook meatballs in a single layer for 3-4 minutes per side, or until cooked through. Remove meatballs and set aside.
Add more coconut oil to the skillet. Add onion and garlic and cook for 2-3 minutes until soft.
Stir in garam masala, turmeric, tomato paste and chopped tomatoes. Bring to a boil, then simmer for about 5 minutes.
If you prefer a smooth sauce, use an immersion blender or regular blender to blend the onions.
Stir in coconut milk. Add meatballs back into the sauce and let simmer for 3-5 minutes more. Serve over cauliflower rice, brown rice, or jasmine rice.
7.6.4
248
http://smilesandwich.com/2017/07/31/chicken-tikka-masala-meatballs/