My Positano Travel Guide includes suggestions on where to stay, what to eat, and what to do in Positano, Italy!
So my parents tell me I'm Swedish and Norwegian … but I'm definitely Italian at heart. Just when I thought I couldn't be more in love with Italy while visiting Florence (travel guide here) … we pulled up to Positano and it was like I just sailed straight into heaven.
Being from the Midwest, I get excited even when I see any kind of a hill. Positano takes it to the next level. The entire city is built on the side of a mountain making for some of the most breathtaking views you've ever seen.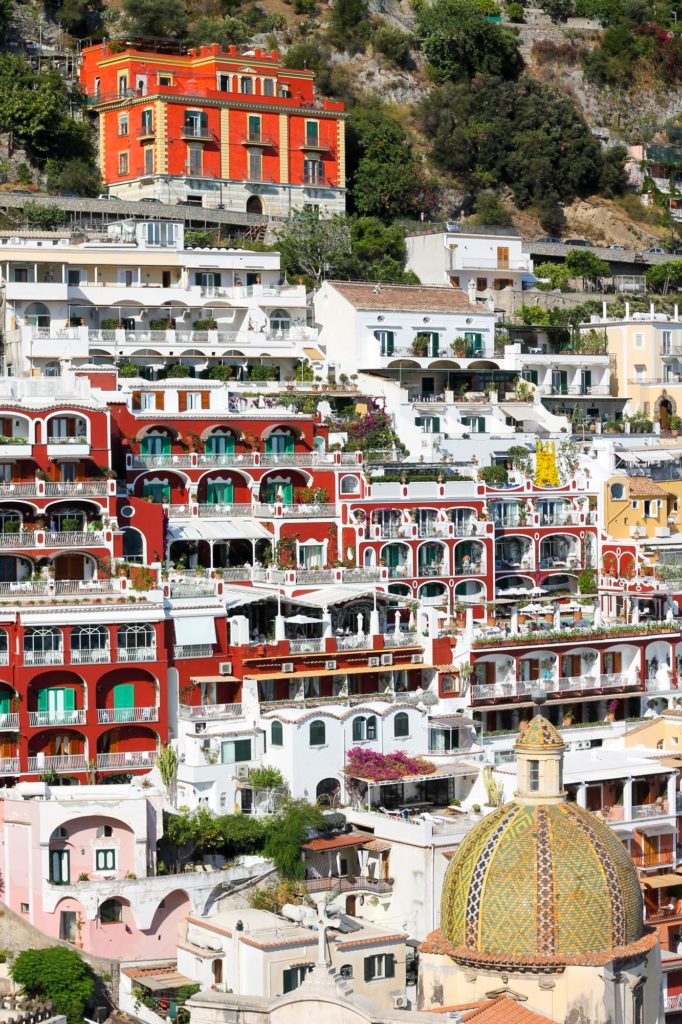 Where to Stay in Positano, Italy
We stayed at Casa Cosenza and it could not have been better. The host family are some of the sweetest women I've met, and the views from our terrace were straight out of a movie.
When you arrive at Positano by ferry, I don't recommend taking a cab unless you know that there's a direct route to your hotel by car (oftentimes, it's much faster to walk … and much cheaper). There are men who will deliver your bags to your hotel for 10 euro per bag. Don't even try to carry your own bag … one word: stairs.
Speaking of stairs. Leave the heels at home. There's an aggressive amount of stairs leading up to most hotels from the beach. I liked to think I was in good shape until I was forced to take multiple stair breaks. On the bright side: you won't gain a pound from all the gelato.
If you're traveling with someone who doesn't do stairs very well, try to find a hotel closer to the beach.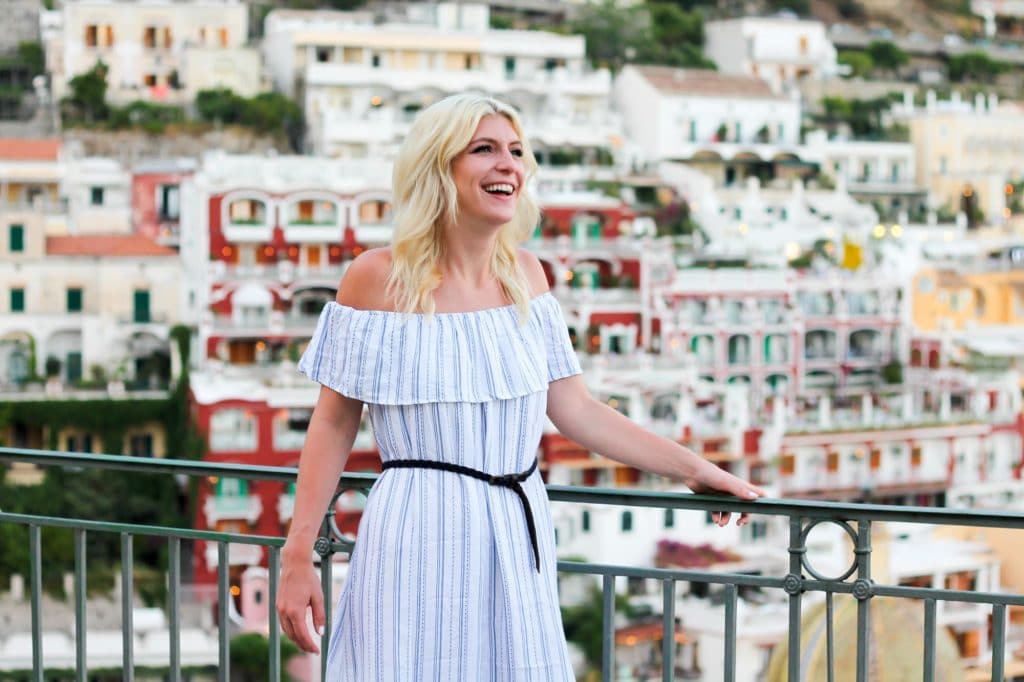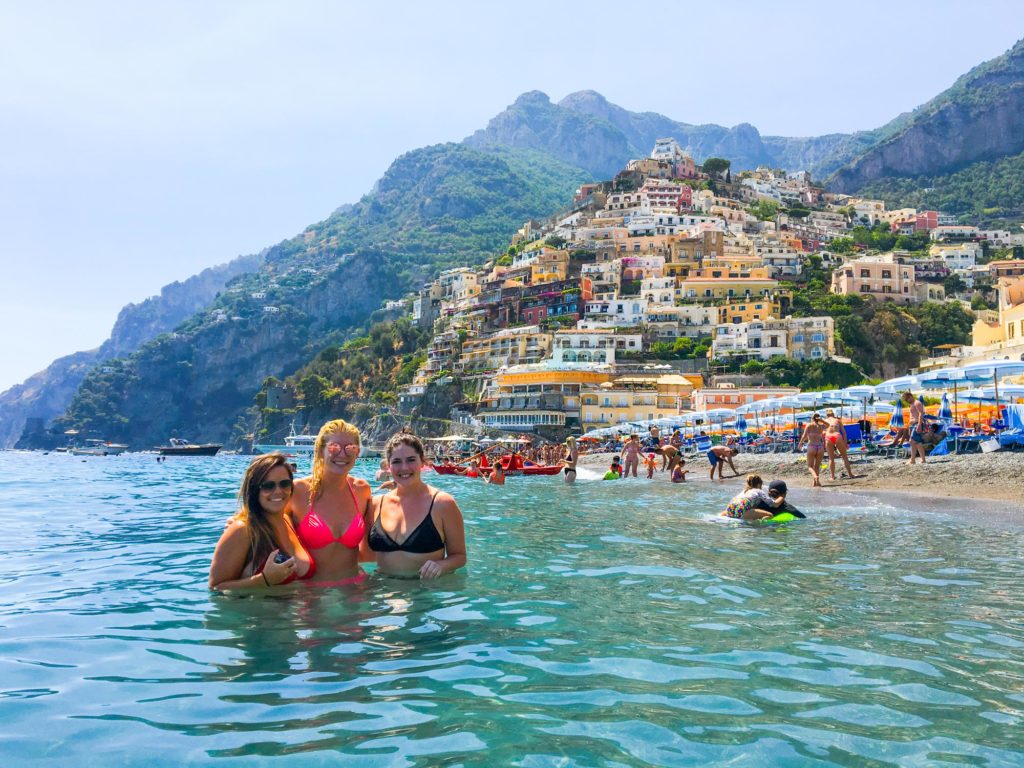 What To Do in Positano, Italy
The Amalfi Coast is a place for relaxation and romance. (No romance for me, I went with two girl friends. But … I saw a lot of the romance happening).
I recommend scheduling a trip to Rome or Florence if you want sight seeing, then end your trip for some relaxing in Amalfi before heading home.
Get a bottle of rose or a bucket of Peronis on the beach. Beach chairs are around 15 euro per day, but they're definitely worth it. You'll want the shade if you travel during the summer.
Check out the shopping! There are some cute shops selling handmade sandals, pottery, art, and more.
Hit the town. The most popular nightlife is Music on the Rocks. It's a club inside of a cave. Need I say more?!
Have a glass of champagne at Le Sirenuse. I dream of actually staying at this hotel, but I'll settle for a glass of bubbly on their amazing patio.
What to Eat in Positano, Italy
One of our favorite things to eat in Positano was not from a restaurant, but from local food markets. Pop into the closest food market and ask at the counter for prosciutto, tomato and mozzarella sandwiches. Or, take home some cheese and meets for charcuterie on the terrace.
Next2 had amazing food, amazing service, and a great outdoor seating area.
For the best dinner views, go to Rada restaurant overlooking the water. It's a bit more pricey and the food is very upscale, but the views are worth it.
You also can't go wrong with restaurants on the beach. My favorite was Chez Black, where we dined right next to Denzel Washington. The squid ink pasta was to-die.
And of course, pizza and gelato. All the pizza and gelato. It's all good no matter where it's from. We actually ate a pizza on the beach while in bikinis at one point during our trip. That's what I call living your best life.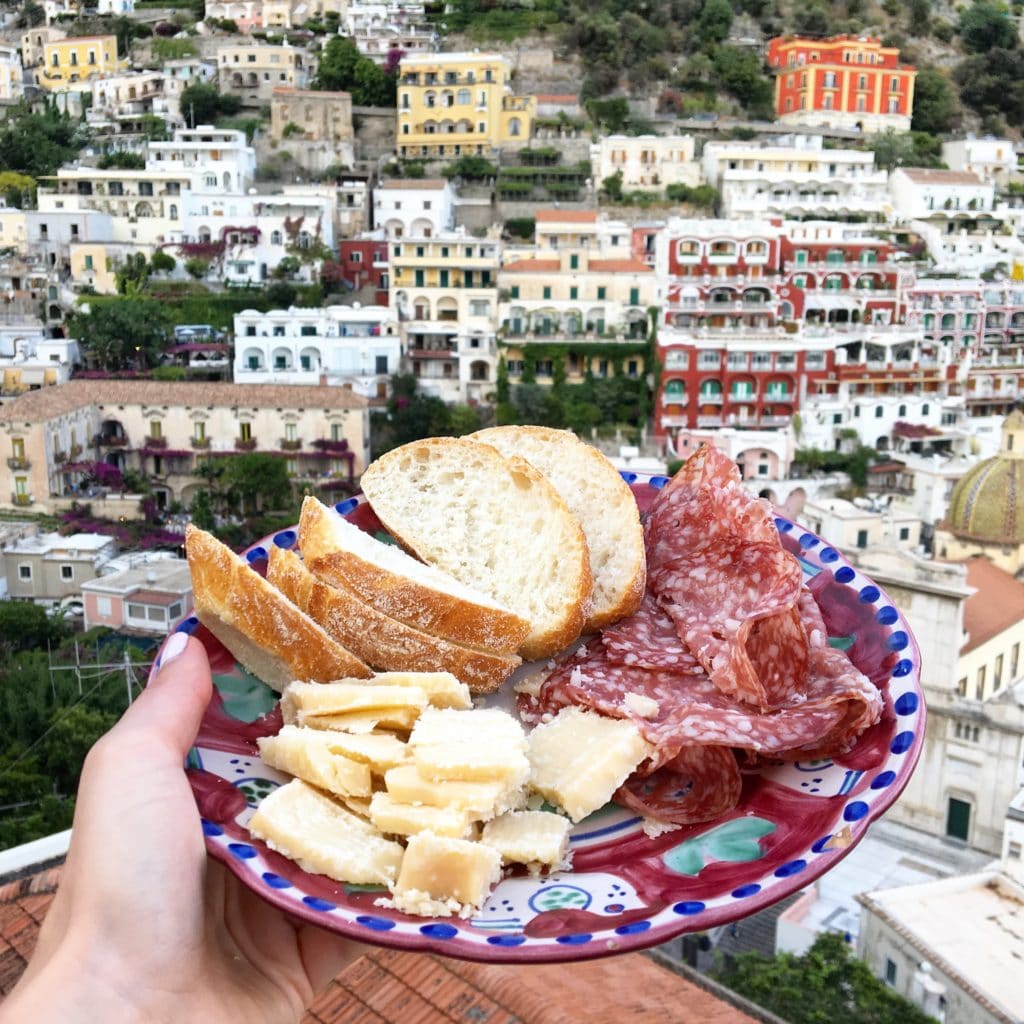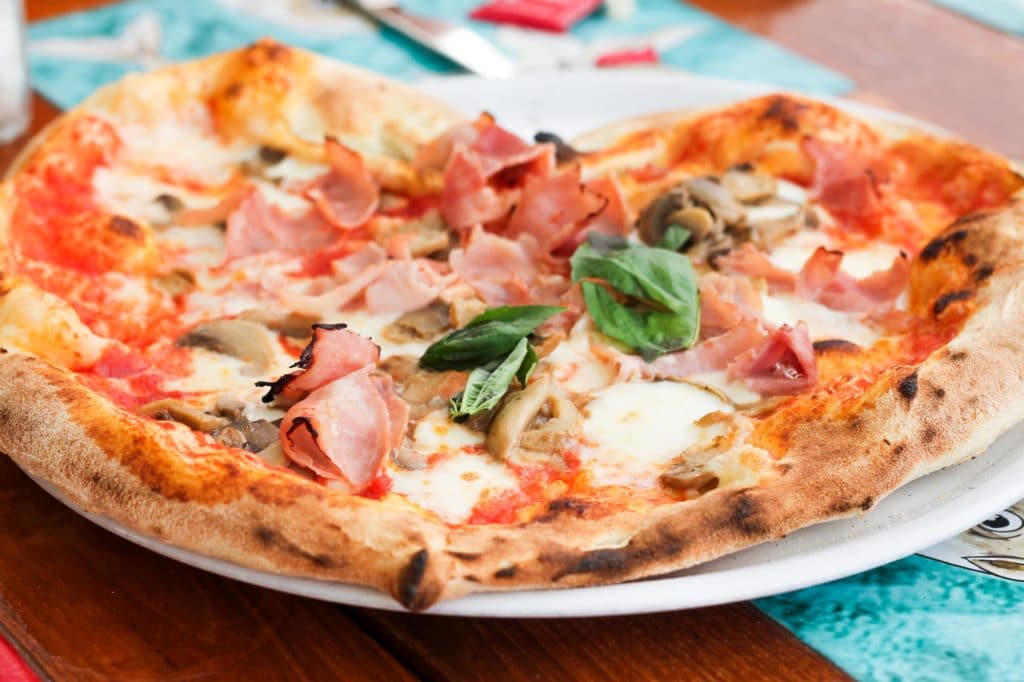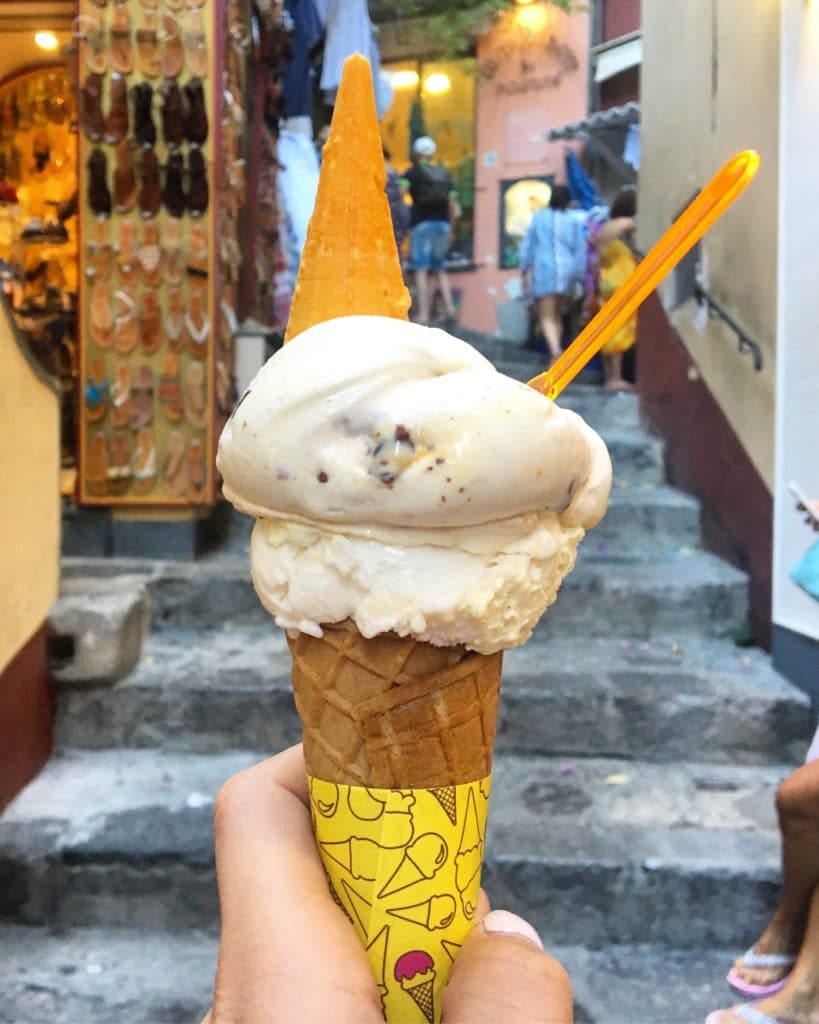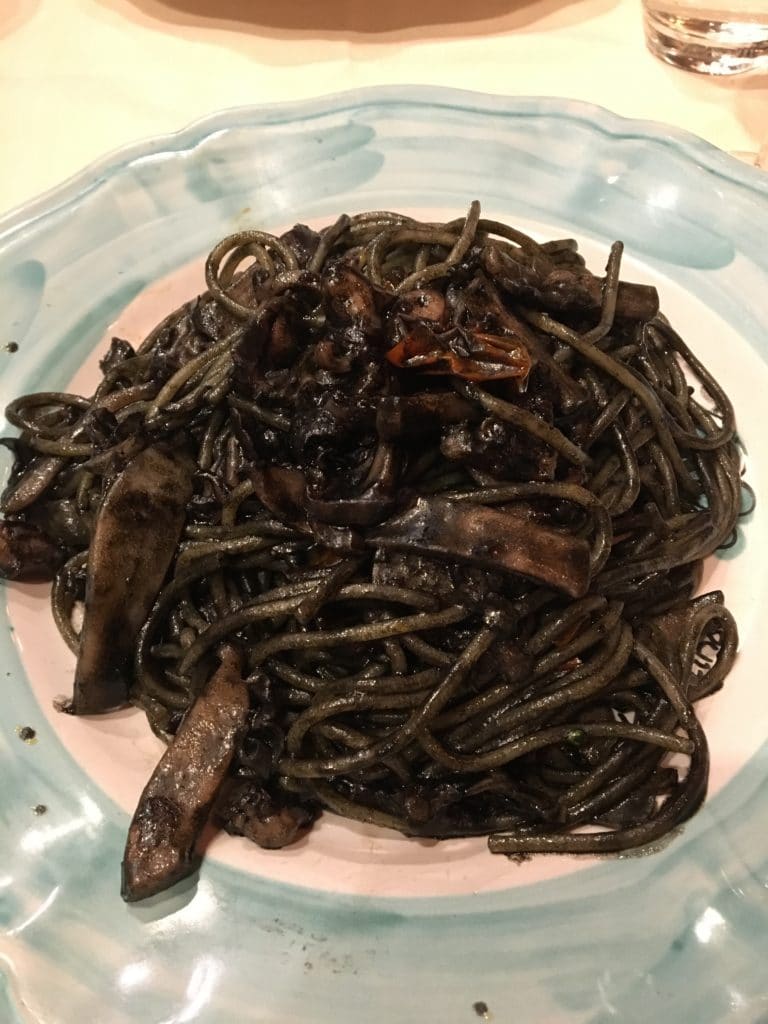 Have you been to Positano? Tell me about your trip in the comments below!