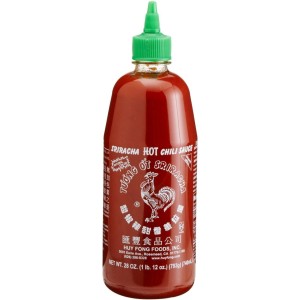 Don't judge this hot sauce by its extra "r" – although it's pronounced "SIR-rotch-ah," it's also been called "delicious." By me. It's a hot chile sauce that adds heat to any dish, but tastes better than Frank's or pretty much any others. Now, of course if I'm making Mexican food, Cholula has my heart. But anything Asian gets a dash or two of Sriracha sauce. The hot sauce has recently taken the internet by storm, and people are finally beginning to realize the beauty of the sauce.
In fact, there's an entire Sriracha cookbook! Although stirring Sriracha sauce into any stir fry or fried rice recipe is sure to be a success, I've gathered more healthy recipes with Sriracha sauce so you can learn to use the hot sauce to its full potential.
P.S. – Lay's Sriracha chips are hard to find but effin delicious. Don't tell anyone I just said that.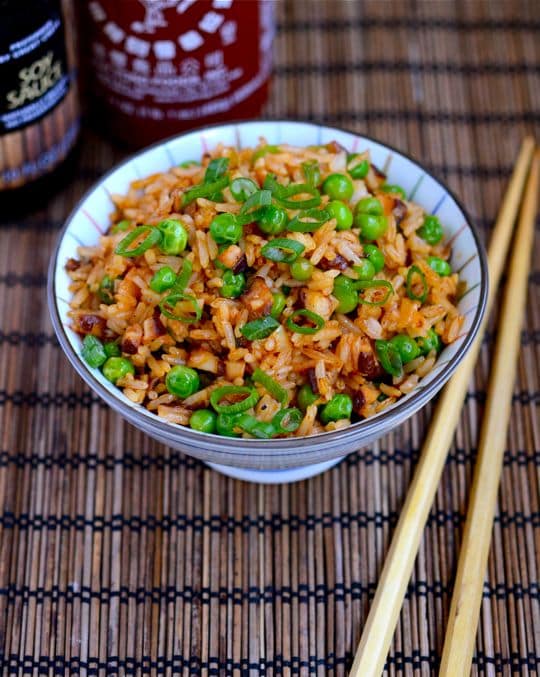 Savory Sriracha Oatmeal – I've ALWAYS wanted to try a savory oatmeal recipe, and this one has my name written all over it.
Sriracha Fried Rice (shown) – Use brown rice or quinoa and add a bunch of veggies to make this simple fried rice even better.
Baked Sriracha Butternut Squash Fries – I love the idea of adding heat to sweet "fries." Sounds like the perfect afternoon snack.
Sriracha, Cilantro & Lime Roasted Chickpeas – If you've never tried roasted chickpeas, do so now please.
Paleo Pho – Pho is a soup that typically includes noodles, but this paleo version comes with even less carbs!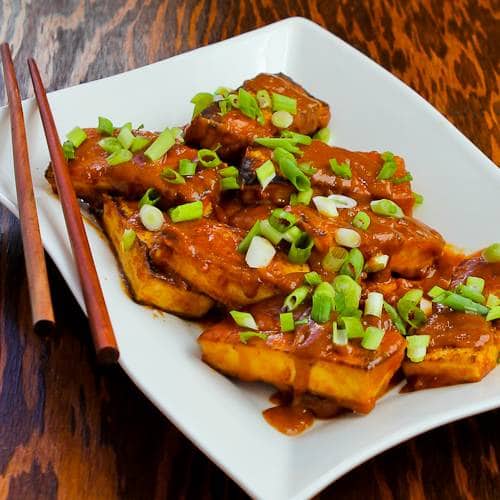 Vegetable Soup with Sriracha, Lemongrass & Tofu – Never tried cooking with lemongrass, but I'd be willing to with this soup recipe.
Mushroom Sriracha Stir Fry – This will become my new favorite way to cook mushrooms, I'm sure of it.
Spicy Vegan Peanut Butter Tofu with Sriracha (shown) – OMG. *wipes drool of keyboard*
Glazed Salmon with Sriracha Cream Sauce – This sauce can be used with pretty much anything.
Zucchini Vegan Bowl with Sriracha Peanut Sauce – Julienned zucchini "noodles" are my favorite – the perfect low carb meal!
Grilled Salmon with Maple-Sriracha-Lime Glaze – Salmon is one of the healthiest fish, and I think this glaze might bring it to the next level.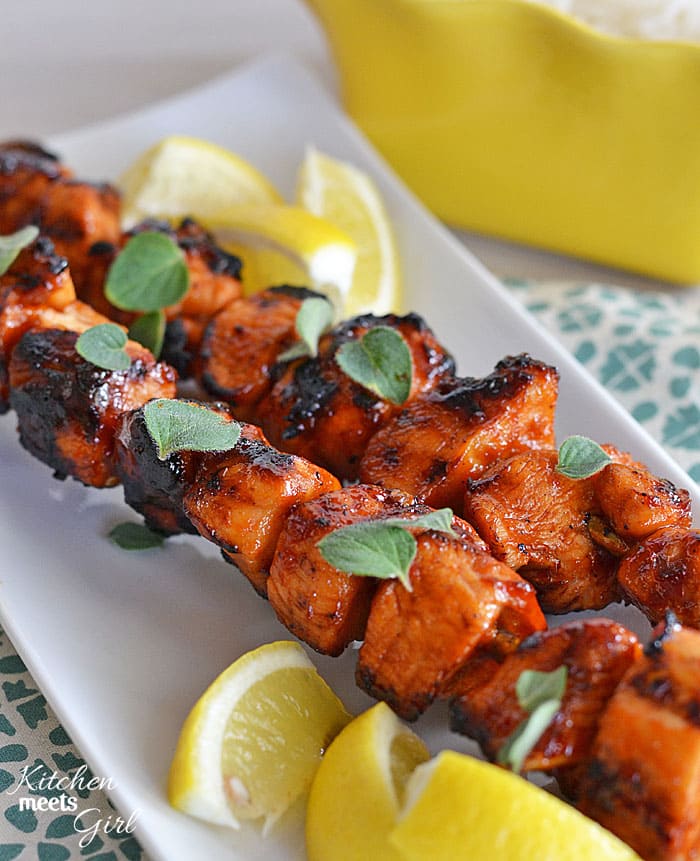 Sriracha Basil Popcorn – Air pop your own popcorn, then spruce it up with these flavors. Movie night just got a whole lot more delicious.
Sriracha Hummus with Pepitas – Homemade hummus is so easy, and perfect with raw veggies.
Sriracha Glazed Chicken Skewers (shown) – Fire up the grill for these babies.
Maple-Sriracha Roasted Brussels Sprouts with Cranberry Wild Rice – I actually might make this, like, tonight.
Cauliflower "Fried Rice" – Making "rice" out of cauliflower is my fave. This recipe looks like a keeper.
Have you tried it? Do you love it?
Pin it: