Ahh, juicing. It all started while I was watching the inauguration. A knock at my door produced an unexpected package, which turned out to be a Breville juicer sent to me by my generous mother as a surprise gift. Since then, I wrote this story for The Daily Illini and have since started to crave fresh vegetable and fruit juices almost every day. I'm drinking juice as I write this — it's turned in to a full blown obsession.
So for the first in many juicing blog posts, here's all the background information you need in order to decide whether you too want to join the juicing revolution.
1. A juice extractor costs as little as $40 like this or this and as much as $300 for this most popular Breville juicer.  Mine is middle-tier and absolutely perfect for what I need it for.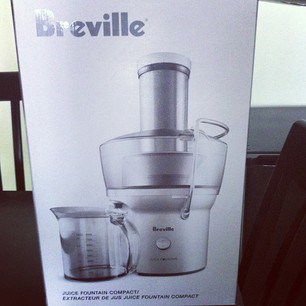 2. Studies have shown that juicing fresh, clean fruits and vegetables allows you to better absorb all of their nutrients. Although you are losing some essential nutrients in the pulp, most of the good stuff is being consumed. Further, your body is better at digesting liquid. So while it's running through ya, you're still absorbing the goods. Yep.
3. If you hate the thought of noshing baby carrots for a snack, juicing is for you. Although actually chewing fruits and veggies whole is obviously beneficial/filling/smart/blah blah blah, sometimes the thought of sticking your fork through a salad in winter isn't a welcome one. So drink em instead, these juices actually do taste great and are hydrating!
4. Trying to kick the coffee habit? Insert: you guessed it, juice! Waking up with fresh squeezed instead of coffee will give you the energy you need to make it through the morning. And it makes you feel great too – no kidding.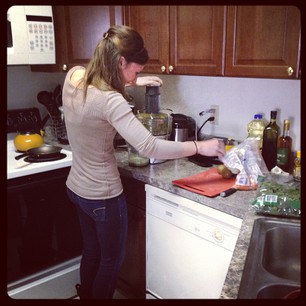 5. Still scared of the icky green/orange hue that is extracted veggie guts? If you can get past the color, or at least close your eyes, you will find that juice actually tastes great. Although I have made a scary veggie concoction that tasted mostly like a garden, simply including lemon or ginger makes the juice 100 times better – hence me craving the stuff every morning.
Look – I even got my roommate juicing! She used two kiwis in hers, and she didn't want it to end.
6. Although I don't necessarily recommend juice cleanses (I've never done one, but might for a blog post in the future), juice can substitute a meal if you're trying to recover from, say, consuming pizza/chips/cookies/other various appetizers on Super Bowl Sunday (guilty). It's more filling than you would think. I recommend subbing for breakfast, simply because it's the easiest.
Okay, so are you convinced yet?
I wouldn't be fair if I didn't include some down sides of juicing. Here they are:
1. It's a pain in the rear to clean the machine when your finished, making it a decently time-consuming process. If you buy a juicer with a detachable pulp container, you can line it with a plastic grocery bag to make cleaning easier! Otherwise you're stuck discarding pulp and scrubbing after every  juice. I estimate the whole process about 15 minutes.
2. It aint cheap. I can fill my cutting board with veggies and it still would only produce about 16 ounces of juice. To lighten the load on your wallet, buy bulk veggies/fruits at Walmart. Apples, cucumbers, carrots, celery and lemons make the base of almost all my juices. Then, splurge on flavor enhancers like ginger root.
3. Drink it now or never. Juice by far tastes the best right after you make it, and I wouldn't push it past 24 hours. If you want to save half for the next day, store it in the refrigerator in an air tight container, but don't leave it to long or it will grow bacterias. Yick.
Stay tuned for many more juice recipes/thoughts/experiments. 🙂