I've previously disclosed my love for stir-fry, but I'll reiterate. Not only are stir-fry recipes among the easiest and quickest dinners you can make, they're also a great way to use up veggies (and eat veggies in a way that tastes awesome). I embarked on my weekly walk to the farmer's market Saturday, and returned with a Japanese eggplant and a gypsy pepper in stow. I also thought it was a really good idea to buy a gigantic butternut squash – let's just say between the walk home and cutting that baby into tiny cubes to freeze, I probably burned more calories than what's in the entire squash.
Since I also am obsessed with discovering healthy food items, meet my new friend forbidden rice. "Forbidden Rice," or black rice, has a soft texture and nutty flavor, comparable to brown rice. Although the two are nutritionally almost identical, one study has shown black rice to have as many antioxidants as blueberries! The reason I like it is its awesome color and taste.
This easy stir-fry recipe also includes one red pepper from my container garden – because only one pepper grew. It was a prized pepper possession, and it didn't even taste that great but I ate it anyways.
These measurements are approximate, because the art of making stir-fry is to literally throw in any vegetables you want, and in whatever quantity your heart desires.
Pepper and Chicken Stir-Fry with Forbidden Rice
What you need:
2 cups cooked forbidden rice
1/2 tsp sesame seed oil
1 tsp peanut oil
1 Tbsp chicken broth (or more peanut oil)
2 peppers of your choice, sliced (I used a gypsy and red)
1 Japanese eggplant, sliced
1 cup mushrooms
1 cup chicken breast, cooked
For the sauce:
1 1/2 clove garlic
2 tsp chopped fresh ginger root
1 Tbsp soy sauce
2 Scallions, chopped
Sriracha, to taste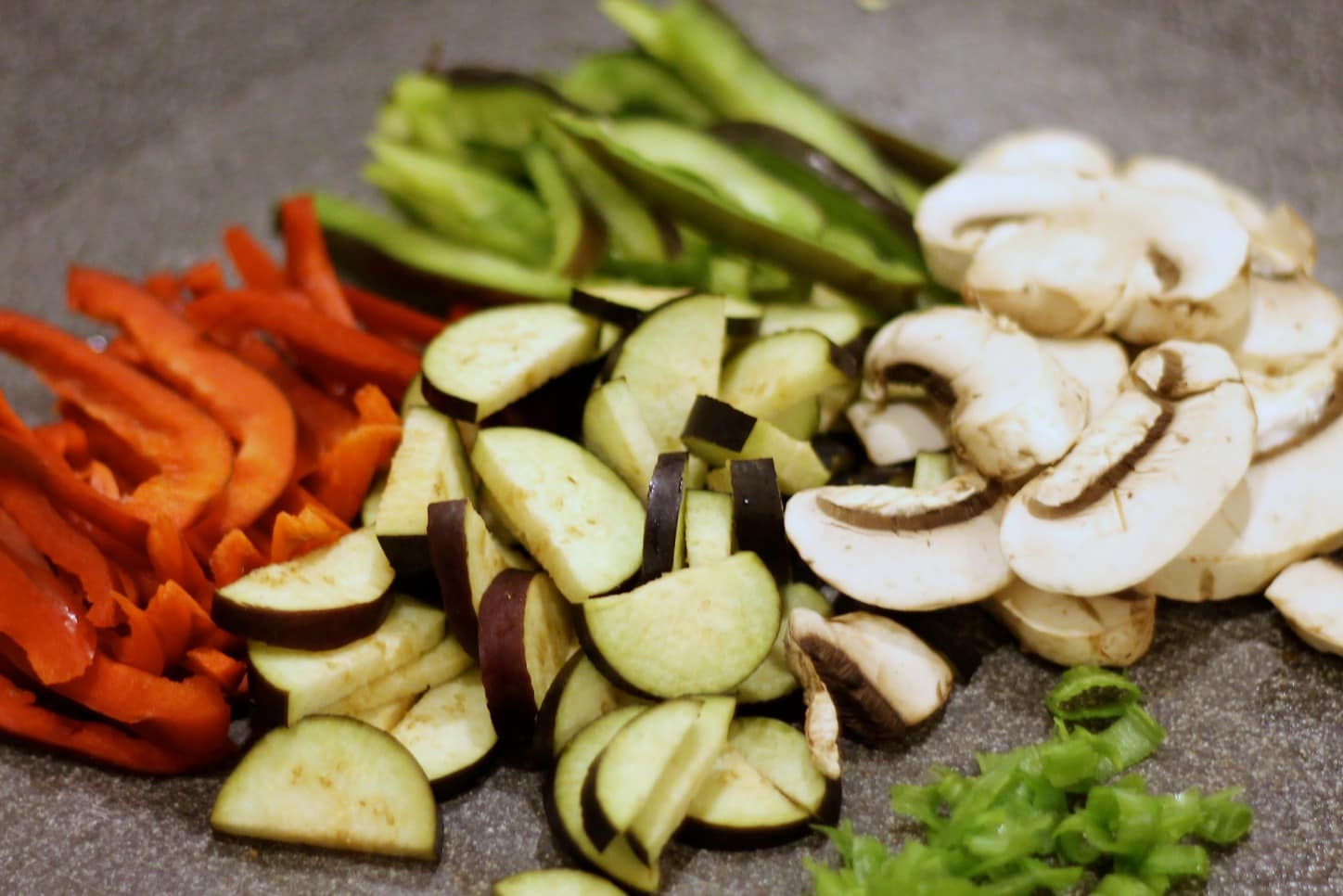 What you do:
1. Heat oil in a wok and add vegetables. If they begin to sauté and dry out, add chicken broth.
2. Meanwhile, mix garlic, ginger, soy sauce, scallions and Sriracha in a small bowl.
3. Once vegetables are almost tender, add in cooked chicken to heat.
4. Throw in your sauce, let sauté for a few minutes longer. Serve over rice.