When life hands me pounds of butternut squash, I make soup. And I put jalapenos in it. I froze all the jalapenos from our container garden this summer and have been looking for healthy ways to use them. Since they lose their crunch after being frozen, I figured blending them into soup was the perfect solution.
What I REALLY wanted to do was make jalapeno gnocchi,  a dish that I tried at a restaurant last week that was possibly the best gnocchi I've had. However, I have officially entered into a diet challenge with my sisters for the holidays. And since there's free swag on the line, no gnocchi for me. This soup is a close second.
The jalapeno doesn't add too much flavor, but it adds just enough kick. I left the seeds in because I like it hot, but if you don't then scoop them out. I'm telling you, just a tiny bit of kick adds something special to butternut squash soup.
(I spy with my little eye … myself. In a spoon. Hehe.)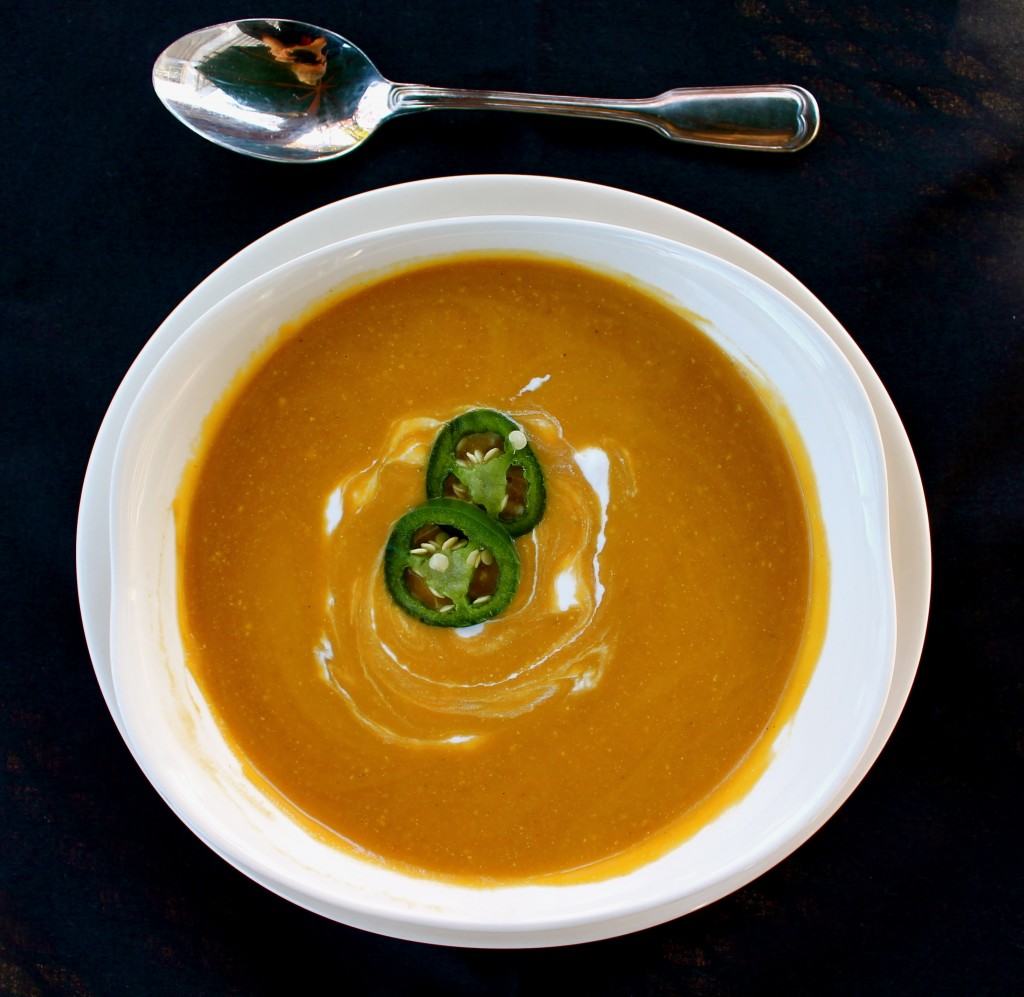 Jalapeno Ginger Butternut Squash Soup
What You Need:
2 tablespoons olive oil
1 medium onion, diced
1 cup carrots, diced
6 cloves garlic, chopped
2 tablespoons grated ginger
2 jalapeño chiles, seeded and chopped
1 tablespoon salt
1/4 teaspoon cayenne
4 pounds butternut squash, peeled and cut into 2-in. cubes
3 cups chicken broth
1 tablespoon light brown sugar
3 tablespoons heavy whipping cream, milk or sour cream (I used vegan sour cream)
What You Do:
Heat olive oil in a 4- to 5-qt. pot over high heat. Add onion and carrot and cook until the onions begin to caramelize.
Add garlic, ginger, jalapeño, and salt. Cook, stirring constantly, until fragrant but not yet browned, 1 to 2 minutes. Add cayenne and cook, stirring, for 30 seconds. Add squash, broth, brown sugar, and 3 cups water. Bring to a boil, lower heat to a simmer, and cook, stirring occasionally, until squash is tender, about 20 minutes.
In an immersion blender or regular blender, purée the soup until smooth. Stir in cream and adjust seasonings to taste. Serve hot.