I've recently been a tad  bit weird about red meat. Perhaps it's because my grandpa is a farmer, so we had an extra refrigerator just for those white packages of red meat that would be cooked into tacos and burgers and beef stroganoff and anything else you could imagine. Although I was a young adolescent who would literally eat anything my mom cooked (bless her soul for cooking for us every day), now that I'm old enough to cook for myself I'd just rather avoid red meat. Plus, I was tormented with something my whole family loved (the one thing I loathed) … Tater Tot Casserole.
Anyhoot, the one form of red meat that I can still stand is a beef roast. It just reminds me of comfort food and I just like it, okay? I don't know why. So when I decided to do this paleo challenge, I got literally the BEST. IDEA. EVER. There's an Italian restaurant we go to that has a menu item called Nana's Gravy. It's basically rigatoni with red meat sauce, except the meat in the sauce is shredded beef. So um, lightbulb! Tomatoes, plus vegetables, plus beef, plus zucchini "noodles" equals Jordan being a culinary paleo genius with this recipe for Nana's Paleo Slow Cooker Tomato Sauce.
I said I was doing "modified" paleo diet because those crazy cavemen try to tell you which fruits and vegetables to eat. For me, if it's a vegetable, I'll friggin eat it. Fruits I'm still careful with (berries are best, and apples and bananas when I'm feeling naughty). So even though this recipe uses canned tomato sauce, just buy the organic kind with no added extra junk and I'd say you're fine. Or you can be overly ambitious and make your own tomato sauce. Over achiever.
Okay so now that I've rambled for this long, here's a photo to make your eyes happy.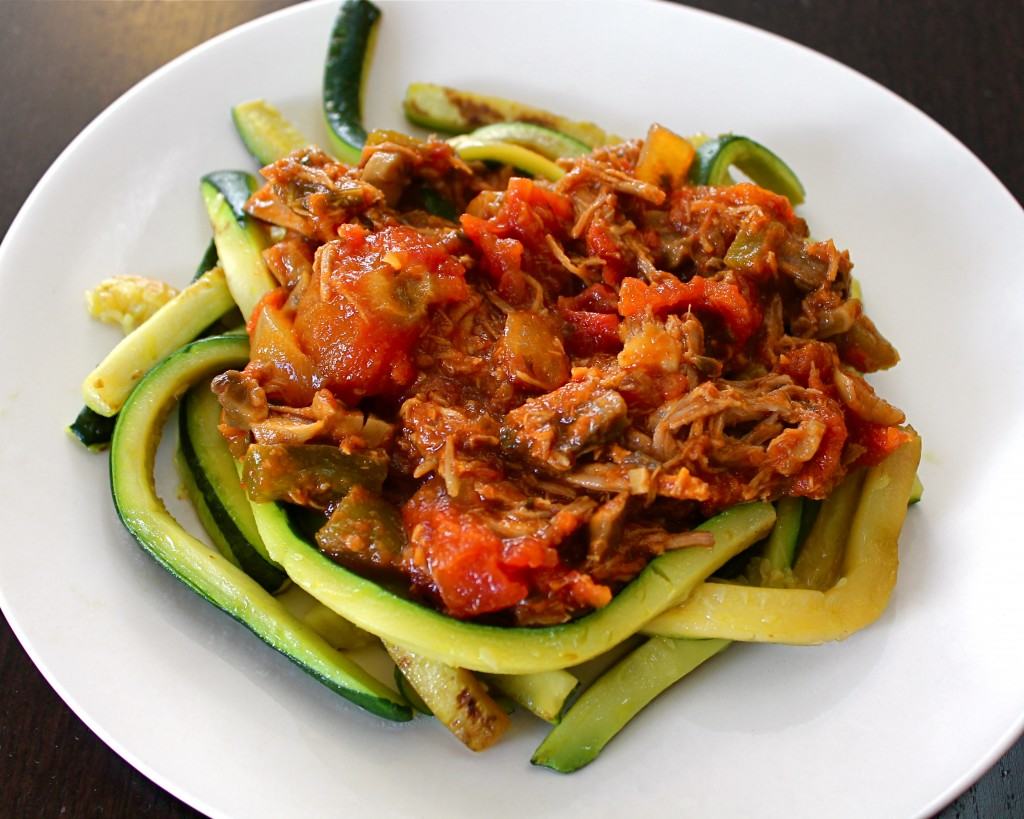 I've also decided that Paleo recipes are the least sexy food ever. But you (after eating paleo) will be so it's okay.
So let's talk about this paleo slow cooker tomato sauce. It might just be the best thing I've made so far. The beef gets super tender in the slow cooker, plus you have all the flavors of a standard marinara sauce, plus I even snuck in a few vegetables for added nutrients!
If you're a normal human being, serve this over whole wheat rigatoni. Please. Today. Do it do it do it do it. Your stomach will thank you for it.
Paleo Slow Cooked Beef Roast Tomato Sauce
Ingredients
1 beef roast (organic, grass-fed, blah, blah)
1 green bell pepper, chopped
1 yellow onion, chopped
1 orange bell pepper, chopped
1 14.5-ounce can stewed tomatoes
2 14.5-ounce cans tomato sauce
2 teaspoons fresh garlic
Fresh basil, to taste
Salt and pepper, to taste
8 ounces fresh mushrooms, chopped
3-4 small zucchini, sliced with a mandolin, spiralizer, julienne or knife
Instructions
Salt and pepper the outside of your beef roast. Saute in a pan about 4 minutes each side until just the outside is browned.
Throw that hunk of meat in your slow cooker, then dump in the peppers and onion, tomatoes, garlic, basil, and whatever other herbs you like to put in your marinara sauce. Give it all a good stir. Cook on LOW about 6-8 hours.
When it's about 45 minutes away from being done, add in the mushrooms and continue cooking.
Once the meat is done, remove it from the slow cooker and shred it with two forks. Add it back in with the sauce and stir it all up.
Saute your zucchini "noodles" in a pan until they're soft. Serve the meat over the noodles, or pasta if you prefer. ENJOY!
7.6.4
1
http://smilesandwich.com/2014/01/07/paleo-slow-cooked-beef-roast-tomato-sauce/
Notes: I cut my zucchini noodles a bit bigger than normal because I wanted them to stand up to the hearty sauce, but in hindsight I think I would have gone with smaller noodles.
Also, I kept the noodles separate to make a better photo, but that was just silly of me. If you're going to reheat this, throw it all into one container so you have less zucchini flavor and more beefy tomato sauce flavor.