There comes a point in your paleo diet when you're eating a lunch of six microwaved turkey meatballs and you begin to think that the whole thing is totally not normal and no human should ever consume this much meat in a short amount of time. Well, maybe that was just me yesterday.
Eating this way is a lot of work. And money. And self control. And meat. BUT judging by my progress just in the first week, it is definitely worth every damn microwave turkey meatball I have to eat. Nothing has ever worked better or quicker for me than eating a high protein, low carb, low sugar diet. I can proudly say I'm 5 days away from being in a bikini, and I'm almost ready! (Well, as ready as I'll ever be).
So, per my Sunday ritual, I spent yesterday prepping lunches for the week and came up with this recipe for Paleo Mock Chipotle Chicken Burrito Bowl. Now, to say this tasted just like Chipotle would be a stretch of the truth, but either way it tastes pretty darn good! If I was eating normally, I'd definitely add black beans, and I think then it would closely resemble Chipotle's version.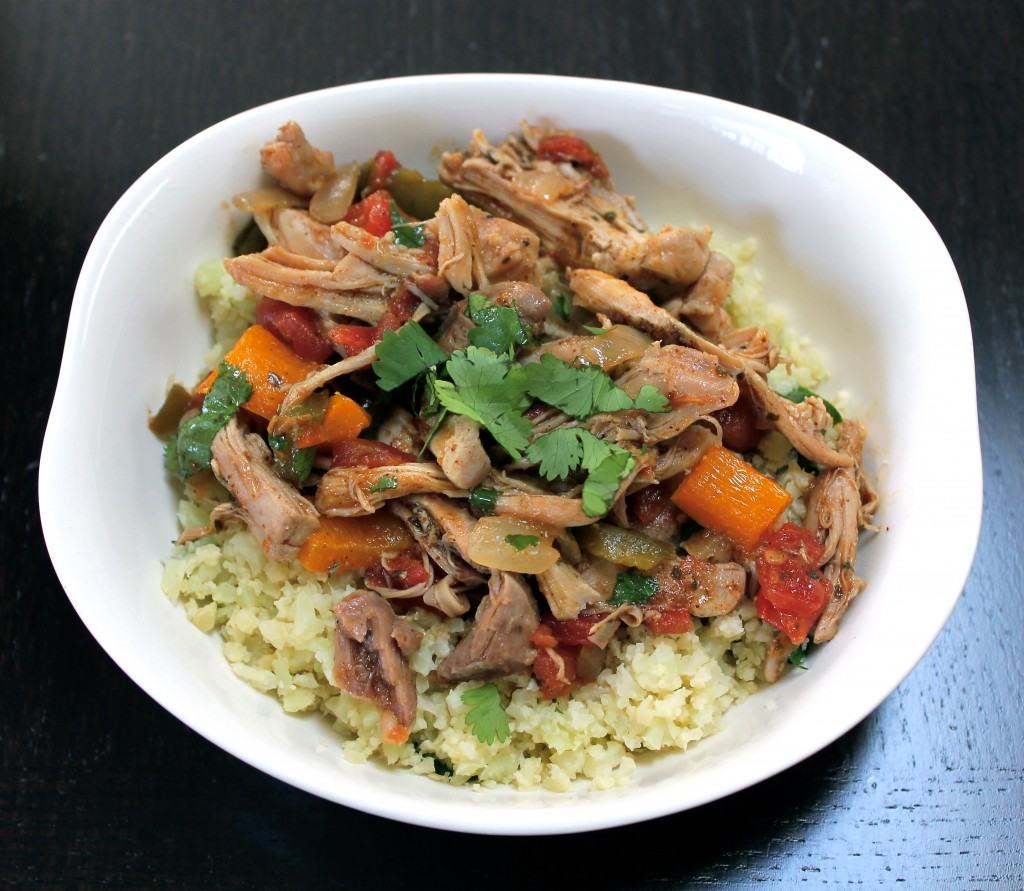 I took the shortcut way of making the cilantro lime cauliflower rice, but it's better if you sauté it with onion in a pan rather than microwaving it. But, sometimes a girl just wants to be lazy on a Sunday, okay? I also chose to use chicken thighs – not because they're juicier and not because I prefer the taste to chicken breasts, but because they're cheaper. This cavegirl is balling on a budget.
Paleo Mock Chipotle Chicken Burrito Bowl
What You Need:
1 tablespoon olive oil
Salt and pepper, to taste
6 chicken thighs
4 cloves garlic, minced
1 small white onion, chopped
1 each green and orange bell peppers, chopped
1 can diced tomatoes with green chiles
Mexican seasonings (I used a blend of cumin, chili powder, coriander, salt and pepper)
1/2 head cauliflower
Juice of 1/2 lime
Fresh cilantro
What You Do:
1. Heat the oil in a pan and season the chicken thighs with salt and pepper. Brown the chicken thighs on each side, but don't cook through. Set aside.
2. In the same pan, sauté garlic, onion and peppers. Once they're soft, add in the tomatoes and seasonings. Place the chicken thighs back in the pan, nestled into the vegetable mixture. Cover and let simmer on low for about 20 minutes.
3. Meanwhile, blend the cauliflower in your food processor until it resembles rice. Place it in a microwave safe bowl and microwave for about 5 minutes until it's soft. Stir in your lime juice and cilantro. (This can also be done in a pan on the stove).
4. When the chicken is done, remove it from the pan and shred it with two forks. Add it back to the pan and stir. (If the mixture is too liquid-y, simply let it cook with the lid off for a few minutes).
5. Serve chicken on top of cauliflower rice! Yay healthy Chipotle.