GUYS! I'm moving out! Although I'm beyond excited to move to the Lincoln Park neighborhood in Chicago, this also means that I will be a blogger on a budget. SO, prepare yourself for budget-friendly, super easy, don't-require-a-ton-of-dishes recipes. 🙂
Which brings me to one of my favorite quick lunch solutions. When you just don't have time to meal prep, and you just don't have energy, and you just happen to have a can of tuna sitting in your pantry, make this 2-Minute Paleo Tuna Salad! It's so delicious and takes minutes to throw together. Tuna is one of those cheap ingredients I like so much that I buy it at Costco.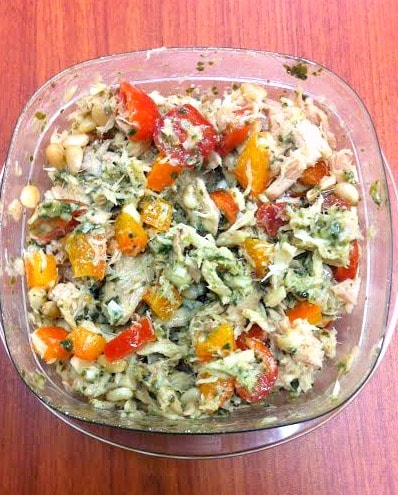 And just because I took this picture on my dysfunctional iPhone before I ate it at work doesn't mean it's not delicious! Please note that this is not strict paleo but life is about breaking the rules.
2-Minute Paleo Tuna Salad
2-Minute Paleo Tuna Salad
Ingredients
1 can albacore tuna in water
2-3 tablespoons homemade pesto (see recipe below)
2 tablespoons pine nuts
1/4 cup tomatoes, chopped
1/4 cup bell peppers, chopped
*Note: These are estimated quantities - I suggest just throwing in however many vegetables and nuts you like!
Instructions
Drain the tuna. In a small bowl, mix to combine the tuna and pesto. Stir in the pine nuts, tomatoes and bell peppers.
For best results, refrigerate for a few hours before eating.
7.6.4
2
http://smilesandwich.com/2014/02/28/2-minute-paleo-tuna-salad/
Healthy Homemade Pesto
1/2 cup raw almonds
1 clove garlic
1 cup fresh basil leaves
1/4 cup cheese of choice (Pecorino)
1 cup olive oil
1. Combine all ingredients in food processor and blend until smooth. You may need to add a bit of water to get the correct consistency.