A month ago, if you would have told me that I could eat nachos while on paleo, I would have told you to get out of town. That was, until I came across a photo of Paleo Nachos on Pinterest and thought … duh, Jordan, nachos can be made clean if you just avoid the cheese and make your own sweet potato chips. So what else would I do with my Saturday than make said Paleo Nachos. And they …. were delightful.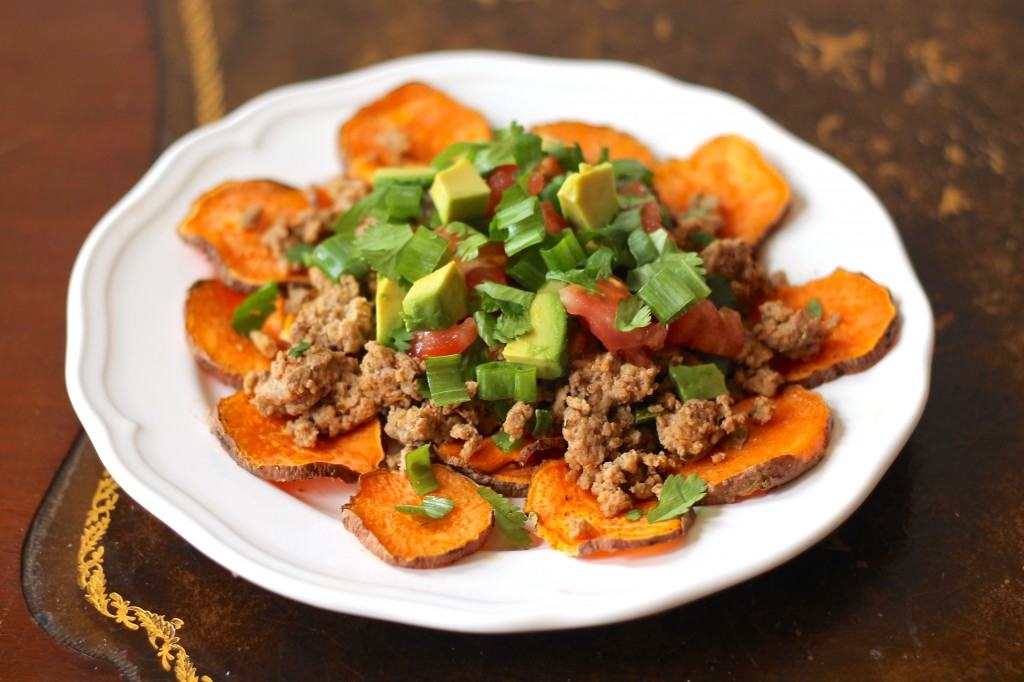 I got impatient and pulled my sweet potato chips before they really got crispy, but I was okay with them being  a bit softer (like fries) and I just ate the nachos with a fork. Think of it like …. Paleo Irish nachos. Sort of. But, if you prefer crispy chips, just be patient. Read a book. Do a puzzle. Anything to keep your mind off the fact that you will soon be devouring glorious nachos.

I made extra ground turkey taco meat and ate it for lunches with tomato and avocado. This can also be made with ground beef. Or chorizo. Get crazy with your bad nacho-eating self.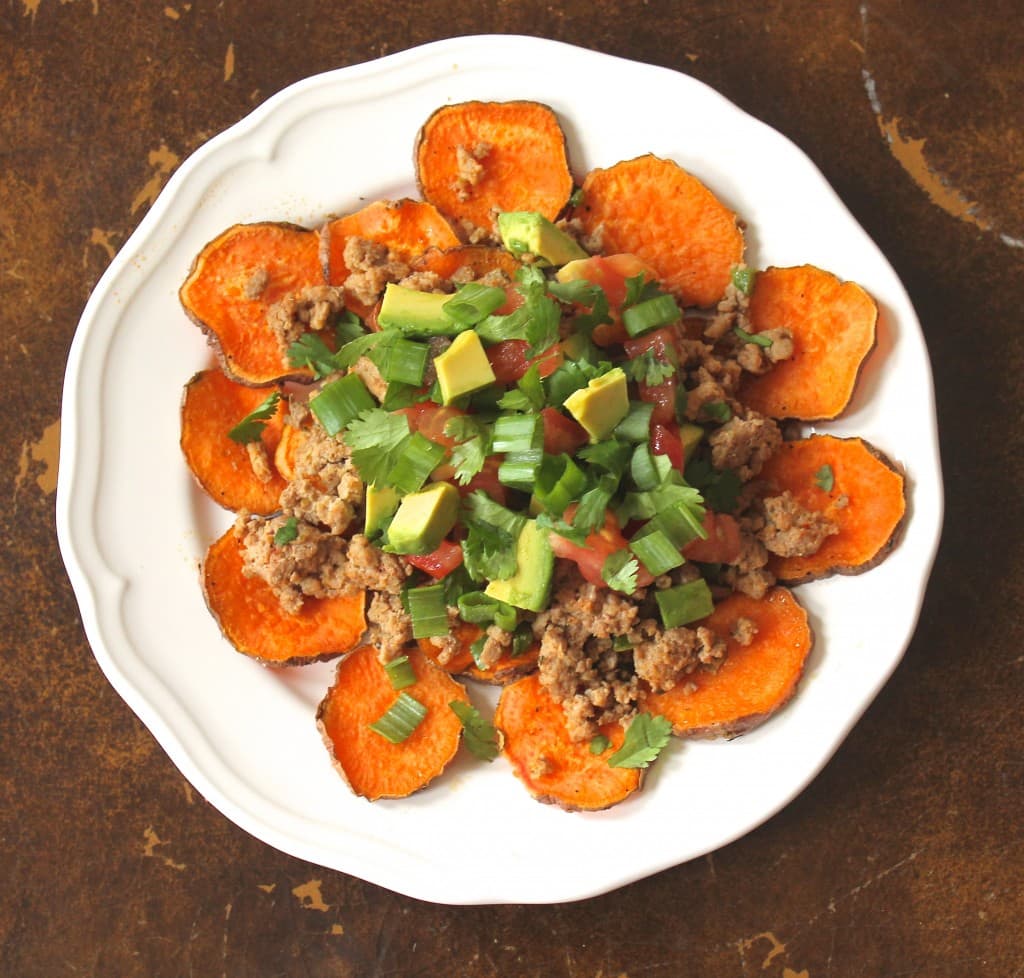 Ingredients
For the sweet potato chips:
1 skinny sweet potato
1/2 tablespoon coconut oil
salt and pepper, to taste
For the taco meat:
1 pound ground turkey (or beef, bison, whatever)
1 jalapeño, minced
3 teaspoon Cumin
1 teaspoon Paprika
1/2 teaspoon Oregano
1/2 teaspoon Red Pepper Flakes
1 teaspoon Garlic Powder
½ teaspoon Onion Powder
1 teaspoon Salt
1 teaspoon Ground Black Pepper
For garnish:
Tomato, chopped
Avocado, chopped
Cilantro, chopped
Green onion, chopped
Salsa
(lettuce, olives, or whatever else)
Instructions
Preheat your oven to 400 degrees F.
Use a mandoline or a knife to cut your sweet potatoes thin. Put some parchment paper down on a cooking sheet. Place sweet potato rounds on the parchment paper.
Melt coconut oil and use a pastry/cooking brush to paint some coconut oil on top of each sweet potato round. Sprinkle salt and pepper.
Place in the oven to bake for around 8-10 minutes. Flip sweet potatoes over and bake for another 5 minutes or until edges are brown and have curled up a bit. Set aside.
In a large skillet, sauté jalapeño until soft. Add ground turkey and brown, stirring to break up the meat –about 10 minutes. Turn heat down to low and drain fat from turkey.
Mix together taco seasoning. Add ¾ warm water to taco seasoning and stir until mixed. Pour on ground turkey and simmer 5-10 minutes.
To assemble, layer sweet potato chips with taco meat and any toppings you'd like!
7.6.4
14
http://smilesandwich.com/2014/04/15/paleo-nachos/