Things I've learned since moving out of my parents' house to a humble apartment in Chicago's Lincoln Park area: I. Was. Spoiled. Not only was I saving enough money to afford a $200/month crossfit membership, oh no, that's just the beginning of it. I also had a 15-minute commute to work (now it's an hour) so I had extra time to attend said crossfit classes about 5 times per week. Further, every single night I came home to a hot meal cooked by my step mom. Of course, she knew I was trying to follow a low carb, high protein diet, so dinner always, always included a meat, hot vegetable, side salad, and typically a starch I just didn't eat. Oh, and that's not all. Nine times out of 10 there would be dinner leftovers for me to take to lunch, so pretty much my life couldn't be easier.
Since I'm a girl who likes to use her resources, I still go home for family dinner night about once every other week, sometimes more. Of course the main reason I go is to visit with family, but the free (always amazing) dinner doesn't hurt. How lucky am I to be a part of a family with amazing cooks that adapt to my strange diet??
This Paleo Beef Stroganoff was repurpose recipe using leftover beef tenderloin from family dinner night. I always used to love when my mom made beef stroganoff with egg noodles, so I decided to create the healthy version of the comforting classic. Trust me, you won't miss the canned soup or cream in this recipe! The coconut milk gives it a creaminess, but I promise you can't taste the coconut. Serve it over a bed of your favorite veggie noodles and DEVOUR … er, I mean enjoy!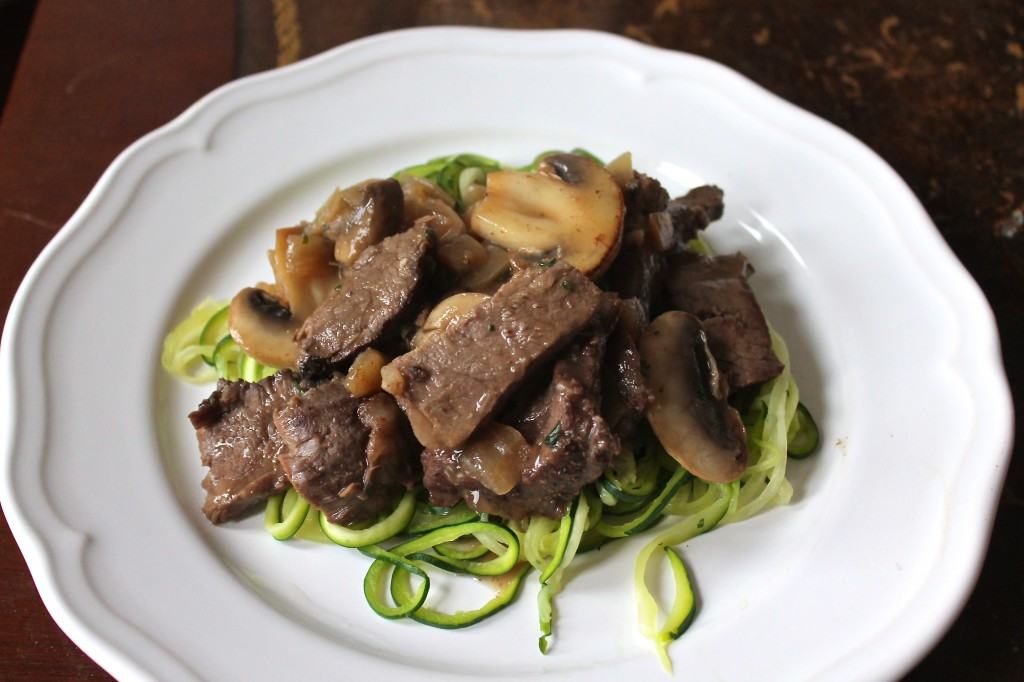 Ingredients
1 lb top sirloin steak, cut into strips (I used leftover beef tenderloin)
6 tbsp butter or other cooking fat
1 medium onion, chopped
8 oz mushrooms, sliced
2 cloves garlic, minced
1/4 cup dry white wine
1 cup beef stock
1 cup coconut milk
1 tbsp fresh parsley, finely chopped
Sea salt and freshly ground black pepper to taste
Instructions
Heat a large skillet over a medium-high heat and allow 2 tbsp of your cooking fat to melt. Add the beef strips and cook on each side for just one minute, until golden brown but not cooked through and then remove from the pan and set aside.
Saute the mushrooms in the same pan, just enough time so that they begin to take a golden color. Remove and set aside.
Saute the onions and garlic until tender. Leave them in the pan and add the white wine. Cook for a few minutes so that the alcohol burns off and the brown bits stuck to the bottom of the pan come up. At this point add the coconut milk and beef broth, stirring until a consistent creamy sauce takes shape.
Return the beef and mushrooms to the skillet and allow them to simmer slightly for 5 to 7 minutes. You may need to turn the temperature down to prevent the sauce from boiling. Serve!
7.6.4
15
http://smilesandwich.com/2014/05/09/paleo-beef-stroganoff/