I did a bad thing. But it's not my fault! Sometimes, on a Saturday night, the time comes when you just give in to all aspects of health …… and you order Pizza Hut. Now before you go thinking that's not the worst thing I the world, you should know that we didn't JUST order Pizza Hut. We ordered The Big Box, which includes two pan pizzas, five breadsticks, and eight hot wings. And it was just for two people. And we drank beer with it. And binge watched Orange Is The New Black. Thank goodness calories don't count on weekends, right?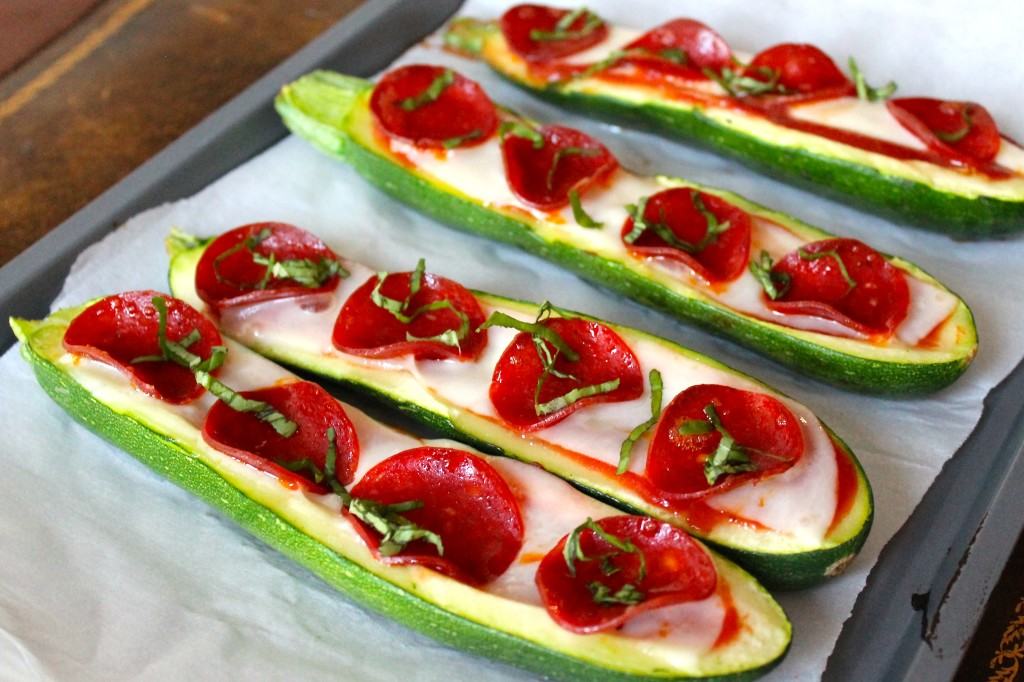 So as much as I love Pizza Hut, these zucchini pizza boats really are a close second. And they won't even leave a greasy residue on your fingers! I, for one, have a love-hate relationship with zucchini. I don't care for it when it's simply sautéed in butter. I only like it if it's spiralized then tossed in a mound of spaghetti sauce, or baked into bread, or made into fritters. Of course when I saw this recipe for pizza stuffed zucchini boats, I knew I had to give it a chance. Because zucchini disguised as pizza had to be good, right?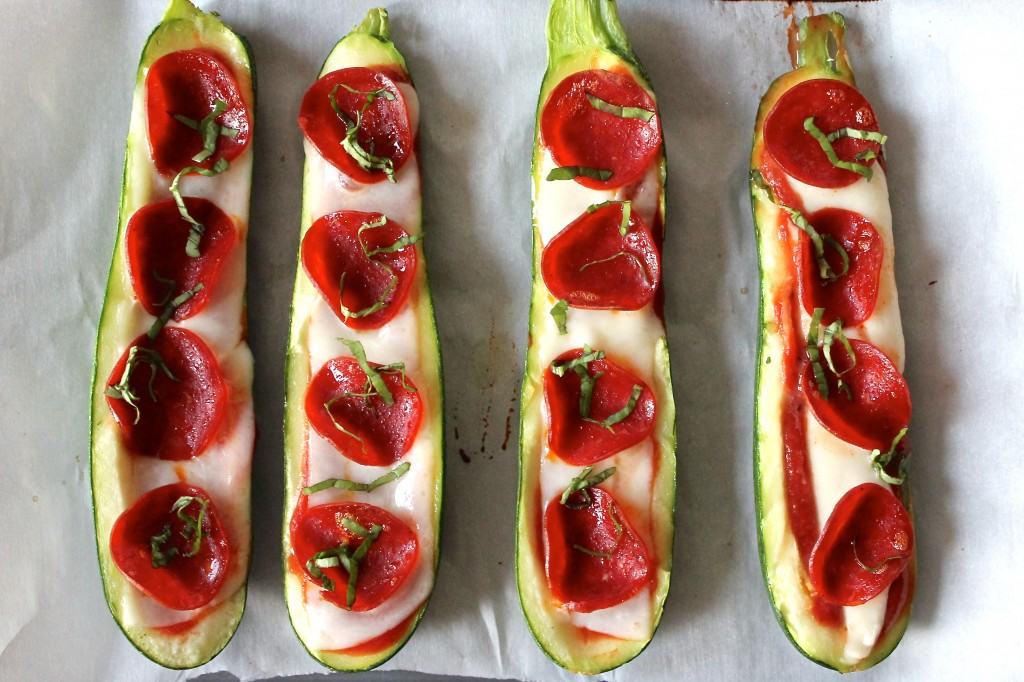 Well, I was right. The thing I love most about these are that they can be easily customized to fit your pizza preferences. The recipe I followed from Damn Delicious actually used ground turkey to stuff the zucchini boats. I happened to have turkey pepperoni on hand, so that's what I used, but you can also go with any vegetable toppings you want!
No matter what you choose, these zucchini pizzas are nom-tastic. Even those who don't care for zucchini will eat these right up – and if you have kids, make them close their eyes and eat these. They'll be doing a zucchini dance in no time.
I might even suggest that Pizza Hut include these in their "Big Box." Ha.
Pizza Stuffed Zucchini Boats
Ingredients
2 large zucchini
1 cup pizza or pasta sauce
4 slices fresh mozzarella
16 pieces turkey pepperoni
Fresh basil, to garnish
Instructions
Preheat oven to 375 degrees F.
Cut each zucchini in half lengthwise and scoop out the middle. Discard or save for something else.
Spoon pizza sauce onto each zucchini half, then top each with a slice of mozzarella and four pepperonis.
Place zucchini boats on a parchment-lined cookie sheet and bake until the zucchini is tender and the cheese has melted, about 12-15 minutes. Garnish with basil and serve!
7.6.4
24
http://smilesandwich.com/2014/06/17/pizza-stuffed-zucchini-boats/