Apple sauce is just another one of those things that's SO much better homemade! This recipe for homemade apple sauce is one my mom makes all the time – it's simple and so much healthier than store bought.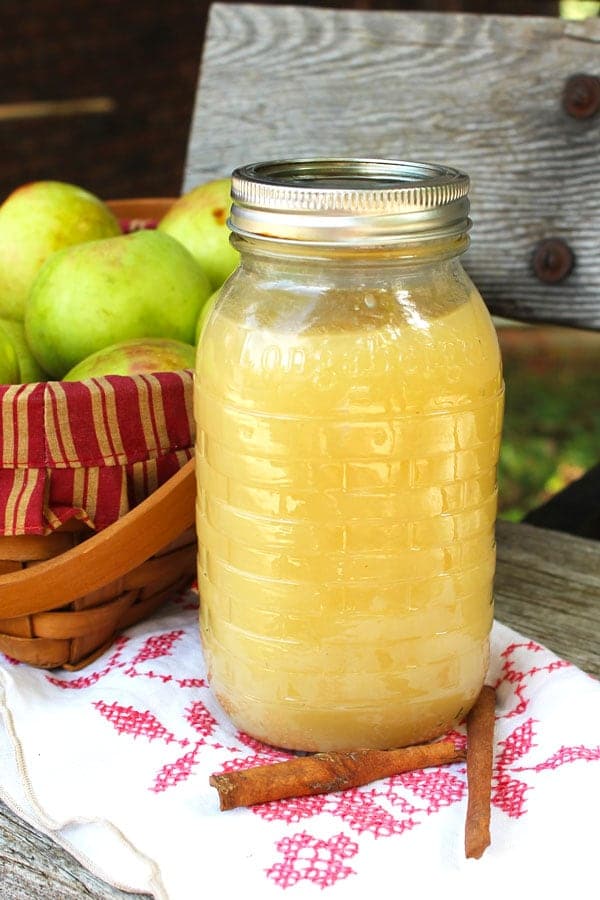 Yay for fall! And apples! And apple orchards! And Mom's Homemade Apple Sauce!
Everything is better homemade, and apple sauce is no exception. My mom introduced me to this homemade apple sauce recipe that she makes all the time when apples are in season. It's so easy you don't even need a recipe to make it! Plus, it's so sweet on its own that you don't even have to add sugar. Just throw some apples in a pot and you'll be on your way to enjoying delicious homemade apple sauce that even the picky boys will eat.
This recipe can also be modified depending on your laziness level that day. For a rustic homemade apple sauce, just leave those skins on! Nobody likes peeling apples anyways. And if you like it chunky, don't even fuss with the blender – just whip out the old potato masher and give 'em a good mash. See! How easy is that?
Since I like my apple sauce smooth, I always peel and blend, but that's probably just because I'm an apple sauce diva with too much time on my hands. (HA!)
I hope you enjoy this homemade apple sauce recipe as much as I enjoy when my mom makes it for me. 🙂
Mom's Homemade Apple Sauce
Ingredients
Apples - as many and whatever kind you like!
2 cinnamon sticks
Instructions
Core and chop apples - peeling is optional here! Leave the skin on for a more rustic apple sauce with more flavor.
Place the apples and cinnamon sticks in a pot and add about 1/4 inch of water to the bottom of the pot. Cover and cook on medium heat until the water starts bubbling. If the water dries out, add 2 tablespoons more at a time and stir periodically.
Once the water bubbles, turn the heat down and let them cook until very soft. Remove cinnamon sticks. If you prefer chunky sauce, mash it with a potato masher! If you prefer smooth sauce (I do) transfer it to a blender or use an immersion blender to blend until smooth.
Give it a taste and sweeten it with honey or sugar if you want. We like ours as is!
Store it in the refrigerator or can it. It won't last long.
7.6.4
56
http://smilesandwich.com/2014/09/16/moms-homemade-apple-sauce/