These pumpkin bars are packed with protein and have all the taste of pumpkin pie, but with one secret ingredient that make them grain-free … garbanzo beans! Just throw the ingredients in a blender, blend to form a batter, and bake. 
AND THE PUMPKIN BEGINS! Man I love fall … the leaves, the apple orchards, and the pumpkin recipes.
This is just the first of many pumpkin recipes to come because, let's face it, pumpkin is a magical healthy ingredient that only really comes around once a year and transforms dessert into a delightful experience.
These "Secret Ingredient" Protein Pumpkin Pie Bars have the taste and consistency of pumpkin pie, but in a grain-free dessert bar! If you're just dying to know what the secret ingredient is … I'll tell you. 
It's chickpeas!! Don't be scared, you really can't taste them. The pumpkin puree and spices overpower the taste of the chickpeas, so you don't taste them at all. They give the bars a soft, moist consistency that's just like pumpkin pie.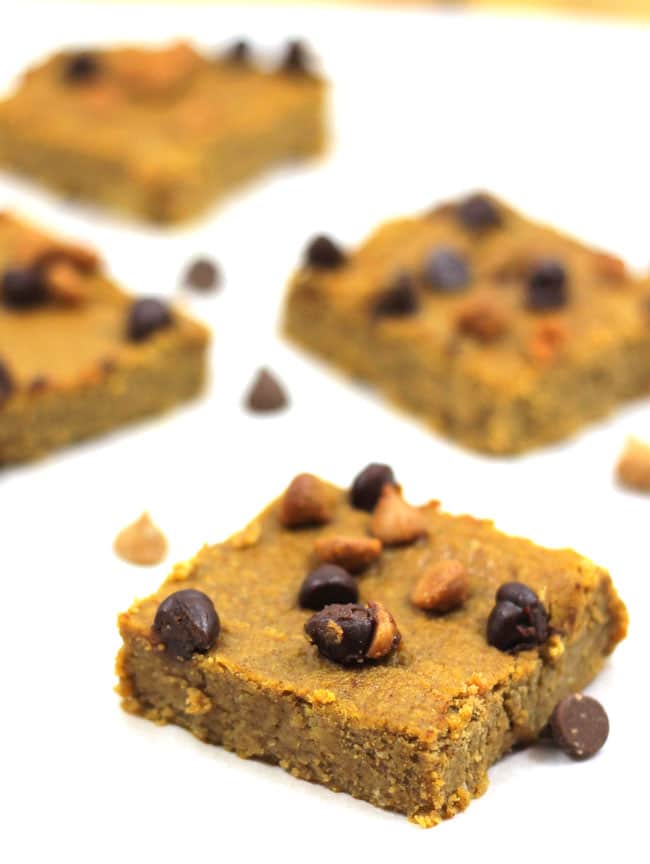 Each one of these bars only has 70 calories and 7 grams of protein! They make a great filling breakfast, after workout snack or dessert. Top them with chocolate chips or pecans to really take them to the next level.
Did I mention these are super duper easy to make? Just throw the ingredients in your blender, blend until a batter forms, pour them in a pan and bake. So easy, so few dishes, so much joy.
Soft, moist, pumpkin-y, healthy and full of protein. WHAT MORE COULD YOU WANT?
"Secret Ingredient" Protein Pumpkin Pie Bars
Ingredients
1 15-ounce can chickpeas/garbanzo beans (drained and rinsed well)
1/2 cup pumpkin (not pumpkin pie filling)
2 large egg whites
1/4 cup low sugar maple syrup (or honey)
1/2 cup vanilla protein powder
1/2 teaspoon baking powder
1/2 cup baking stevia
1 teaspoon cinnamon
1/2 teaspoon pumpkin pie spice
1/4 teaspoon salt
1/4 cup peanut butter and chocolate chips (or nuts), for topping (optional)
Instructions
Preheat oven to 350 degrees F.
Place all ingredients except chocolate chips in a blender and blend until a batter forms, stirring occasionally.
Pour batter into an 8x8-inch baking pan sprayed with baking spray. Sprinkle chocolate chips on top.
Bake for 25 minutes (or about 3-5 minutes longer for bars to have a harder consistency).
7.6.4
60
http://smilesandwich.com/2014/09/19/secret-ingredient-protein-pumpkin-pie-bars/