This healthy Halloween party recipe is so easy to make and is the perfect dish to serve at or bring to a party!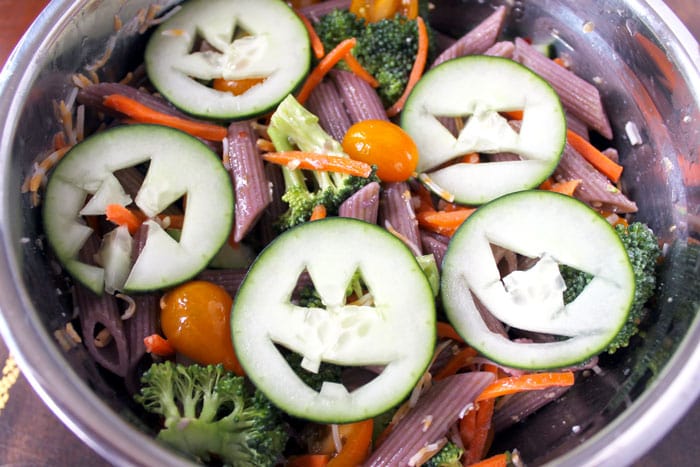 Stop! Put down that candy bar. I know we're approaching Halloween and you need to get your fill of candy corn before the season's end, but you still have to fit into your (hopefully not too skimpy) Halloween costume!
Lucky for you, I'm here to help you resist Halloween's plethora of sweets with this Healthy Halloween Pasta Salad! What's so great about this recipe is that you can pretty much adapt it any way you want to fit your taste. Don't like cucumber? Use zucchini instead. Not a fan of penne in your pasta salad? Swap it out for any other pasta. Then, throw in any veggies you like and toss with any salad dressing of your choosing (or homemade)!
See – creating a healthy Halloween party recipe really is that easy. And this bowl of spooky salad will be a HIT at your Halloween party. When I saw this idea over at My Little Boob Cancer, I knew I had to make it immediately. So easy, so festive, and healthy enough to still be able to have a few fun-sized candy bars!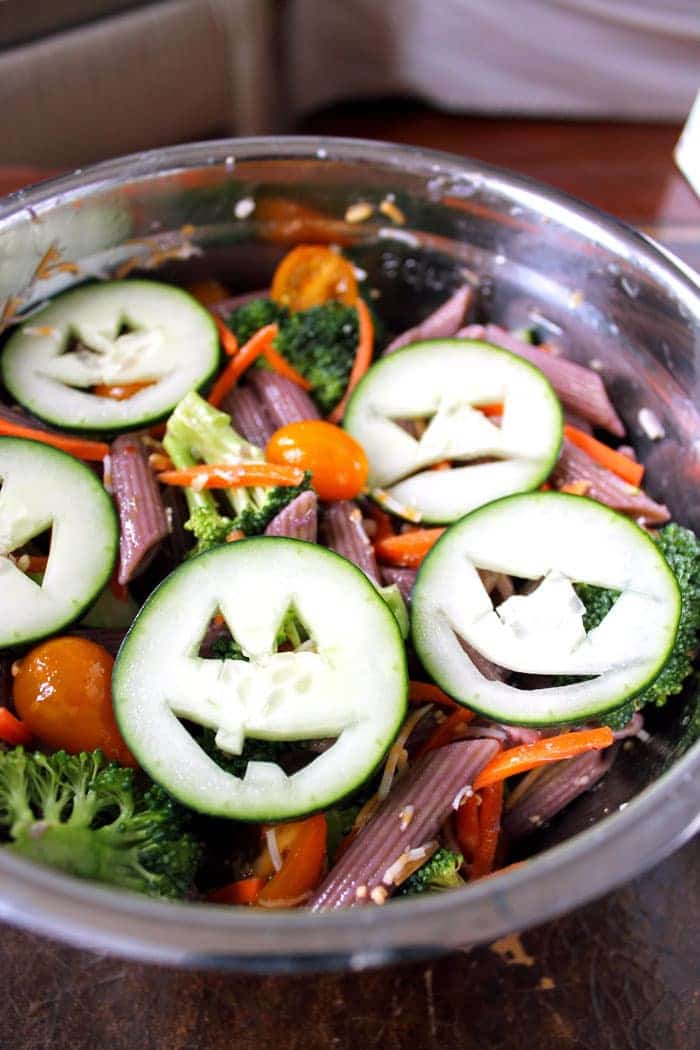 I'll be honest, I never really got into Halloween. I always had high hopes for a great costume idea, a cuddle with a crush during a scary movie, or at the very least a large abundance of candy … but even all those great things don't make it one of my favorite holidays. But, I'm always up for a celebration, so celebrate I will. With pasta salad in hand.
If you're totally freaked out by food coloring, use squid ink pasta! It's already a blackish-purpleish color. Natural food colorings can be found at most health food stores (King Arthur Flour makes some).
What was your best ever Halloween costume?
Healthy Halloween Pasta Salad
Ingredients
1 box whole wheat penne pasta (or other pasta)
Natural purple food coloring (or red + blue)
1 cucumber, sliced
1/2 head of broccoli, chopped
1 cup orange cherry tomatoes, sliced in half
1 cup shredded carrots
1 cup shredded low-fat Cheddar cheese
Your favorite Italian salad dressing, to taste
Instructions
Boil the pasta as directed on the box until al dente. Drain and run cold water over the noodles.
Meanwhile, use a knife to cut out jack-o-lantern faces in the cucumber slices. You don't have to cut all the slices if you're in a time crunch, just a few to go on top.
Add about 1/4 cup water to a large Ziploc bag and squeeze in about 10 drops of purple food coloring. Add pasta to the bag and toss to coat.
Let sit a couple minutes, drain, and rinse with cold water.
Transfer pasta to a large bowl and add the rest of the ingredients. Toss to coat and refrigerate a couple hours or overnight. Add a bit more dressing before serving.
7.6.4
65
http://smilesandwich.com/2014/10/08/healthy-halloween-pasta-salad/