Egg Roll In A Bowl is a low-carb recipe for a Chinese takeout favorite. All the flavors of an egg roll in a super easy, healthy one-pot recipe … without the egg roll wrapper!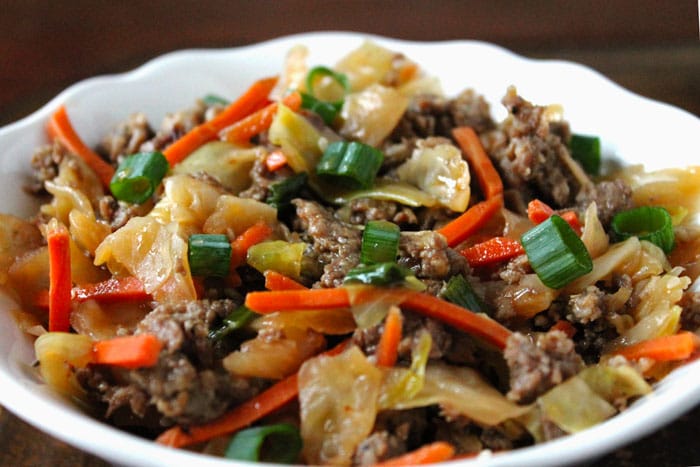 Hosting parties is hard.
Now that I've officially entered adulthood, gone are the days of "parties" that consist of telling everyone to BYOB and "picking up" is as far as cleaning goes.
Nope. Now that I'm an adult, parties mean scrubbing every inch of the apartment, cooking/baking themed treats, and of course providing refreshments for guests.
And it's a lot of work.

I hosted a Halloween party this year- complete with spooky sangria, mini mummy pizzas, buffalo chicken dip, Halloween cut-out cookies, and more! Although I spent the better part of the entire week preparing – I'd say it was a success!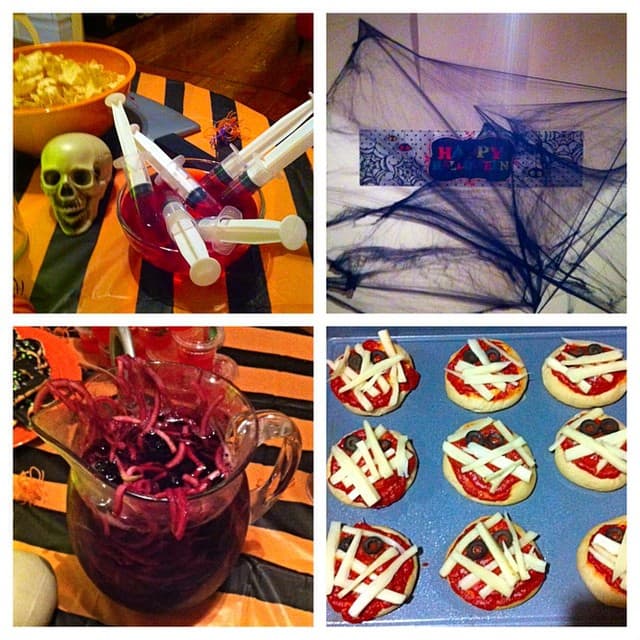 Will all that Halloween prep, I needed a quick and easy dinner idea, and this Egg Roll in a Bowl was the perfect one.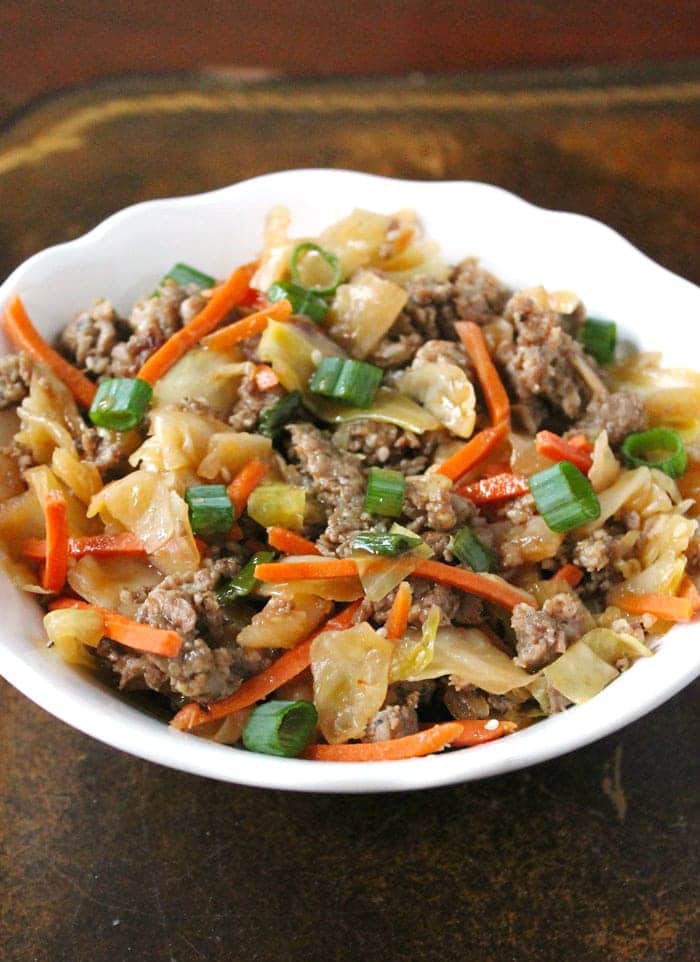 Allow me to list all the things I love about this Egg Roll in a Bowl Recipe …
The name rhymes.
It's a one-pot recipe (hooray for fewer dishes).
Low carb = I can eat as much of it as I want.
Budget-friendly! Cabbage is cheap, and this recipe makes a lot to eat all week.
Speaking of eating all week, it makes great leftovers!
Okay I'll stop there but just trust me on this – Egg Roll in a Bowl tastes just like the inside of an egg roll, but without the wrapper! Toss everything in one skillet and cook until it's done. It doesn't get much easier than that.
In about 20 minutes, you'll have a delicious meal ready to serve. Plus, I ate this for lunch the next few days after making it and I would argue that it tasted even better!
Next time you need a quick and easy meal, give this Egg Roll in a Bowl a try. It's delicious, low-carb, and super-dy duper easy to make.
Ingredients
1 pound ground country sausage
1/2 head cabbage, shredded
1 cup shredded carrot
1 teaspoon sesame seed oil
1/2 cup low sodium soy sauce
1 teaspoon rice vinegar
5 cloves garlic, minced
1 teaspoon ginger
sliced green onion
sesame seeds (optional)
Instructions
In a large skillet, brown sausage.
Meanwhile, combine sesame seed oil, rice vinegar, garlic, soy sauce and ginger in a small bowl and set aside.
Add the cabbage and carrot to the skillet and toss to combine. Stir in the soy sauce mixture.
Cover and cook until the vegetables are soft, about 15 minutes.
Garnish with green onion and sesame seeds.
7.6.4
75
http://smilesandwich.com/2014/11/03/egg-roll-bowl/
Recipe Adapted From: Mostly Homemade Mom