This Apple and Butternut Squash Soup is a creamy and sweet butternut squash soup that's topped with crispy bacon.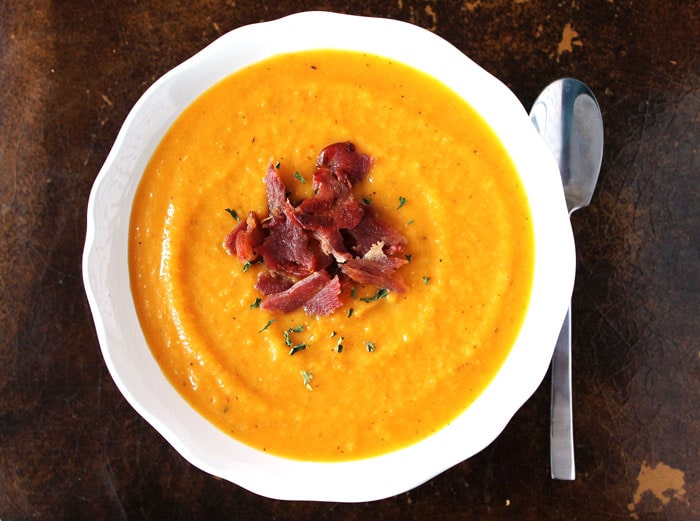 Let's talk about life.
I'm not quite ready to turn my blog into a tell-all diary, but let's just say a few huge changes have happened in the course of the last few weeks that have made me an emotional daily-wine-drinking wreck. Okay maybe that's a bit dramatic … I drink a lot of wine no matter what my emotional state. But to give a hint, something personal ended, and something professional is about to start. (More on that later).
Change is scary. It's easy to get set in a routine and never stray from what we know, even if we're not happy. I started this blog shortly after I ended a very long, very bad relationship, graduated college, and got my first job. The reason I called it Smile Sandwich was because, when I started it, I was possibly the happiest I had ever been. I felt like a weight was lifted off my shoulders: I was newly single and focusing on myself, and I was making my own money doing something I love. Looking back, I realized how miserable I had been and how that made me a not very fun person to be around.
The fog cleared, I started smiling a lot more, and I made it my mission to find happiness in everything – one of which was eating healthy and spending time in the kitchen.
Now … it's my blog and I can play Dr. Jordan if I want to. If I have any advice to give in my 23 years it's to make a promise to yourself to always look out for your own happiness. Change is scary, but don't let fear keep you in a situation that doesn't make you feel happy, accomplished and fulfilled. No matter how hard it may be, there's nothing that a lot of wine, shopping, ice cream, and Sex and the City can't get you through. Plus, good friends and family help too.
Next month, I will have changed so much I hardly recognize myself. But I'm no longer scared. Nobody ever found success from being comfortable.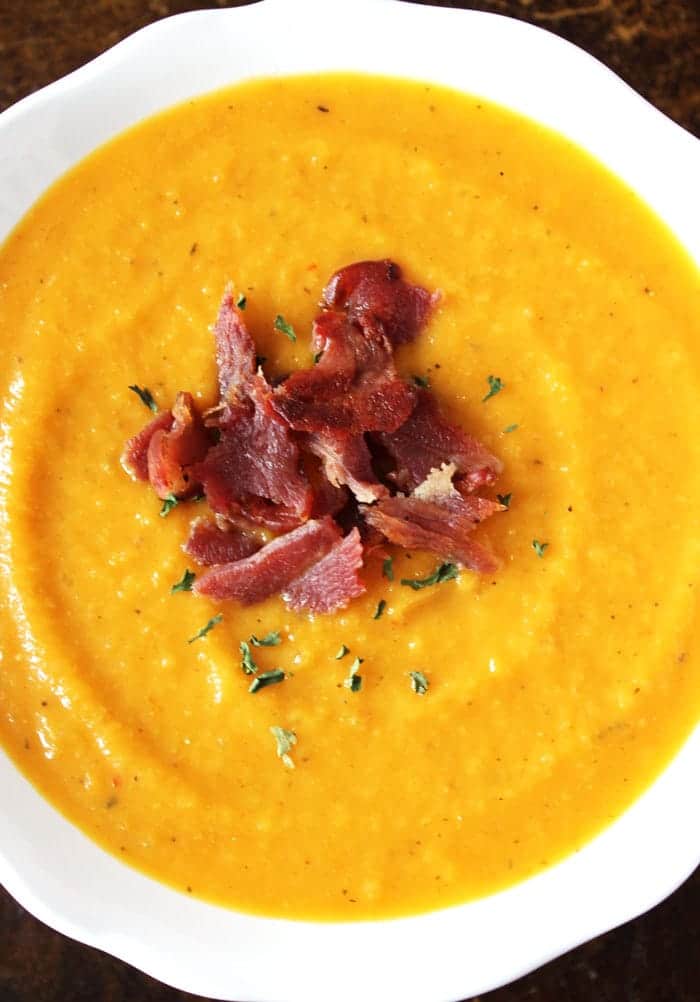 And since there's no easy transition from that into soup …. SOUP! Butternut squash soup is one of my favorite creamy soups in the winter because it's healthy and doesn't require cream to have a creamy texture (although you can add cream for an EXTRA creamy soup if you wish). Apples give it a hint of sweetness, and the addition of pumpkin add an extra flavor element that takes it to the next level.
Not to mention, any butternut squash soup that's topped with bacon is a butternut squash soup for me. This recipe makes a lot of soup, so it's perfect for reheating all week or freezing some for later.

Apple and Butternut Squash Soup with Bacon
Ingredients
3 slices bacon
1 onion, chopped
2 apples, peeled and diced
1 medium butternut squash, peeled and diced
1 cup pumpkin puree (optional)
1 32 ounce box chicken broth
2 teaspoons ginger
1 teaspoon salt
½ teaspoon pepper
1 teaspoon thyme
1 teaspoon onion powder
1 teaspoon garlic powder
¼ teaspoon red pepper flakes
1/4 to 1/2 cup heavy cream (optional)
Instructions
In a large soup pot, fry the bacon until crispy. Remove from pot, drain on a paper towel-lined plate, and crumble. Set aside. Remove all but two teaspoons bacon grease from the pan.
Add the onion, apples to the pan and sauté until soft. While they're cooking, place the squash in a microwave-safe bowl and microwave about 5 minutes.
Add the squash and spices to the pan and cook until the squash is soft. Next, add the pumpkin and chicken broth to the pan. Bring to a boil, then reduce heat and simmer about 15-20 minutes.
Remove from heat and use an immersion blender to puree soup. Stir in the cream if desired. Serve topped with bacon.
7.6.4
80
http://smilesandwich.com/2014/11/18/apple-butternut-squash-soup-bacon/