This Paleo friendly, low effort, high reward, mouth-watering oven pot roast with sweet potatoes is worth every adjective I just used to describe it.  Pairs perfectly with The Best Cauliflower Mashed "Potatoes" for a dinner you and your guests won't be soon to forget.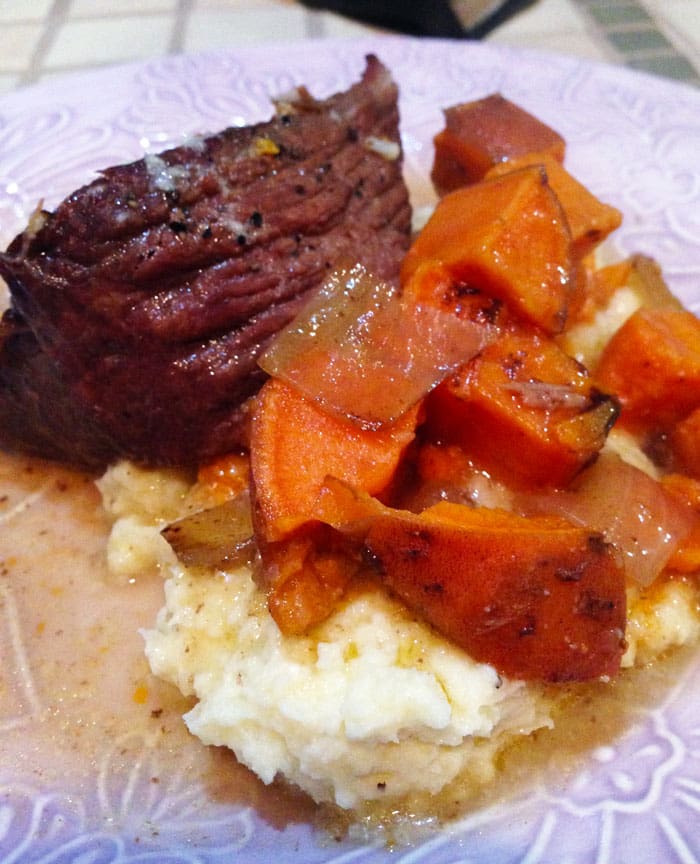 They say you never know what you have until it's gone. Growing up our freezer was always well stocked with every cut of beef you could imagine from my grandpa's farm. Though my mouth waters thinking about farm fresh beef of days passed I never truly appreciated it at the time.  My mom would make a roast and potatoes once a week and I remember groaning at the thought of ANOTHER roast.
Now I can barely write about roast without running to the fridge and heating some up.  I love roast so much I wanna take it behind the middle school and get it pregnant.  Hopefully that 30 Rock reference lands or I look like a big perv right now.
But seriously,  this roast is so easy and so delicious.  Sometimes I even reheat the leftovers and fry an egg over top to eat it for breakfast.  Yumalicious.
OK I have to go get myself a little plateful.  How much will I eat?  I'll never tell.
You know you love me.
XOXO
Gossip Girl
Oven Pot Roast with Sweet Potatoes
Ingredients
1 whole (4 To 5 Pounds) chuck roast
2 tablespoons olive oil
2 whole onions, chopped into large pieces
2 sweet potatoes, chopped (and peeled, if preferred)
salt and pepper, to taste
1 cup red wine
2-3 cups beef stock
2 tablespoons thyme
2 tablespoons rosemary
Instructions
Salt and pepper the roast on all sides generously. Heat olive oil in a large oven-safe pan. Sear the roast on all sides in the very hot pan for about one minute per side. Remove and set aside.
Add more oil to the pan if necessary. Add the onions and potatoes and cook for about 4-5 minutes until they begin to soften.
Add the red wine to the pan and use a rubber spatula to deglaze it (scrape the sides). Place the meat back in the pan and add enough beef stock to cover the meat half way. Sprinkle in the thyme and rosemary and stir gently to combine.
Put the lid on the pan. Roast at 275 degrees F for 3-4 hours, depending on the size of your roast.
7.6.4
99
http://smilesandwich.com/2015/01/23/oven-pot-roast-sweet-potatoes/