I am an official brand advocate for The Laughing Cow® in 2015. While I receive compensation for participation as a brand advocate, opinions are my own.
These 3 Fall Snack Ideas Using The Laughing Cow® Cheese take just minutes to make, and all 5 ingredients or fewer! You'll never snack the same again once you taste these fall-inspired flavor combinations.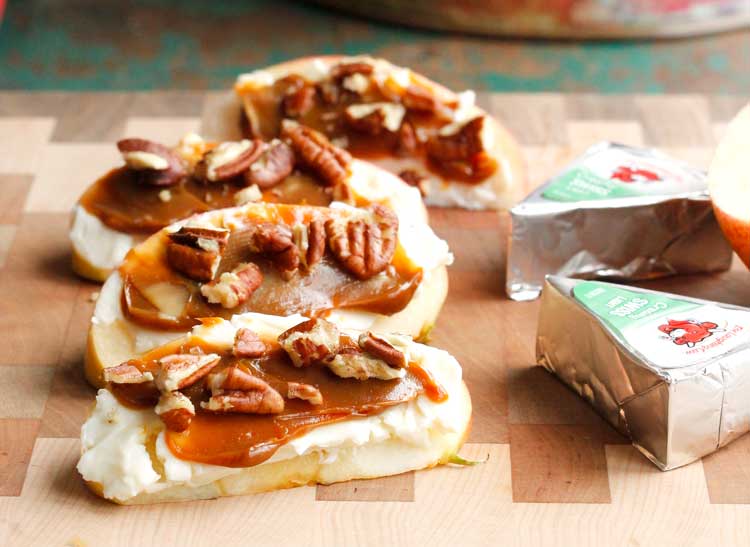 Who doesn't love snacking? I know I do, but I get sick of the same old boring handful of almonds. One of my favorite ways to mix it up is with The Laughing Cow® cheese. I always keep this stuff in my fridge – it's the perfect product to reinvent snacking. With 8 individually wrapped portions per box, the portion control is done for you! Plus, there are endless possibilities for all their amazing flavors.
I attended The Laughing Cow's Love Your Local event last month and learned so much about FOOD. First, Chef Tanya Baker gave an amazing demonstration about crafting delicious and simple snacks. It's all about having a variety of flavors and textures.
That's why I thought these Caramel Apple "Cheesecake" Bites would be a great snack – and I was right! It's just 1/2 an apple, 1 wedge of The Laughing Cow® Lite Swiss cheese, caramel or dulce de leche sauce, and chopped pecans.
This literally tastes like caramel apple cheesecake. It's SO GOOD. Who would have thought pairing cheese with a sweet treat could be so good?!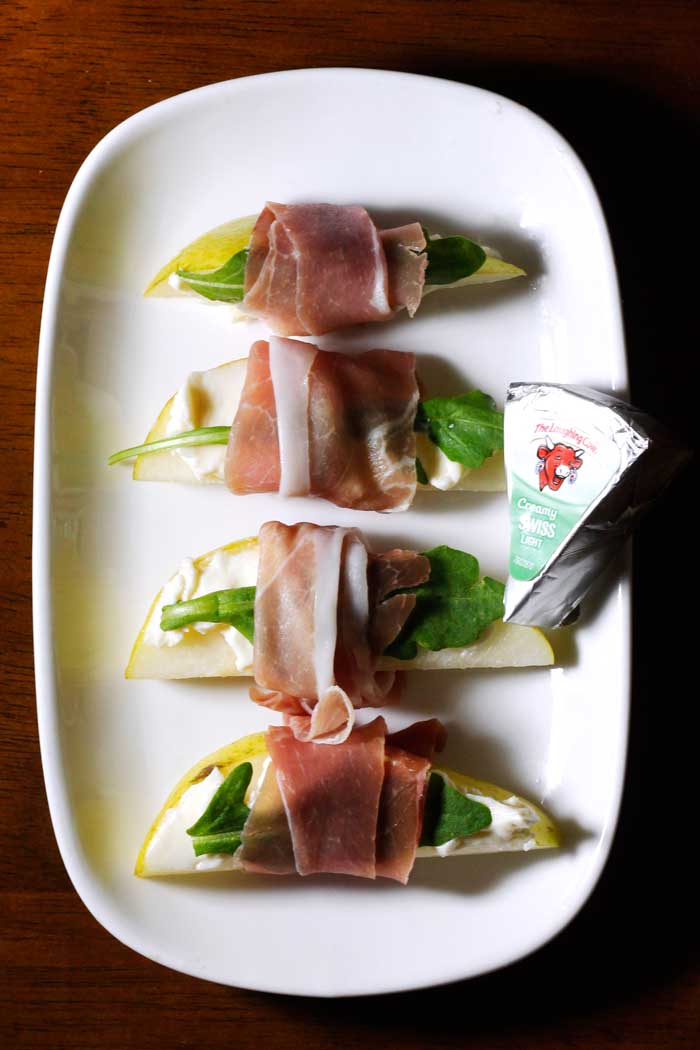 Next, I got to learn how to make stop-motion videos from Visual Country. It's so fun to see snacks come to life through a series of photos.
For this snack, I simply spread 1 wedge of The Laughing Cow® Lite Swiss (or you can use any flavor) on a sliced pear, top each with arugula, then wrap with prosciutto. Easy peasy! The creamy cheese combined with salty prosciutto and spicy arugula is a snack pairing made in heaven.
See how cool my stop-motion skills are now?! I'll admit, they're not perfect. But I'm learning. Practice makes perfect.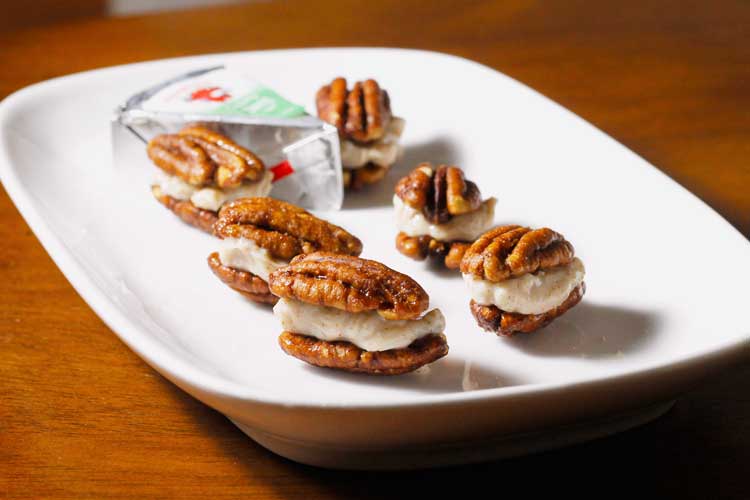 Last but definitely not least, these Candied Pecan Cheesecake Bites. Simply mix 1 wedge of The Laughing Cow Lite Swiss cheese with some pumpkin pie spice and honey. Then, spread it between candied walnuts (I buy mine from Trader Joe's) and you've got yourself a delicious sweet treat!
The honey adds enough sweetness to the cheese to make this taste like pecan cheesecake. SO good.
So, next time you want to reinvent your snacking routine, give any one of these 3 Fall Snack Ideas Using The Laughing Cow Cheese a try! Plus, my friend Kit from The Kittchen made even MORE The Laughing Cow snack ideas. Don't miss 'em.