This Crockpot Veggie-Packed Turkey Meat Sauce recipe is a great way to eat more vegetables!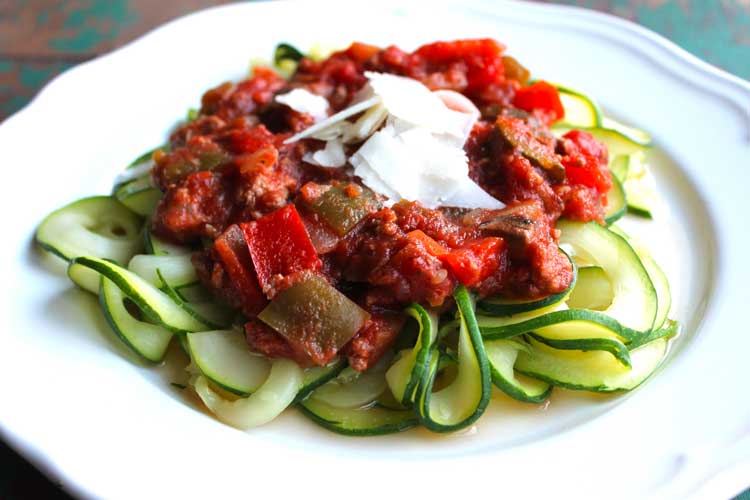 I'm pretty sure number one on my list of things I'm good at is spending money. Last month I discovered two new favorite ways to do it: 1. no-chip manicures and 2. blow outs!
I've always picked at my nails when I get nervous so I can never grow them out all pretty. Enter: $40 gel manicures that last for 3-4 weeks and helped my nails grow the longest they've ever been. Yay.
Then there are blow outs. You may think it's silly and you may feel silly saying the term out loud in public, but it really is so fun. It's the perfect way to treat yourself for special occasions. Dry Bar in Lincoln Park hooked it up with complimentary coffee, good music, and the most volume my hair has ever seen.
Now someone please remind me that money doesn't grow on trees.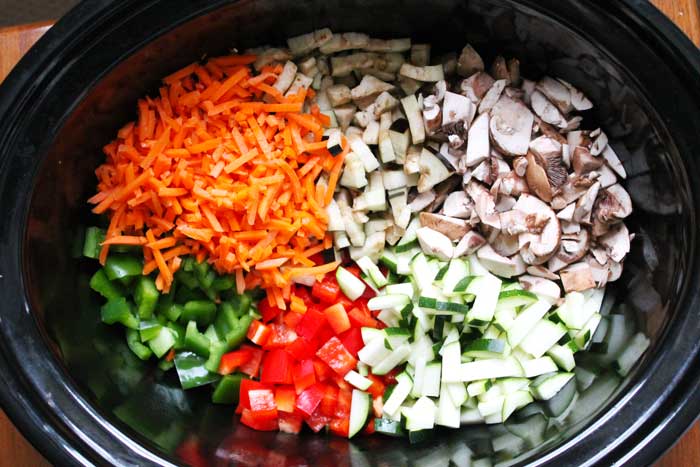 Since I spent so much on grooming myself, this Crockpot Veggie-Packed Turkey Meat Sauce recipe was the perfect way to make a LOT of sauce to freeze for quick dinners so I'm not temped to eat out.
This slow cooker spaghetti sauce recipe is absolutely packed with veggies … yet it still tastes amazing. It's the perfect recipe for veggie haters because they add great flavor to the turkey tomato sauce without being overwhelming.
If you're not a lover of vegetables or salads, definitely give this Crockpot Veggie-Packed Turkey Meat Sauce a try. It's the perfect way to get all your servings in a way that actually tastes SO good. This recipe will definitely become a staple for me.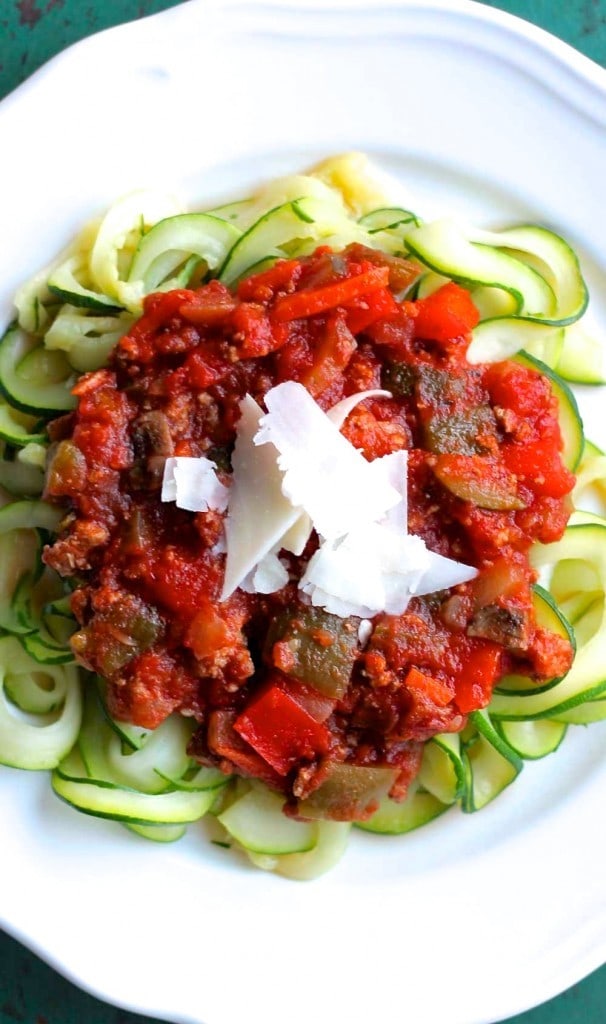 This recipe makes A LOT, but it freezes very well. I freeze it in gallon freezer bags so I can thaw it during busy weeks when I don't have time to do all that veggie chopping.
It looks like a lot of ingredients, but the hardest part of the whole recipe is chopping. Once that's done, just brown the turkey, throw everything in your slow cooker and forget about it!
Serve this delicious turkey meat sauce over zucchini noodles, spaghetti squash, or pasta! It's a hearty homemade spaghetti sauce recipe you'll want to make over and over again.
Yay for eating vegetables that don't taste like vegetables!

Crockpot Veggie-Packed Turkey Meat Sauce
6 hrCook Time
6 hrTotal Time
Ingredients
1 tablespoon olive oil
1 onion, chopped
6 cloves garlic, minced
1 cup carrots, finely chopped
1 pound lean ground turkey
1/2 small eggplant, chopped
2 green peppers, seeded and chopped
1 red pepper, seeded and chopped
1 zucchini, chopped
4 ounces mushrooms, chopped
1 (29 ounce) can tomato sauce
1 (6 ounce) can tomato paste
1 (14.5 ounce) can Italian-style diced tomatoes
1 (14.5 ounce) can Italian-style stewed tomatoes
1/4 teaspoon dried thyme
1/4 teaspoon dried basil
1/2 teaspoon dried oregano
Salt and pepper, to taste
1 tablespoon sweetener of choice
Instructions
Heat the olive oil in a large skillet. Cook the onion and carrot until the vegetables are soft. Add the garlic and cook one more minute. Transfer to a slow cooker sprayed with cooking spray.
In the same pan, brown the turkey. Add it to the slow cooker.
Next, add the vegetables, tomato sauce, tomato paste, diced tomatoes, stewed tomatoes, seasonings, and sweetener. Carefully stir to combine all ingredients. (Your slow cooker will be pretty full!)
Cook on LOW for 6-8 hours. Once done, taste and adjust the salt and sugar if needed.
Serve over zucchini noodles, spaghetti squash or pasta!
7.6.4
177
http://smilesandwich.com/2016/01/11/crockpot-veggie-packed-turkey-meat-sauce/