These Grain-Free Blueberry Pancakes are made using just a few simple ingredients! A great healthy breakfast recipe that's paleo, clean eating, low carb.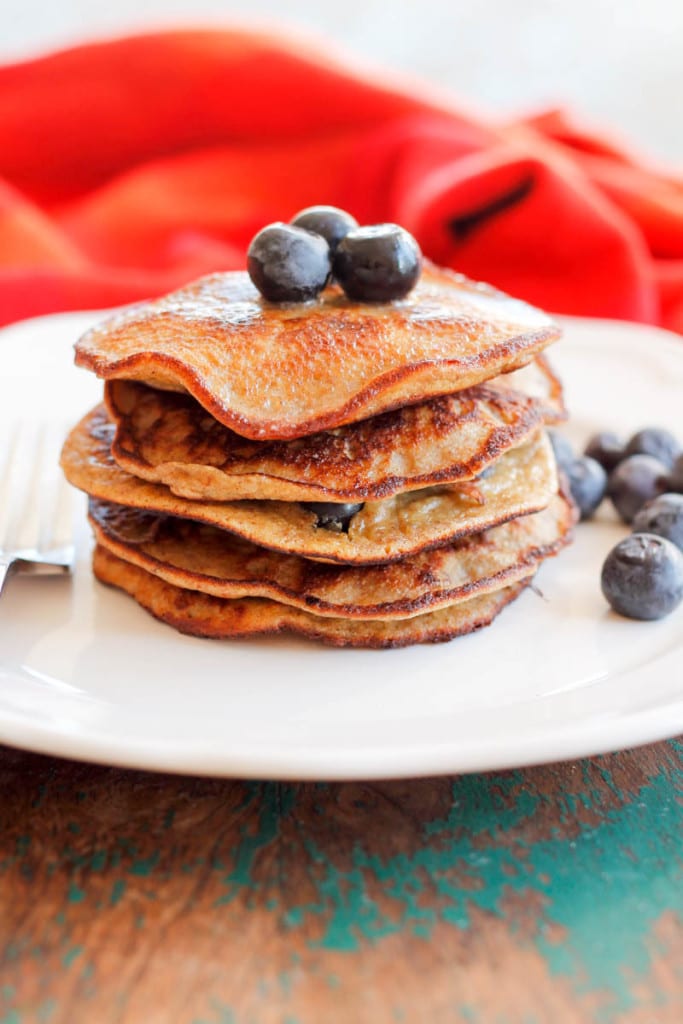 Okay, it's about this time every year when we get a few really warm days and it makes everyone super anxious for summer. I cannot wait for longer days, sun, and spending as much time as possible outside.
For now, I guess I'll settle for  Grain-Free Blueberry Pancakes to keep me warm.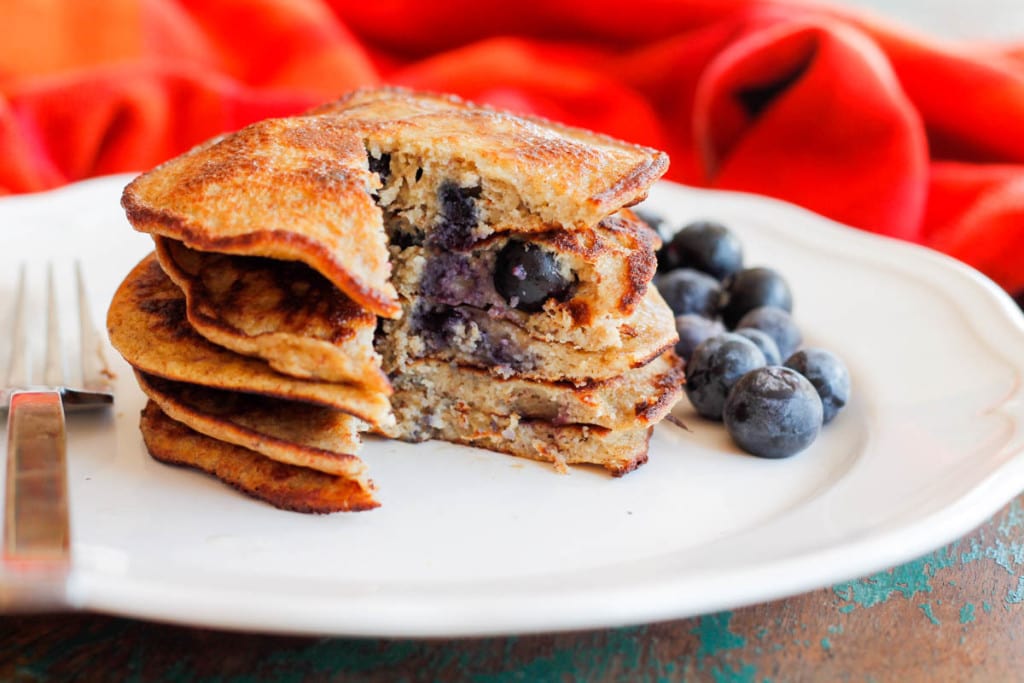 This grain-free pancake recipe is one I make often because it's so stinkin' easy! It only requires a few simple ingredients that I always have on hand anyways.
This time I added blueberries, but you can add chocolate chips, keep them plain, or any other variation you dream up.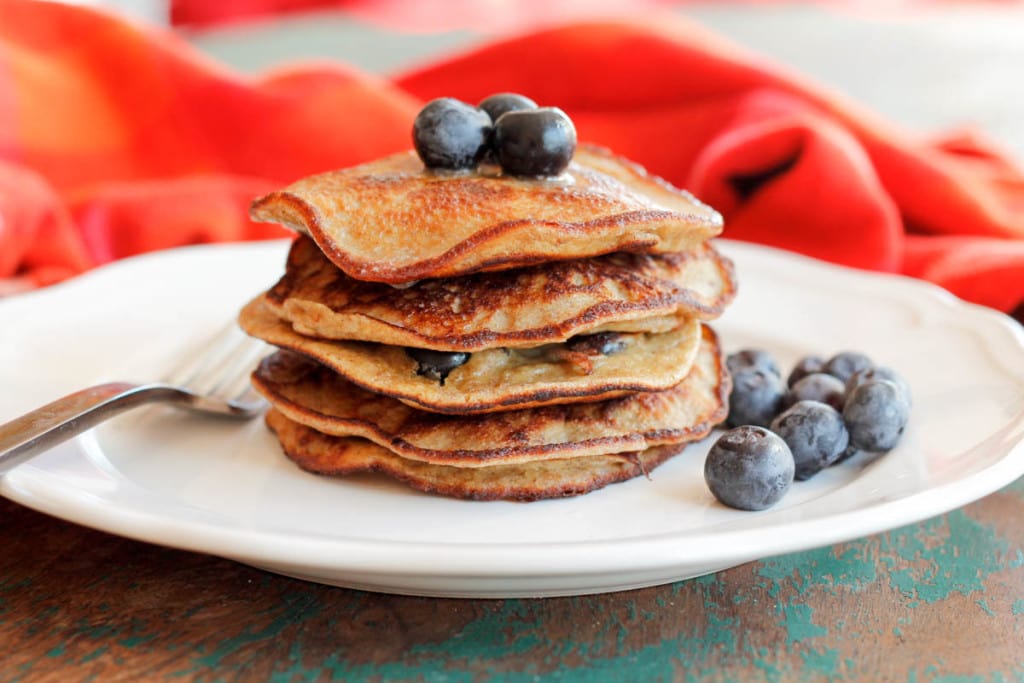 You can also freeze these Grain-Free Blueberry Pancakes in a ziplock back, then pop them in the toaster when you're ready for breakfast. However, don't do what I did the other morning. I was in such a rush that I left these delicious pancakes in my toaster and left for work for the day.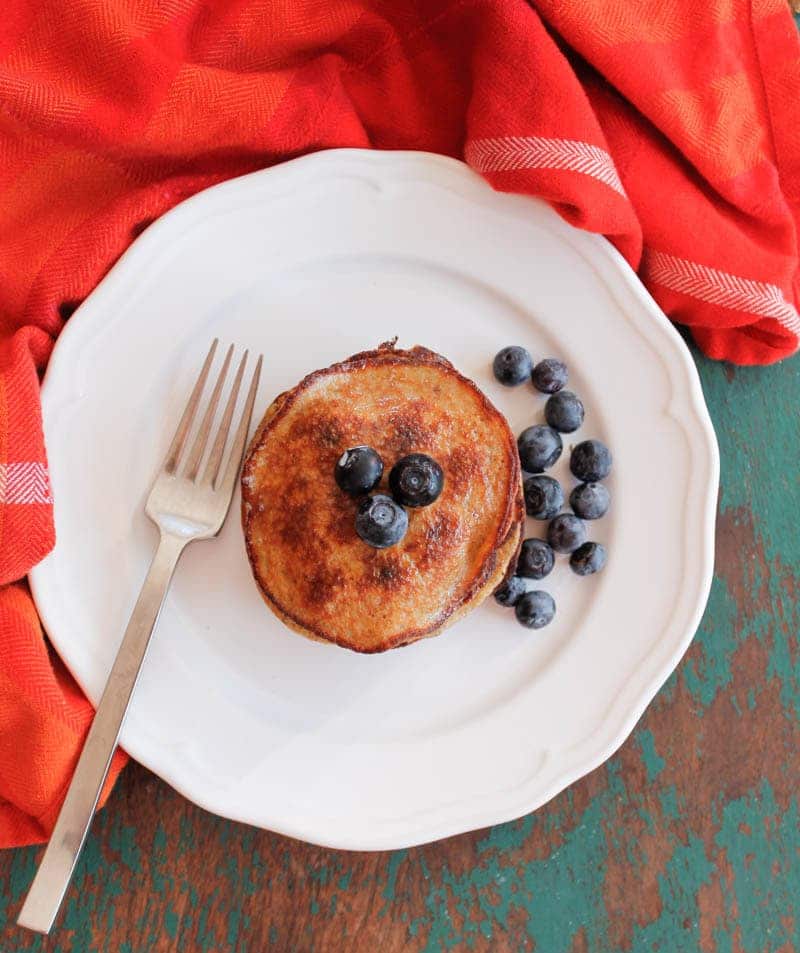 I find it easier to make these pancakes fairly small so the batter cooks without burning. Plus, they're easier to flip if you keep them small.
I definitely recommend you add this healthy, low carb breakfast recipe to your weekly meal plan. Grain-Free Blueberry Pancakes are quick, easy, and good for you!

Grain-Free Blueberry Pancakes
Ingredients
1 small very ripe banana
2 eggs or 4 egg whites
1 tablespoon nut butter
1 teaspoon vanilla
Pinch of cinnamon
1 tablespoon (or more) almond flour
Blueberries
Coconut oil
Instructions
In a blender or food processor, blend bananas, eggs, nut butter, vanilla and cinnamon, Stir in almond flour.
If the batter still does not look thick enough, add a bit more almond flour to get batter. (It still won't be as thick as normal pancake batter).
Heat coconut oil in a skillet. Pour a small amount of batter onto the skillet. Top with blueberries. Cook about 3 minutes, then flip and continue cooking until brown.
Top with more almond butter, Greek yogurt, honey or maple syrup. Enjoy!
7.6.4
186
http://smilesandwich.com/2016/02/22/grain-free-blueberry-pancakes/