Greek Chicken Lettuce Wraps are like a chicken gyro served in a lettuce wrap instead of a pita! It's a great low carb lunch or dinner recipe.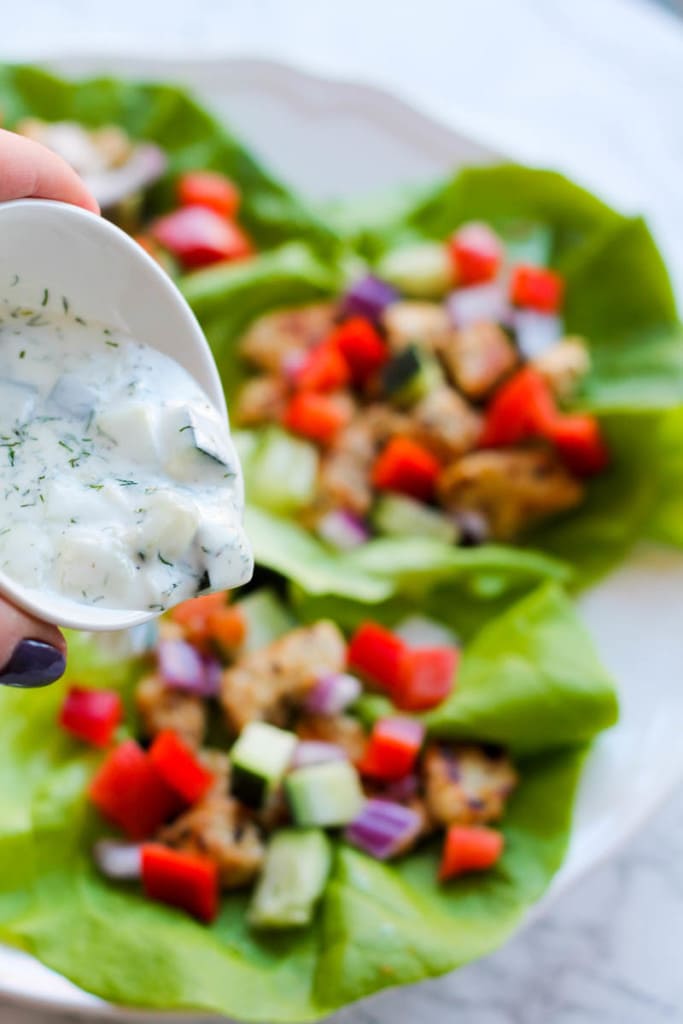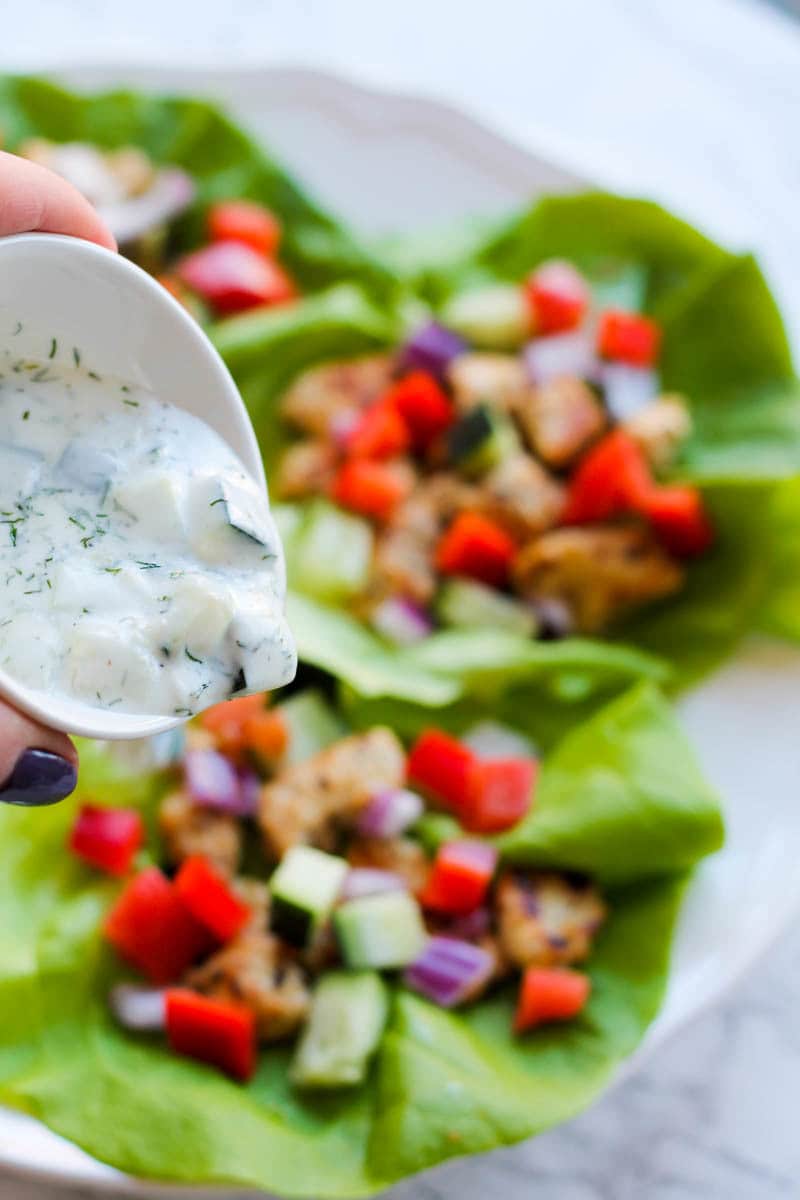 Boy do I loooove me some Greek food. It's one of those cuisines that's so easy to make healthy because it uses a bunch of fresh ingredients and vegetables.
These Greek Chicken Lettuce Wraps are no exception. With all the flavored of a Greek salad, plus delicious marinated chicken, plus a homemade Greek yogurt tzatziki sauce … You really can't go wrong.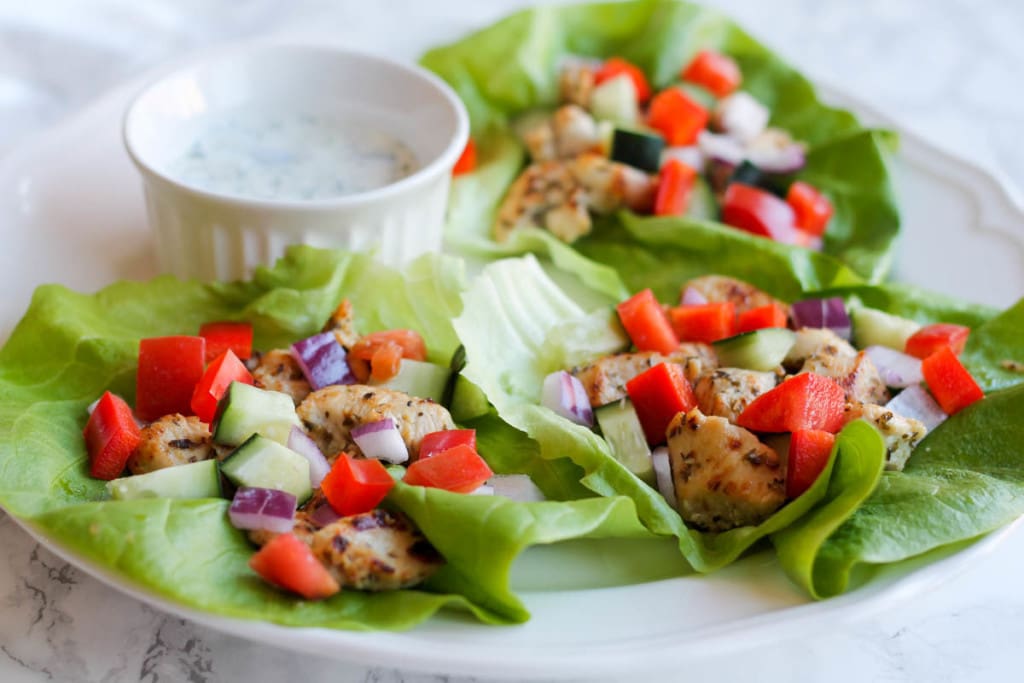 This is the perfect healthy lunch recipe because the ingredients can all be prepped ahead of time and assembled when you're ready to eat.
Or, if you're having this for dinner you can marinate the chicken and chop vegetables in advance to save time.
Greek Chicken Lettuce Wraps are similar to a chicken gyro, but without the pita. There are so many fresh flavors going on here, I just love this recipe!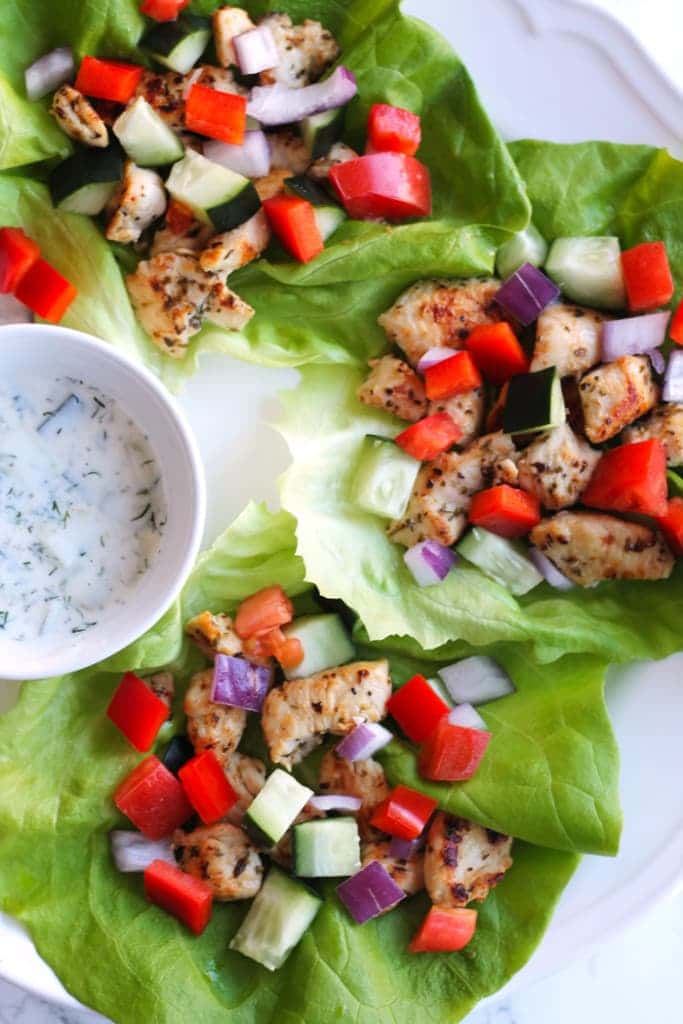 I find myself wishing I had a few more of these right now … And it's 8 a.m.
So did I convince you yet that you must make Greek Chicken Lettuce Wraps?
Okay good. I hope you like them as much as I do.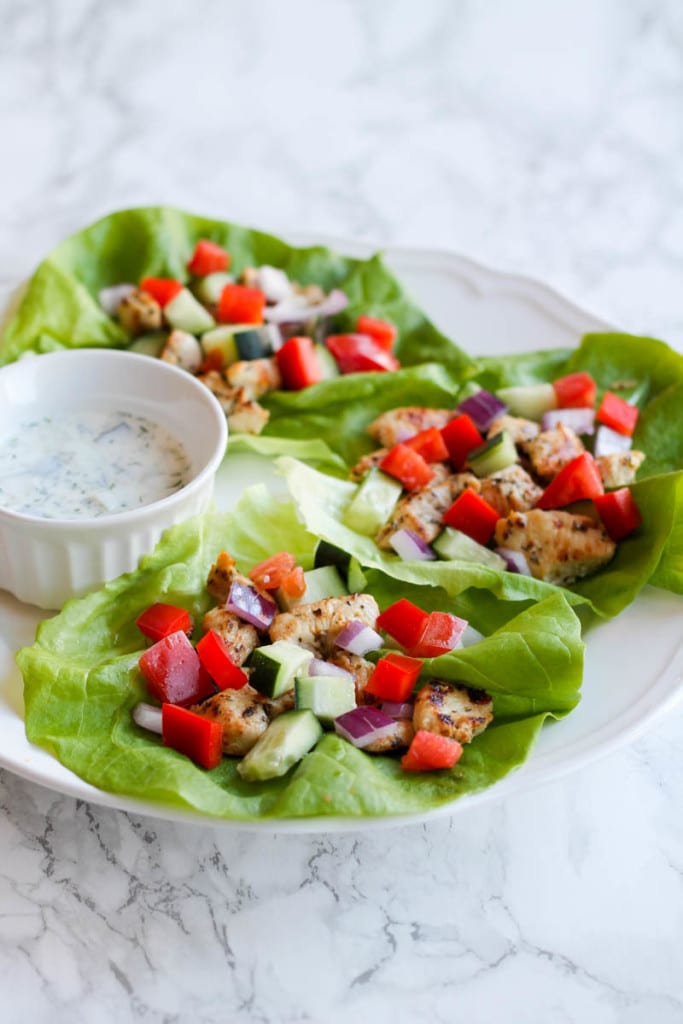 Greek Chicken Lettuce Wraps
Ingredients
For the Chicken:
4 cloves garlic, minced
1 lemon, juiced
2 teaspoons red wine vinegar
2 tablespoons extra-virgin olive oil
1 tablespoon dried oregano
1 1/4 pounds skinless, boneless chicken breast halves - cut into cubes
For Tzatziki Sauce:
1 (16 ounce) container plain Greek yogurt
1 cucumber, peeled and chopped
1 1/2 teaspoons dried dill weed
2 cloves garlic, minced
1 teaspoon distilled white vinegar
1 teaspoon lemon juice
1 tablespoon extra-virgin olive oil
salt and pepper, to taste
For Lettuce Wraps:
1 teaspoon olive oil
1 tomato, diced
1 red onion, thinly sliced
1 red pepper, diced
1 cucumber, diced
1/2 head iceberg or bibb lettuce, washed with leaves removed
Instructions
Whisk together 4 cloves garlic, juice of 1 lemon, red wine vinegar, olive oil and oregano. Pour the marinade into a ziplock bag along with the chicken. Refrigerate for at least 1 hour.
Mix or blend together Greek yogurt, cucumber, dill, 2 cloves garlic, white vinegar, 1 teaspoon lemon juice, olive oil, salt and pepper to make the sauce. Set aside.
Heat 1 teaspoon olive oil over medium-high heat. Cook the chicken until no longer pink.
Top each lettuce cup with chicken, onion, red pepper, and sauce. Enjoy!
7.6.4
187
http://smilesandwich.com/2016/02/22/greek-chicken-lettuce-wraps/