Sriracha Oven-Baked Chicken Bites are a lighter homemade chicken nuggets recipe with a delicious sriracha glaze.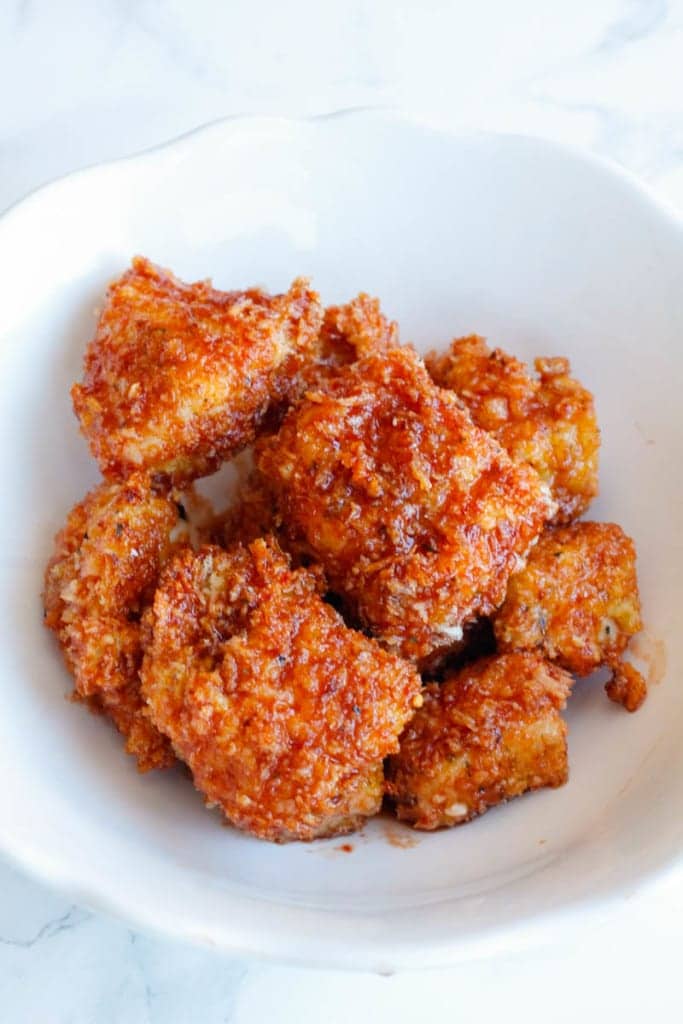 Have you guys purchased Chrissy Teigen's new cookbook yet? If not, please do yourself a favor and purchase from Amazon immediately: Cravings: Recipes for All the Food You Want to Eat
I cannot wait to try all the recipes in it, especially the ones with sriracha sauce! Her love for sriracha sauce and Cholula hot sauce mirrors my own, so I'm pretty sure we'd be best friends if we ever met. Because a bond over hot sauce choices can't be broken.
These Sriracha Oven-Baked Chicken Bites are the perfect healthier chicken nuggets recipe. The chicken nuggets are baked instead of fried, then covered in a simple but oh-so-flavorful sriracha sauce.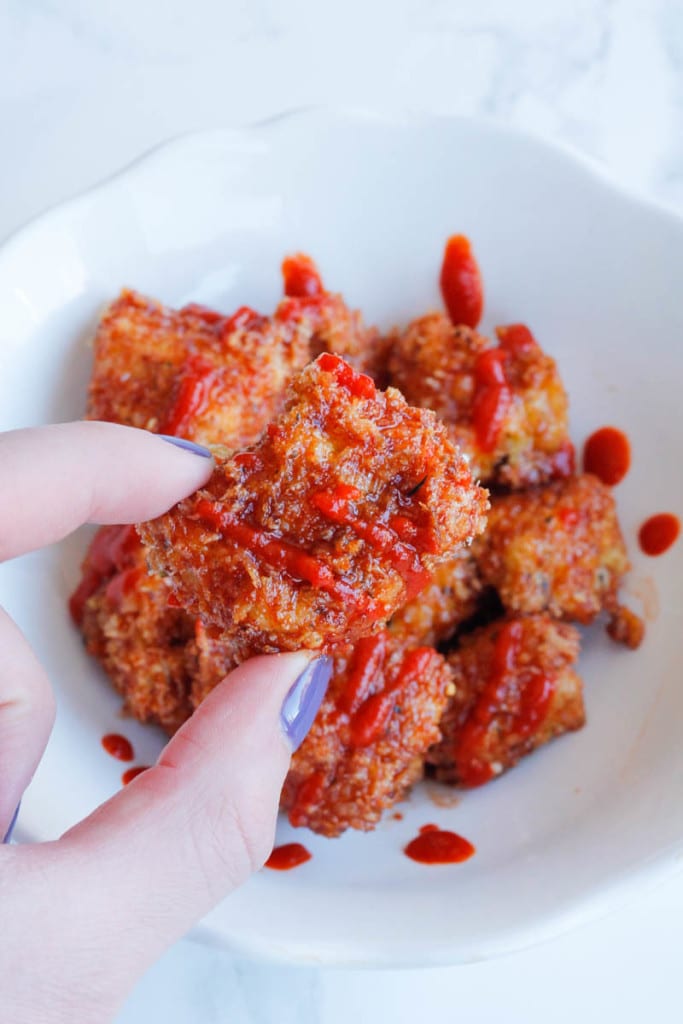 These are a bit spicy, but not in a 'I have to chug milk right now' kind of way. The flavor elements from soy sauce, lime juice, and my sweet dear sriracha sauce make these chicken bites taste so goods.
I recommend eating these Sriracha Oven-Baked Chicken Bites with a fork as they are, but you can also cut them smaller and serve them over rice for more of a meal! I'd definitely also serve these chicken hunks of deliciousness at pretty much any party. Crowd-Pleaser is this recipe's middle name.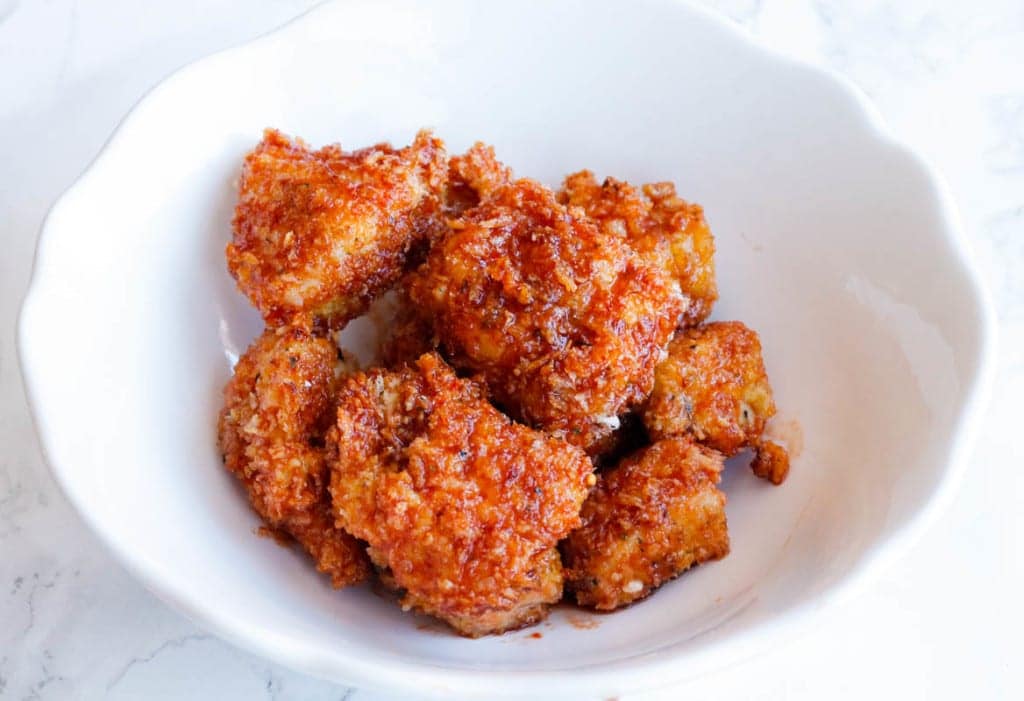 Next time you're in the mood for some healthy chicken nuggets, take it up a notch with these Sriracha Oven-Baked Chicken Bites! They're as easy as coating the chicken, baking, then whipping up a 3-minute sauce to dunk them in.
If you're feeling crazy, you can also dip the chicken pieces into sriracha sauce before coating them in the Panko breading to add a bit more spice and flavor.

Sriracha Oven-Baked Chicken Bites
Ingredients
1 egg
1/2 cup bread crumbs (I use Panko)
2 tablespoons grated Parmesan cheese
1 skinless, boneless chicken breasts, cut into bite-sized pieces
Salt and pepper
For the Sauce:
5 tablespoons unsalted butter
1/3 cup honey, plus more for drizzling
1/4 cup Sriracha
1 tablespoon soy sauce
2 teaspoons fresh lime juice
Instructions
Preheat oven to 450 degrees F.
Beat egg in a bowl. In a separate bowl, combine bread crumbs and Parmesan cheese.
Sprinkle chicken pieces with salt and pepper. Dip each chicken piece in the egg mixture, shake off excess, then dip in the bread crump mixture on all sides. Place on a baking sheet sprayed with cooking spray. Repeat with remaining chicken.
Spray each chicken piece with an olive oil mister. Bake for about 10 minutes or until the tops start to turn brown. Flip each piece and bake for another 3 minutes.
While the chicken bakes, melt butter in a small sauce pan. Mix in honey, sriracha, soy and lime juice.
Place the chicken in a bowl and gentrly toss with warm sauce. Serve immediately.
7.6.4
188
http://smilesandwich.com/2016/02/29/sriracha-oven-baked-chicken-bites/