This One Pan Cheesy Sausage Gnocchi Skillet is a super easy weeknight dinner recipe the whole family will love! Plus, get the recipe for a Sausage Smash Burger. This is a sponsored post written by me on behalf of Jimmy Dean®. All opinions are entirely my own.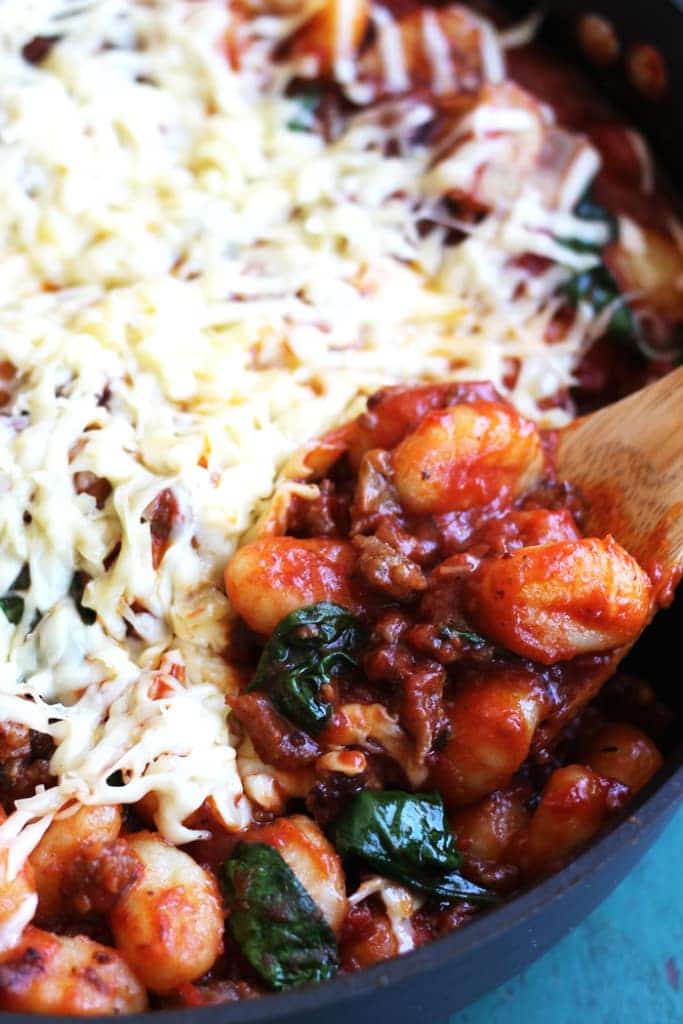 Does anyone else seriously hate doing dishes? I will go to great lengths of reusing utensils and cups, and using paper towels as plates, just to avoid doing dishes. That's why I LOVE any recipe that only uses on pan.
This One Pan Cheesy Sausage Gnocchi Skillet is one of my favorite one pot meals to-date. It uses Jimmy Dean® Roll Sausage – Hot for amazing flavor and just the right amount of heat.
Almost every time I head out for groceries, Jimmy Dean® is on the list. Of the three flavors available at Meijer – Regular, Hot, and Country Mild – I've got all I need to make killer biscuits and gravy, meatballs, breakfast casseroles, pasta sauce and more! I love finding ways to use ground sausage beyond just for breakfast.
One Pan Cheesy Sausage Gnocchi Skillet is a super easy gnocchi recipe that uses just a few ingredients including store-bought gnocchi (I use whole wheat when I can find it), mushrooms, spinach, sausage and cheese. I even cheat with store bought marinara sauce. Shhhh don't tell.
I seriously love how the flavors come together in this one pot meal. The hot sausage pairs perfectly with mushrooms and spinach, and when you toss it all with pillow-y gnocchi and melty cheese … it seriously doesn't get better than that.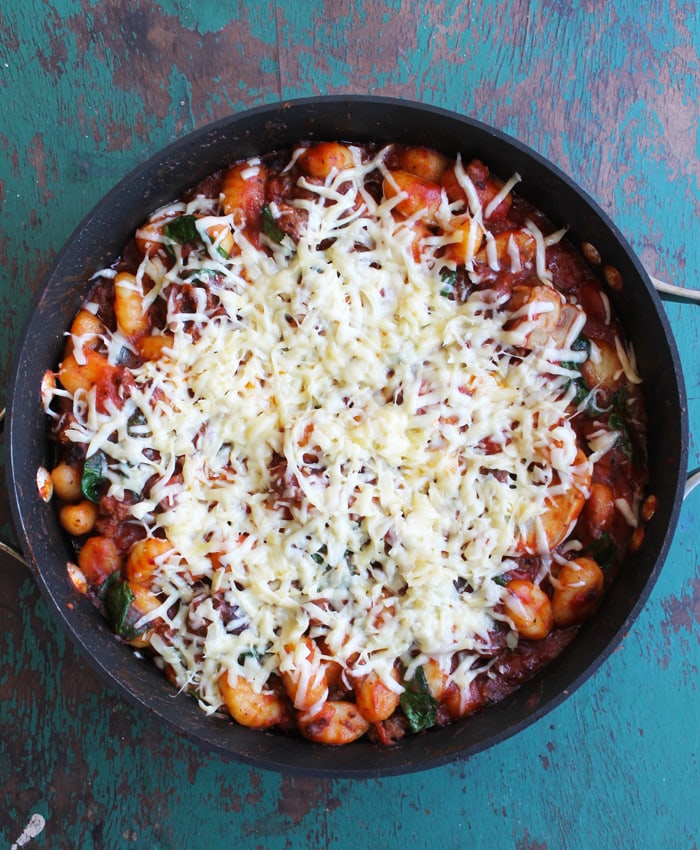 As if this amazing gnocchi recipe isn't enough, I've got a bonus recipe for you today!
This Sausage Smash Burger is the ultimate in burger recipes. It has homemade pickles, brussels sprouts slaw, and more! All on top of an amazing sausage and caramelized onion burger.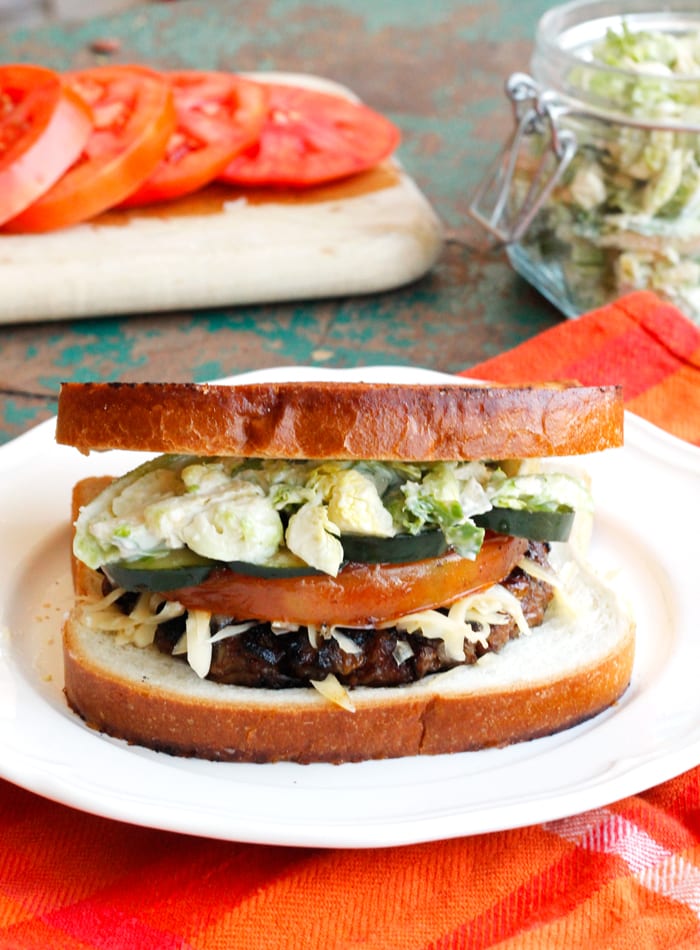 Here's the recipe for the Sausage Smash Burger. Keep reading for the gnocchi skillet recipe!
Sausage Smashed Burger Recipe
This restaurant trending burger is coming to your home. Use Jimmy Dean® Roll Sausage with caramelized onions smashed together in a skillet or char-grill and topped with jarlsberg cheese. Layered between brioche bread, charred tomato, pickled cucumbers, shaved Brussel sprouts with garlic mayonnaise.
Serving size: 4
Prep time: 25 minutes
Inactive time: 1 hour
Cook time: 45 minutes
Ingredients
1 pound Jimmy Dean® Original Sausage
½ cup Homemade Pickles, see recipe below
1 cup Sprout Slaw, see recipe below
4 cups diced onions
2 tablespoons oil
¼ cup unsalted butter
8 slices brioche bread
2 tomatoes, sliced
1 cup shredded jarlsberg cheese
Homemade Pickles
¼ cup sugar
¼ cup apple cider vinegar
¼ cup water
½ cucumber, seeded and sliced
Sprout Slaw
2 cups shaved Brussels sprouts
¼ cup mayonnaise
1 tablespoon garlic paste
Instructions
Combine sugar, vinegar and water in a sauce pot and bring to a boil. Remove from heat and add cucumber slices. Refrigerate for an hour before use, the cucumbers will be tender yet still have texture.
Combine Brussels sprouts, mayonnaise and garlic paste in a mixing bowl; keep refrigerated until use.
Heat oil in a large skillet over medium. Add onions, butter and cook on medium-low heat for 30 minutes, stirring often until onions are tender. Drain and reserve excess butter to toast bread slices, refrigerate onions until cooled.
Heat 1 tablespoon of reserved onion butter in the same skillet over medium. Toast 2 slices of bread at a time until desired doneness, repeat with remaining ingredients and set aside.
In the same skillet, heat the tomato slices until a slight charring occurs, set aside.
Combine the sausage and caramelized onions together in a mixing bowl. Divide the sausage mix into 4 equal parts and roll into individual ball-shapes. Using the same skillet, smash the sausage into the skillet with a flat spatula until you have your desired thickness. Cook over medium heat for 12-15 minutes or until the natural juices run clear. Finish with the shredded cheese and let melt before removing from the skillet. You can cook them all in the same skillet or two at a time. Layer the burger between toasted bread with tomatoes, pickles and slaw. Enjoy!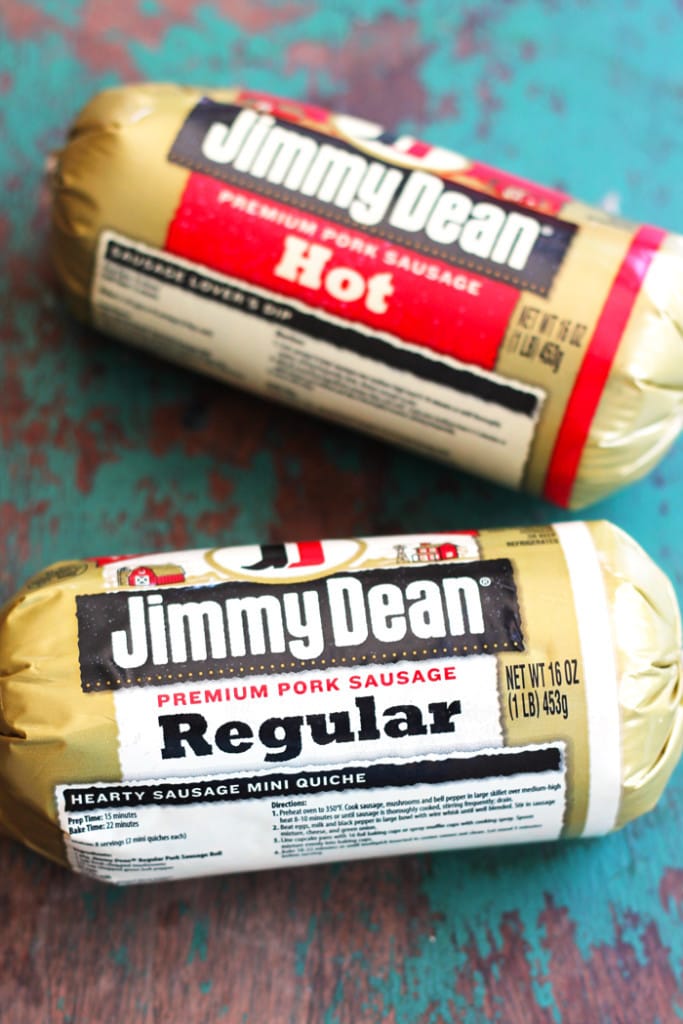 And now, without further ado, here's the recipe for One Pan Cheesy Sausage Gnocchi Skillet. I hope you and your family love it as much as I do!

One Pan Cheesy Sausage Gnocchi Skillet
Ingredients
1 pound Jimmy Dean® Roll Sausage - Hot (you can also use regular if you don't like the heat)
8 ounces mushrooms, sliced
1 (28 ounce) can marinara sauce
2 (16 ounce) containers gnocchi
2 cups fresh spinach
1/2 cup shredded mozzarella cheese
Instructions
In a very large pan on medium-high, brown sausage until no longer pink. Drain any extra grease.
Add the mushrooms to the pan and cook until they begin to soften.
Add the marinara sauce and uncooked gnocchi. Gently stir until the gnocchi is well mixed with the sauce.
Cover and cook until the gnocchi is al dente - about 8 minutes - stirring often as it cooks.
Stir in spinach until it wilts - about 1-2 minutes. Top with mozzarella cheese. Enjoy!
7.6.4
194
http://smilesandwich.com/2016/04/28/one-pan-cheesy-sausage-gnocchi-skillet/
What's your favorite way to use sausage for dinner?
This is a sponsored post written by me on behalf of Jimmy Dean®. All opinions are entirely my own.