Italian Meatball Quinoa Bowls are a quick and easy dinner recipe that's also perfect for lunch leftovers! It uses quinoa or freekeh in place of pasta for a new twist on an Italian classic.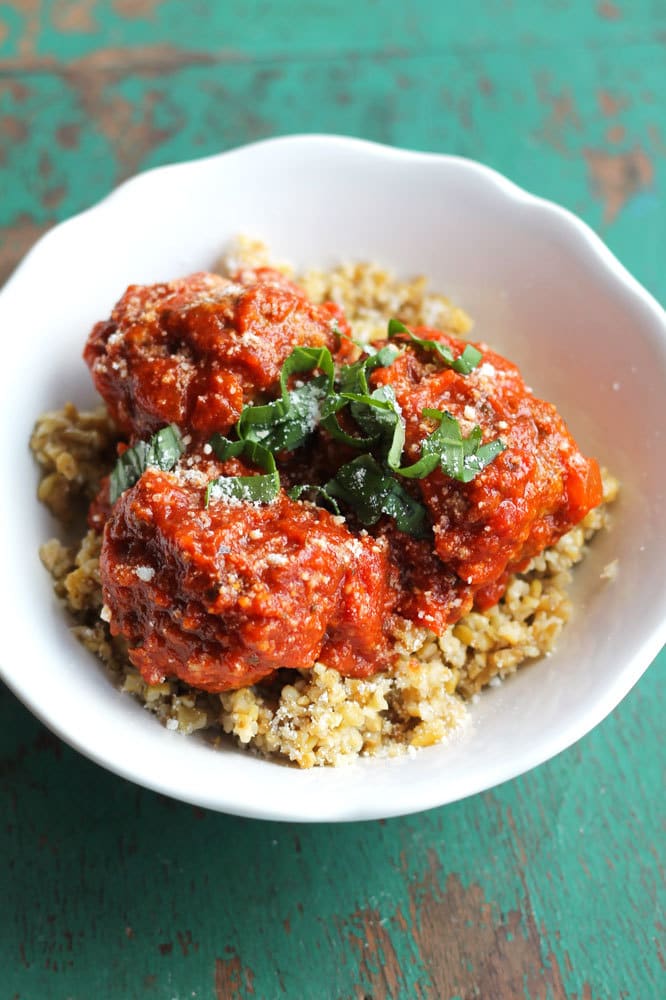 There are very few things I love more than meatballs, and I think I've made about 15 variations to date. These Italian Meatball Quinoa Bowls might be one of my favorites yet! It reminds me of a meatball sub, without the bread.
The only thing I love more than meatballs is super easy recipes, and this one definitely fits the bill. It uses just one pan to make the meatballs, plus jarred sauce to make life easy.
I love melting fresh mozzarella over these Italian Meatball Quinoa Bowls to add just a bit more deliciousness.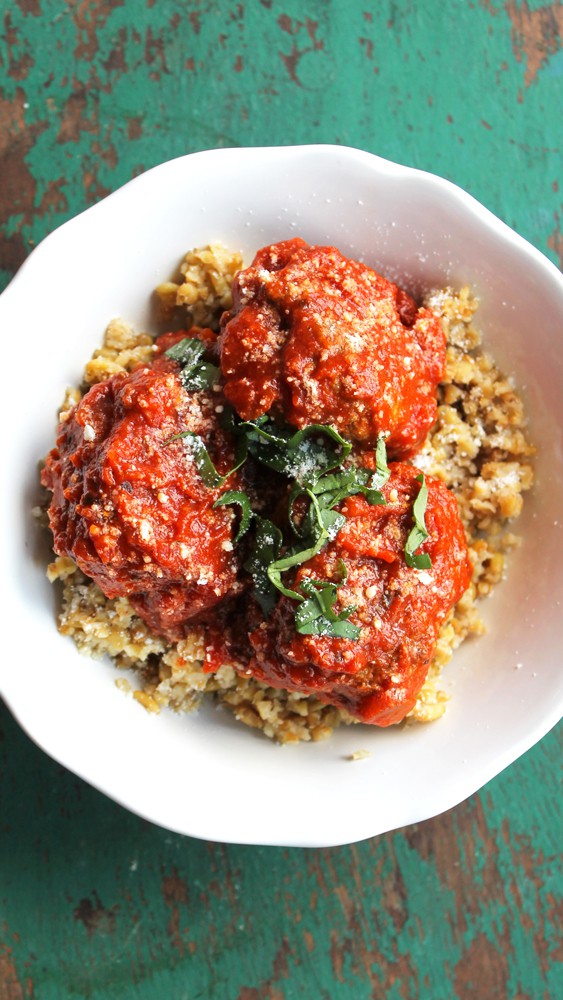 Like many of the recipes I make (hellooooo cooking for one), this recipe tasted great as lunch leftovers. I like to make a big batch of quinoa on Sundays and use it to make various quinoa bowls during the week. I made these Italian Meatball Quinoa Bowls using freekeh instead of quinoa as well, and LOVED it.
Freekeh is what I refer to as quinoa's cousin. Similar in nutritional makeup, equally hard to pronounce, and I actually prefer the taste of freekeh to quinoa.
Next time you need a quick and easy dinner or meal prep recipe, I would highly recommend these Italian Meatball Quinoa Bowls. Because who doesn't love a good meatball served over something other than pasta?!

Italian Meatball Quinoa Bowls
20 minCook Time
20 minTotal Time
Ingredients
Extra-virgin olive oil
1 large onion, finely diced
Salt, to taste
2 cloves garlic, minced
Pinch crushed red pepper
1 1/2 pounds ground beef
2 large eggs
1/2 cup grated Parmigiano
1/4 cup fresh Italian parsley, finely chopped
1 cup whole wheat breadcrumbs
1/2 cup water
1 jar marinara sauce
2 cups cooked quinoa or freekeh
Instructions
Heat olive oil in a large pan. Add onion, salt and garlic. Cook until onions are very soft and starting to brown. Remove and let cool.
In a large bowl, combine onion mixture, red pepper, ground beef, eggs, Parmigiano, parsley, breadcrumbs and water. Mix to combine (I use my hands).
Form meat mixture into desired sized balls.
Heat more olive oil in the pan. Place meatballs in a single layer in the pan. Cook on medium heat until browned on all sides, about 15 minutes.
Add marinara sauce and simmer for another 5 minutes.
Serve meatballs over quinoa or freekeh. Sprinkle with more Parmigiano or melted mozzarella. Enjoy!
7.6.4
199
http://smilesandwich.com/2016/05/20/italian-meatball-quinoa-bowls/