This Whole Wheat Breakfast Burritos recipe is an easy breakfast option for entertaining or to make ahead for quick weekday breakfasts.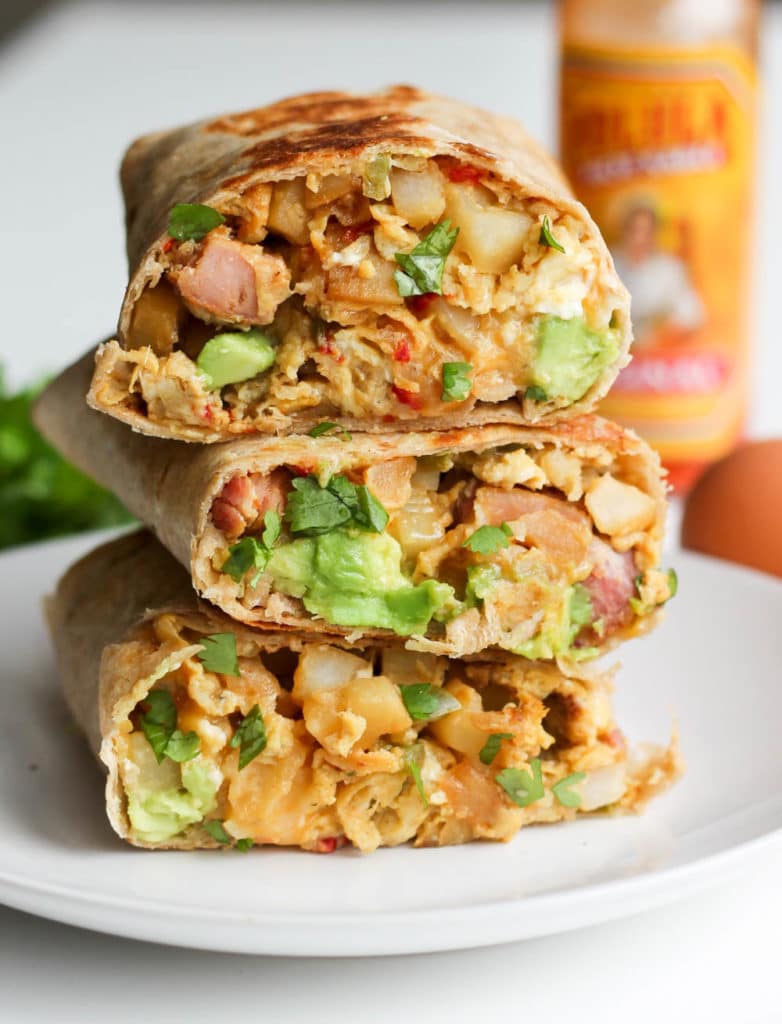 Happy T-Minus Tuesday … the day that marks T-minus 30 days until I'm in warm and sunny Cabo sipping pina coladas.
This also means that I am rapidly approaching the day in which I will need to be seen in public in a bikini.
Cue: panic. And eating a diet consisting mostly of vegetables for next 30 days. Wish me luck.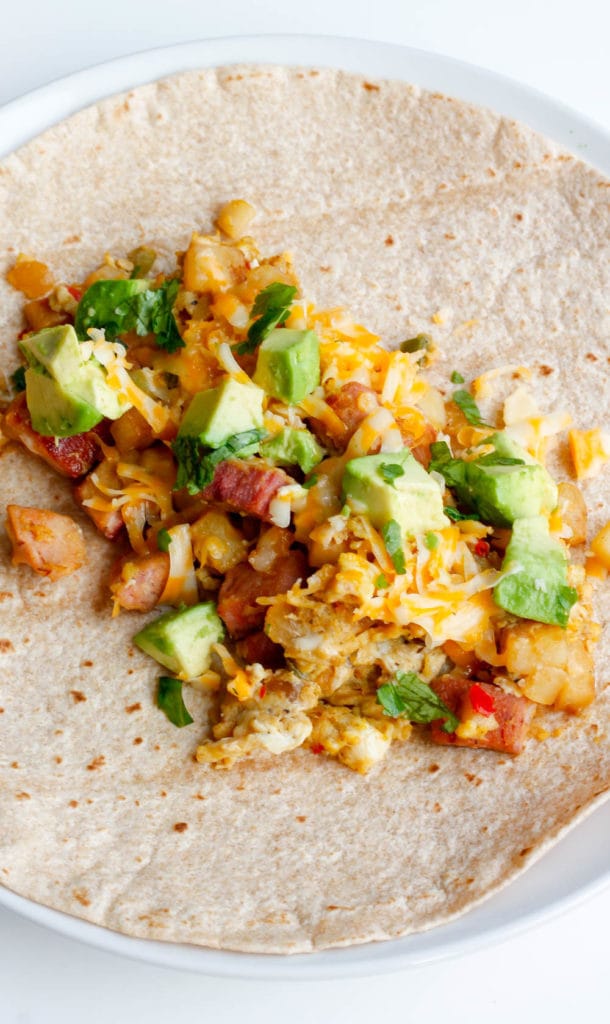 While I'm sipping green smoothies and munching on raw vegetables … I'll be dreaming of this Whole Wheat Breakfast Burritos recipe that's my new go-to breakfast for entertaining!
When it comes to breakfast, who doesn't like a good hearty breakfast burrito?! These are stuffed with potatoes, eggs, avocado, cheese and a protein of your choice. All that deliciousness gets wrapped in a whole wheat tortilla and doused with a healthy dose of Cholula (if you're me).
I've included instructions for both ground sausage and ham – but you can also use bacon or any protein of your choice! I've made these multiple ways and my favorite variety is the ground sausage.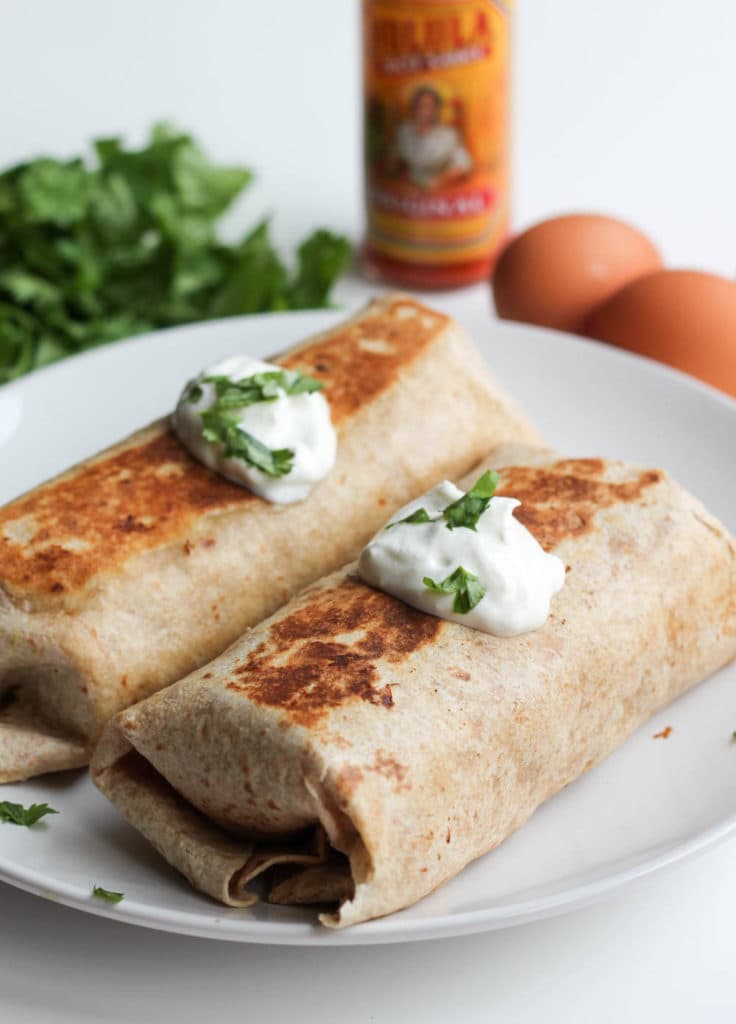 I believe the key to a killer breakfast burrito recipe is a little trick my dad taught me years ago.
Once you have the burritos folded, get some olive oil nice and hot in a clean pan. Sear the burritos on both sides until they're just brown and crispy.
This really does make all the difference in the taste of the breakfast burrito – try it!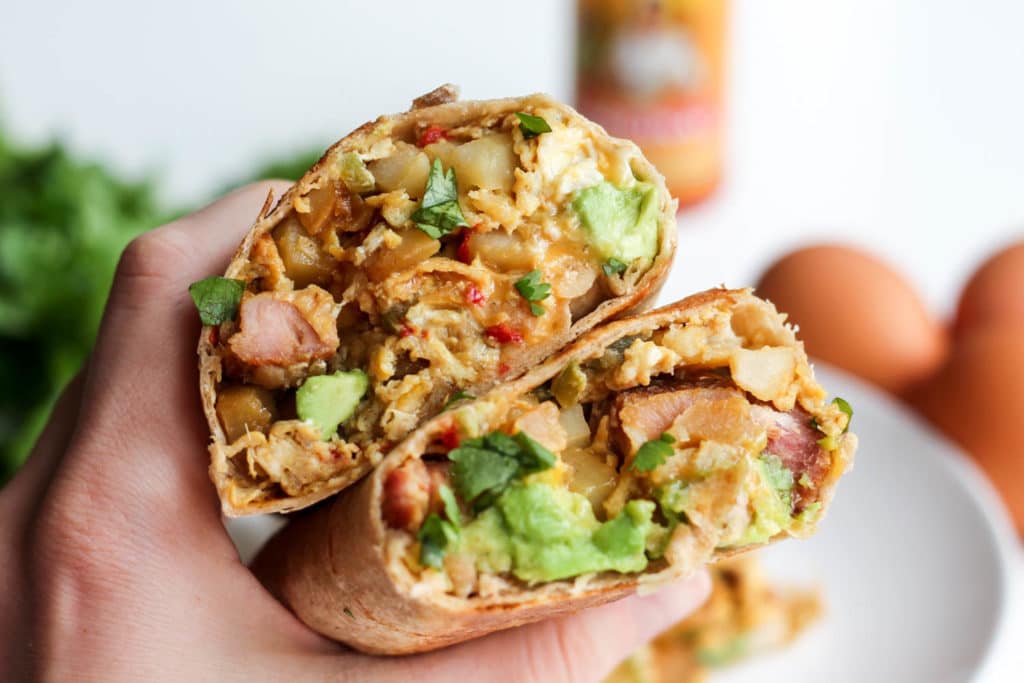 What I love most about this recipe is that it makes enough to feed a crowd, and it can also be prepared ahead of time.
If you know you'll be in a rush or busy entertaining guests, cook the potatoes and meat mixture ahead of time. Then, in the morning before serving, reheat the mixture and add the eggs … then assemble the breakfast burritos.
If you're looking for a make ahead breakfast recipe for busy weekday mornings, assemble the burritos but don't grill them after assembling. Wrap each breakfast burrito in plastic wrap, then aluminum foil and freeze! When you're read for one, grab it out of the freezer and throw it in the microwave.
So, next time you need a crowd-pleasing and easy breakfast recipe, give this Whole Wheat Breakfast Burritos recipe a try.