These three quick and healthy recipes for overnight oats in a jar are the perfect way to prep for breakfast all week using Sir Bananas milk.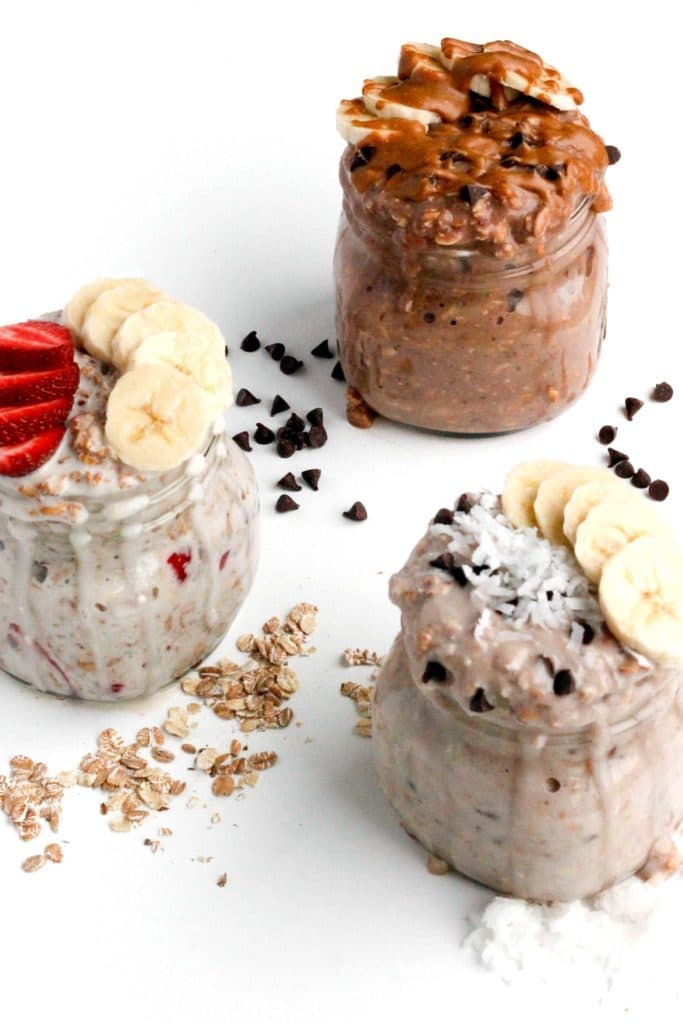 The theme of the week this week is MEAL PREPPING! As I mentioned before, I'm gearing up for my sister's wedding in June, which involves having to fit into a tailored dress (cue panic). When I'm trying to be particularly healthy, I always always always make sure to meal prep.
It's the only way I can make sure I have quick and healthy recipes ready to go for meals when I'm too busy to cook during the week.
One of my favorite meal prep additions is overnight oats in a jar. Whoever invented overnight oats seriously deserves a pat on the back.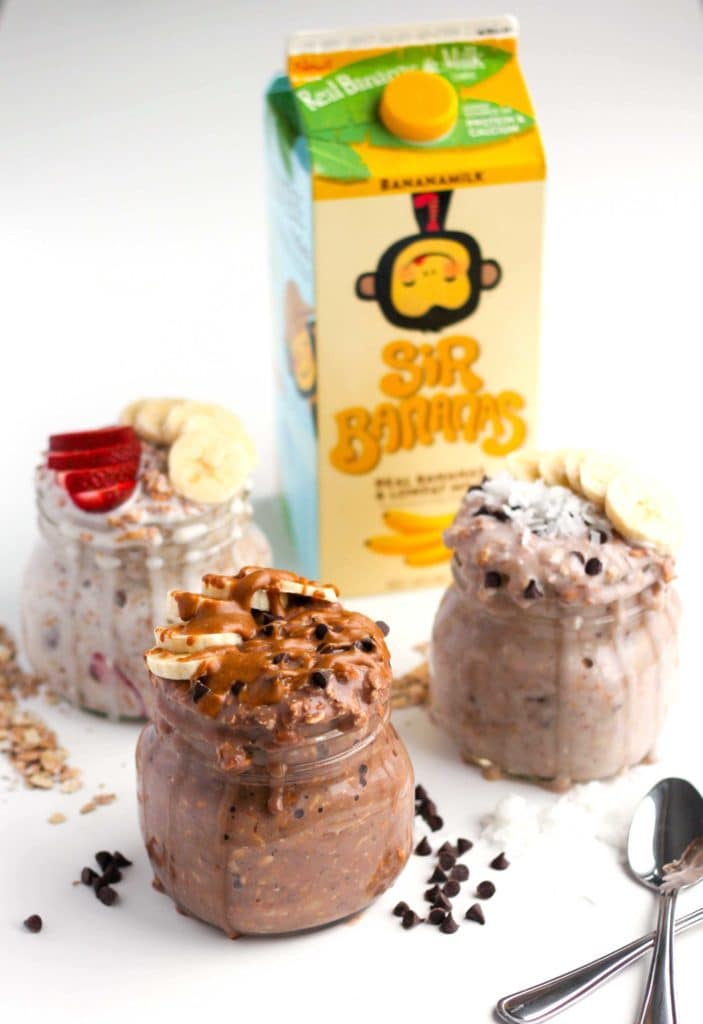 Especially during the warmer months, I find myself craving overnight oats recipes that I eat cold. I love the super creamy and not-so-gooey texture of the oats after they soak in the refrigerator overnight.
These three quick and healthy recipes for overnight oats in a jar include Sir Bananas Real Banana milk – it's a new beverage made from real bananas and real milk that has 7 grams of protein.
The addition of protein from the milk and Greek yogurt means that I can eat a small serving of these overnight oats in a jar and I absolutely stay full until lunch. Plus, the banana flavor of Sir Bananas adds a delicious sweet element to the oats so no additional sweetness is necessary.
Hit up their store locator to find a retailer near home! (I found mine at Target).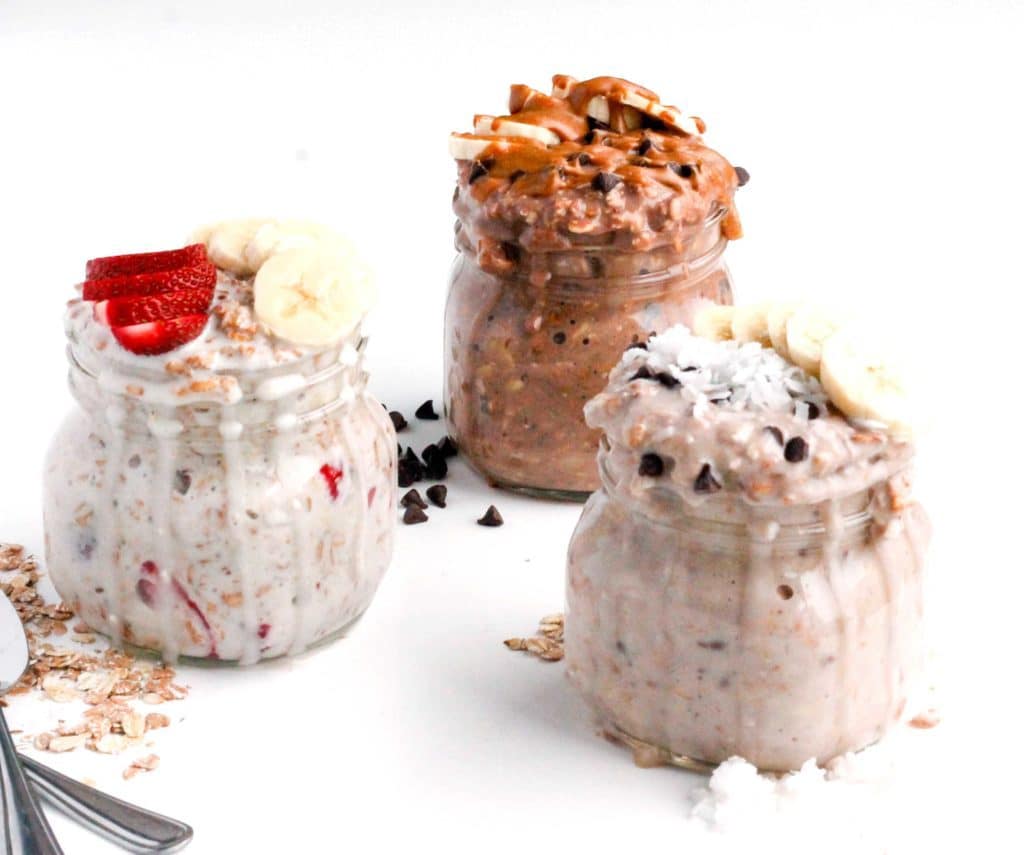 The great thing about overnight oats in a jar is that these recipes are highly customizable to fit your taste. Feel free to play around with adding chia seeds, flax seeds, nuts, additional fruit, or any flavors you would normally put in oatmeal.
I like to eat these cold straight out of the jar, but you can also nuke them for a minute if you prefer them warm. (But, I urge you to try them cold).
Each of these quick and healthy recipes for overnight oats in a jar takes just a matter of minutes to make and can be made ahead of time. Can I get a hip hip for making life easy?!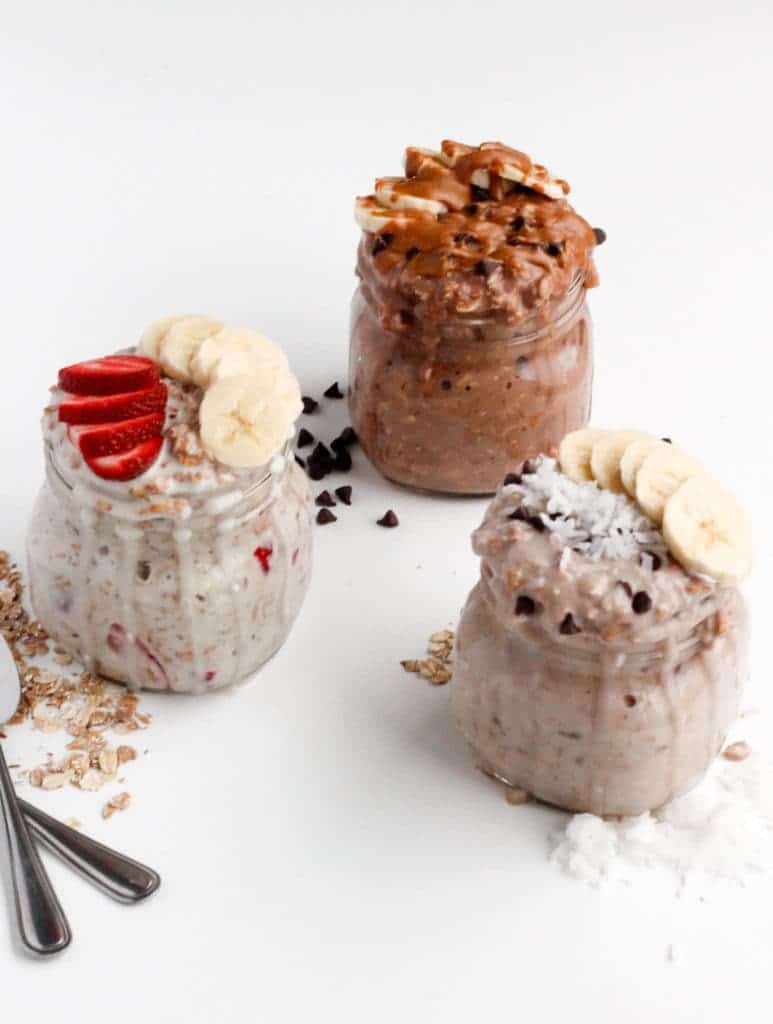 So, next time you need a super duper easy meal prep breakfast recipe, try any one of these delicious overnight oats (or all three to mix it up!).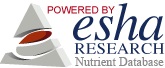 Overnight Oats in a Jar: 3 Quick and Healthy Recipes
Ingredients
Base Recipe:

1/3 cup plain Greek yogurt
1/2 cup (heaping) rolled oats
1/3 cup Sir Banana Real Banana Milk or Real Bananas & Chocolate Milk
1/2 teaspoon vanilla extract
1 tablespoon honey or maple syrup (optional, I didn't use)

Chocolate Peanut Butter Banana Overnight Oats Add-Ins

1 tablespoon cocoa powder
2 tablespoons peanut butter
Mini chocolate chips, to taste
1 banana, sliced for topping

Strawberry Banana Overnight Oats Add-Ins

*Substitute strawberry Greek yogurt for plain
1/2 cup strawberries, sliced
1 banana, sliced for topping

Banana Coconut Chocolate Chip Overnight Oats Add-Ins

*Substitute coconut Greek yogurt for plain
2 tablespoons shredded coconut
2 tablespoons mini chocolate chips
1 banana, sliced for topping
Instructions
Mix all ingredients in the base recipe in a jar. (Note: Substitute flavored Greek yogurt for plain if you'd like an extra flavor kick).
Stir in add-ins according to which flavor you're making.
Cover the jar to get an air-tight seal and refrigerate at least 4 hours or overnight.
Stir and enjoy!
7.6.4
231
http://smilesandwich.com/2017/04/07/overnight-oats-jar-3-quick-healthy-recipes/
This is a sponsored conversation written by me on behalf of Sir Bananas . The opinions and text are all mine.