Prosciutto Arugula Pizza with Cauliflower Crust is a low carb recipe that uses a cauliflower crust topped with prosciutto, lemon arugula and homemade pesto.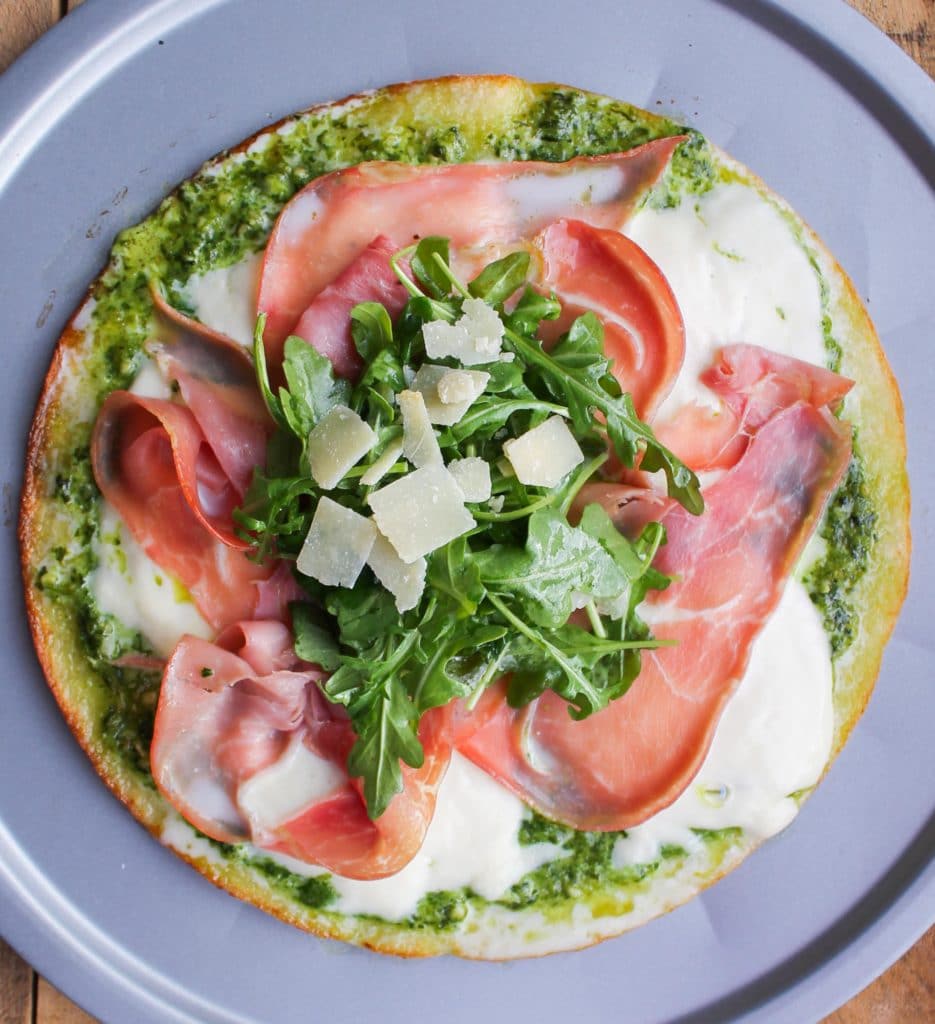 You guyyysssss.
Trader. Joes. Cauliflower. Pizza crust.
This may just be the best thing since sliced bread. And here's the link to the magic.
If you aren't fortunate enough to live near a Trader Joe's, there are versions of cauliflower pizza crust on Amazon here
 and here
.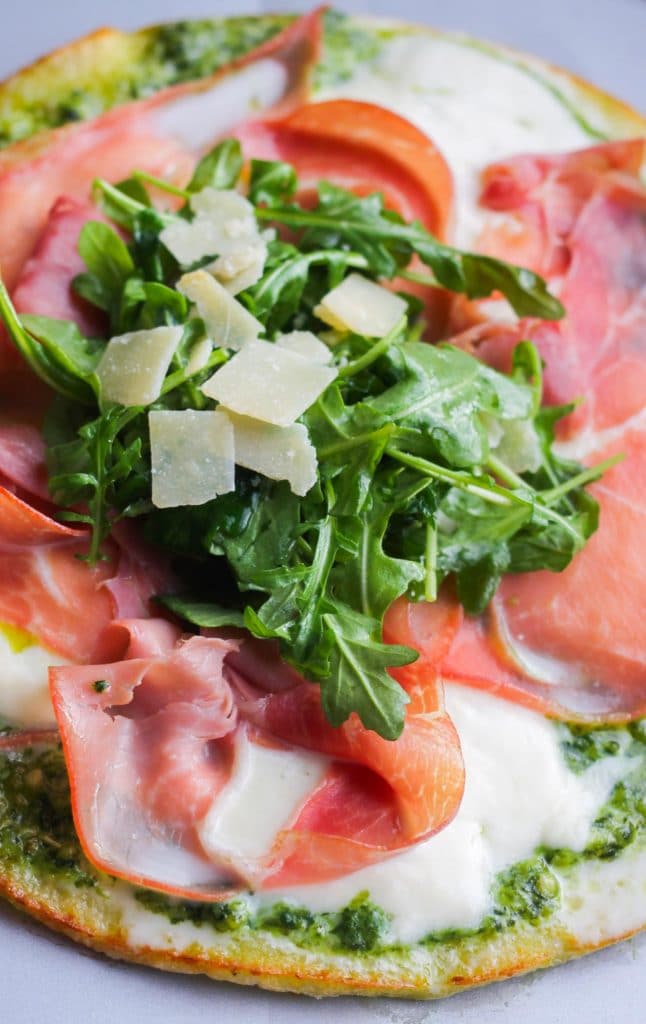 Cauliflower pizza crust is delicious no matter what you do with it, but I'm particularly fond of this Prosciutto Arugula Pizza with Cauliflower Crust.
The inspiration for this recipe came from Ranalli's in Chicago, one of my favorite sports bars in Lincoln Park that just so happens to have a Bachelorette party every Monday. They show the episode and offer discounts on sangria, wine and heart-shaped pizza. Could there be anything better?!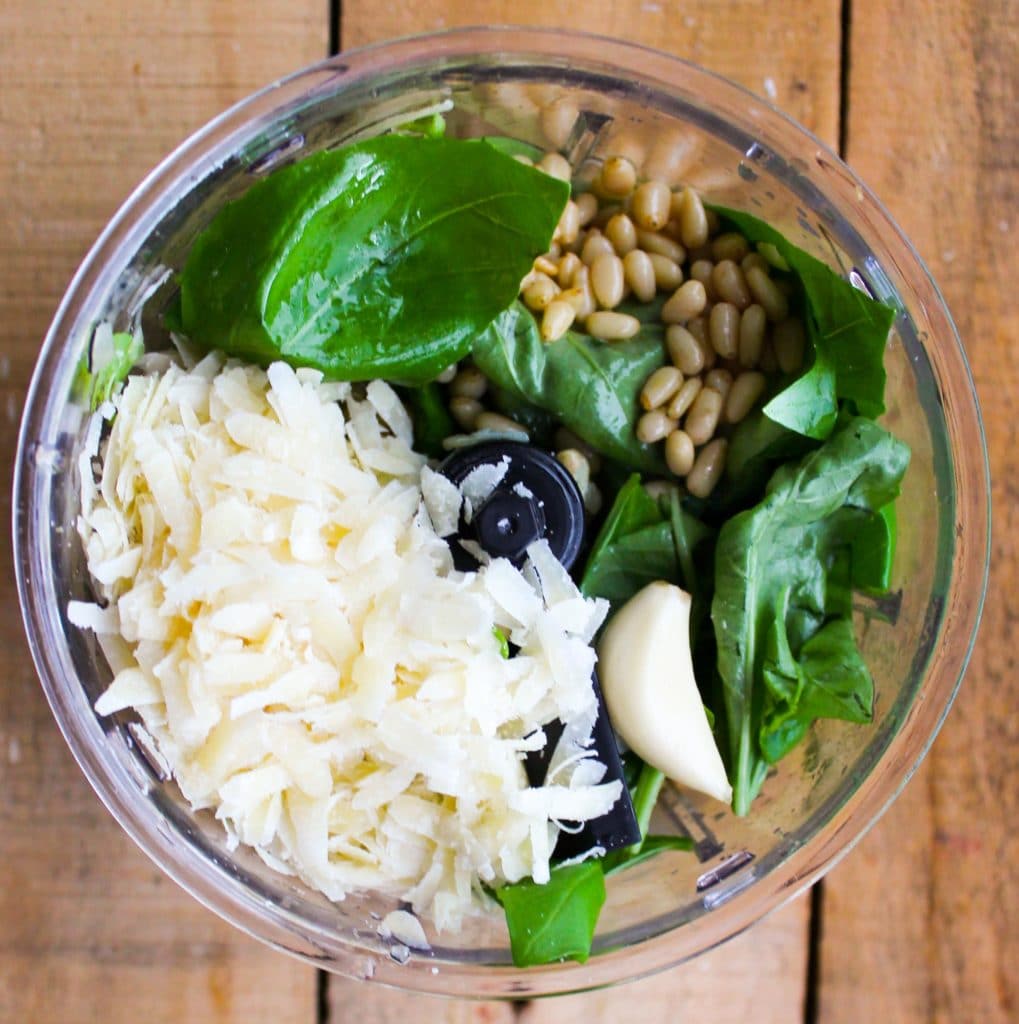 Homemade pesto is one of my favorite ways to spruce up a pizza. Pesto is one of the easiest condiments to make and it's just so dang good when you make it from scratch.
Green foods are the best foods amiright.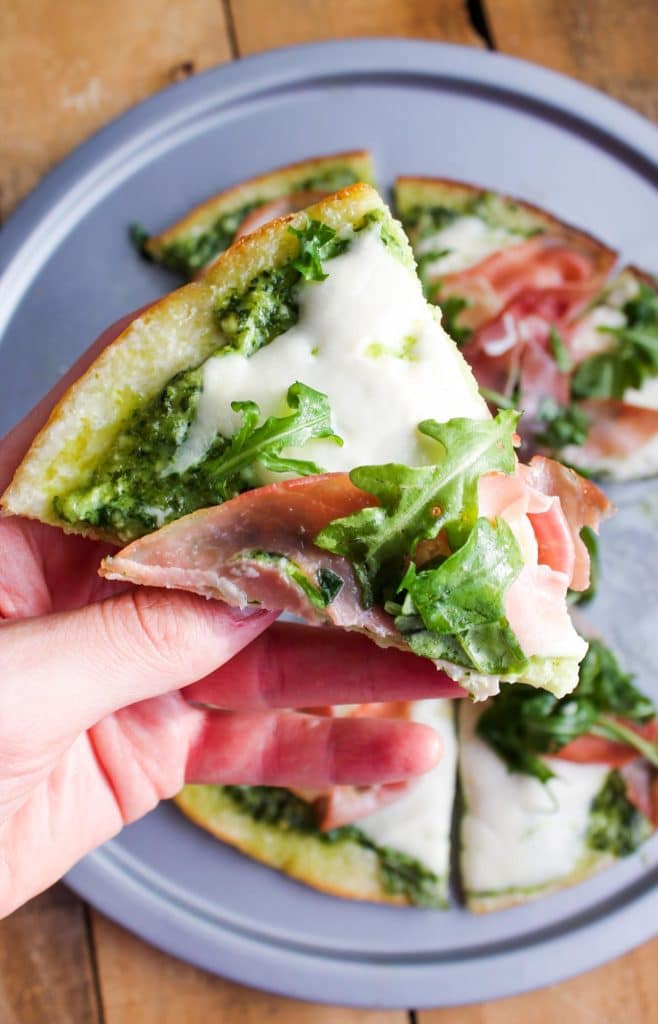 The combination of arugula, fresh mozzarella, and prosciutto made me feel like I was back in Italy again. (I wish).
One of the most winning components of Prosciutto Arugula Pizza with Cauliflower Crust is the lemony arugula that goes on top. It seriously takes the pizza to the next level.
If you have yet to try cauliflower pizza crust, I urge you to open to your mind to a low carb version of one of the best foods on earth! It's also very easy to make at home if you're feeling ambitious.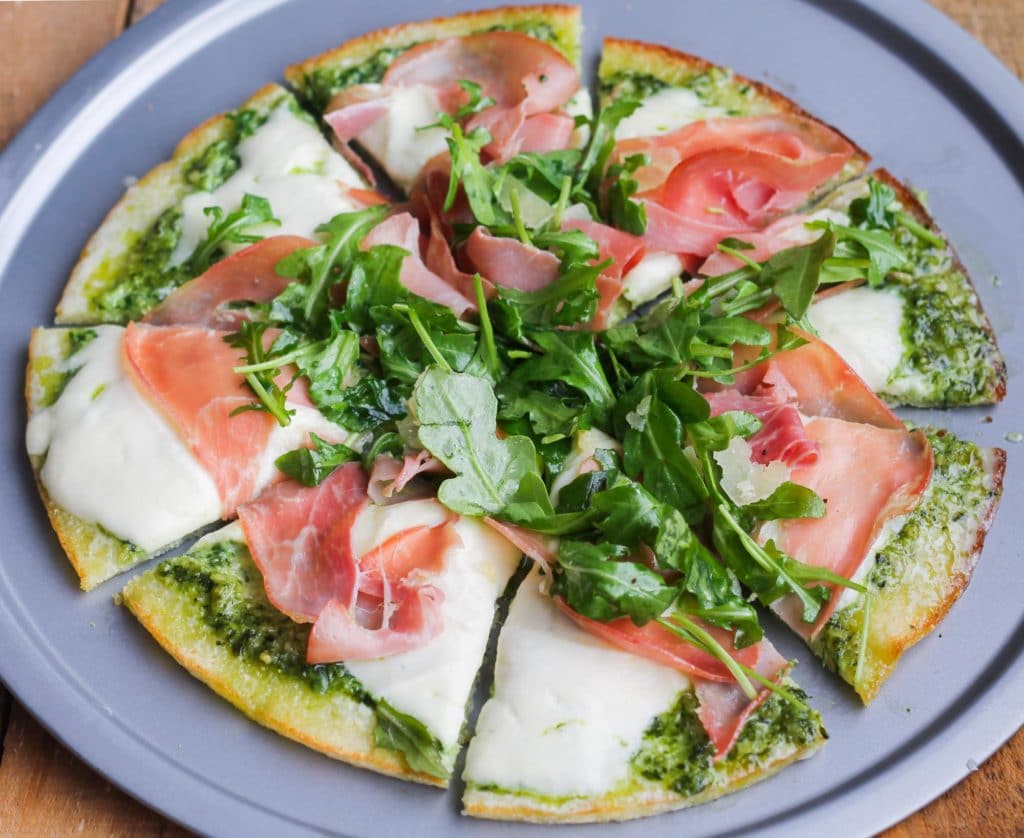 Prosciutto Arugula Pizza with Cauliflower Crust is an easy, healthier pizza recipe that feels gourmet! I hope you love it as much as I do.
Prosciutto Arugula Cauliflower Crust Pizza
Ingredients
For the pesto

2 cups fresh basil, stems removed
2 tablespoons pine nuts (or walnuts)
2 large cloves garlic
½ cup extra-virgin olive oil
½ cup freshly grated parmesan cheese

For the pizza

1 Trader Joes Cauliflower Pizza Crust
4 ounces fresh mozzarella, thinly sliced
3 ounces thinly sliced prosciutto
2 cups baby arugula
Juice of 1/2 lemon
1 tablespoon olive oil
Instructions
Combine all pesto ingredients in a food processor and blend until mixed.
Bake the cauliflower pizza crust according to box instructions.
Once the crust is nice and brown, spread it with pesto. Top with mozzarella and prosciutto. Bake for 5 minutes.
Meanwhile, mix arugula, lemon juice and olive oil in a small bowl.
Remove pizza from the oven, let cool for a couple minutes, and slice with a pizza cutter. Top with arugula and serve.
7.6.4
250
http://smilesandwich.com/2017/08/21/prosciutto-arugula-pizza-cauliflower-crust/