Mediterranean Chicken Bowls are a healthy meal prep recipe or easy weeknight dinner recipe that can be made in one sheet pan!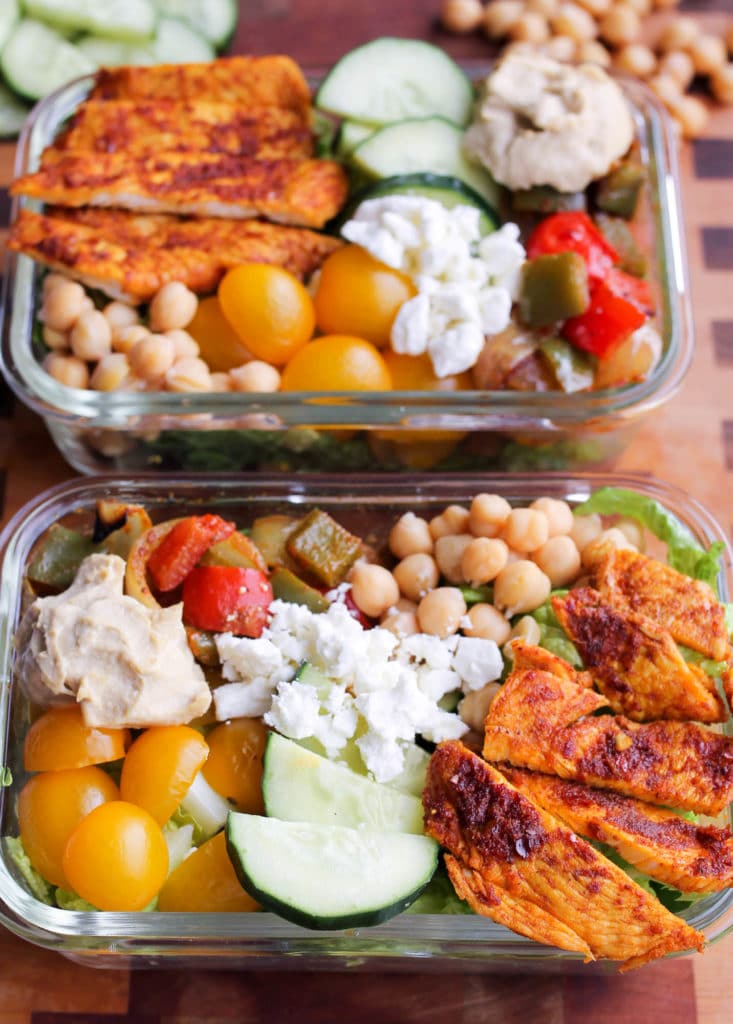 It's my first day back from Jamaica and I'm still missing the 85-degree weather here in the freezing temperatures of Chicago. We spent four days in Montego Bay for a wedding at the lovely Iberostar resort. In fact, I had so much fun that I barely have a single picture to show for it! Sometimes you just need to disconnect and live in the moment.
I love relaxing vacations because I always come back feeling refreshed and ready to jump back into my routine. First up on the to-do list: make these Mediterranean Chicken Bowls. Over and over and over again.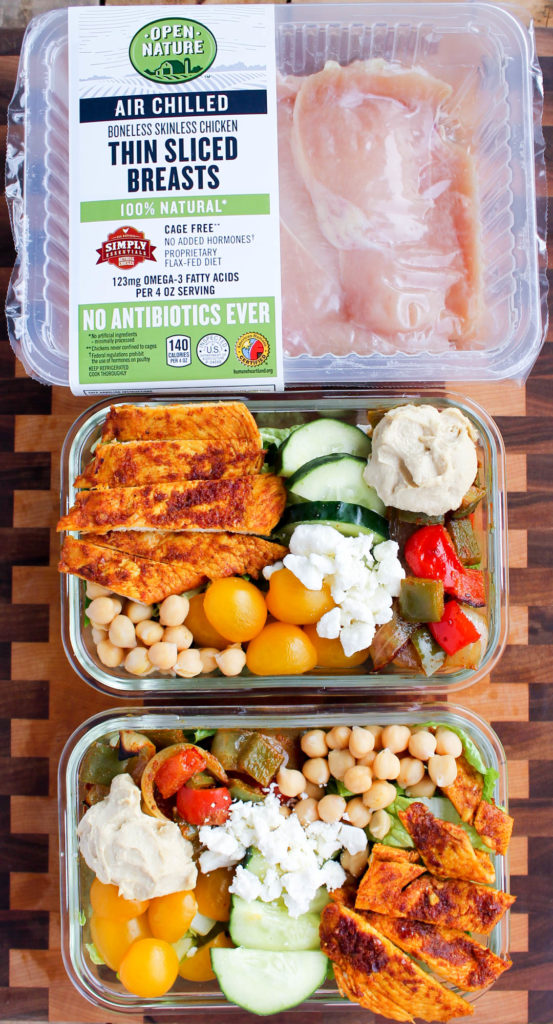 I'm pretty sure I now have a full blown obsession with Mediterranean food. It's becoming a bit easier in Chicago to find delivery that's actually healthy for you, but my go-to is still always Mediterranean food! (My favorites in Chicago are Olive Mediterranean Grill or Roti).
Mediterranean food is amazing because it's a combination of super flavorful chicken, fresh vegetables, and hummus (my favorite). How could you go wrong?!
Since my goal for this year is to cut down on the spending, I decided to try my hand at creating an at-home version of chicken shawarma that I can make for meal prep. Let's just say these Mediterranean Chicken Bowls are definitely going in the rotation.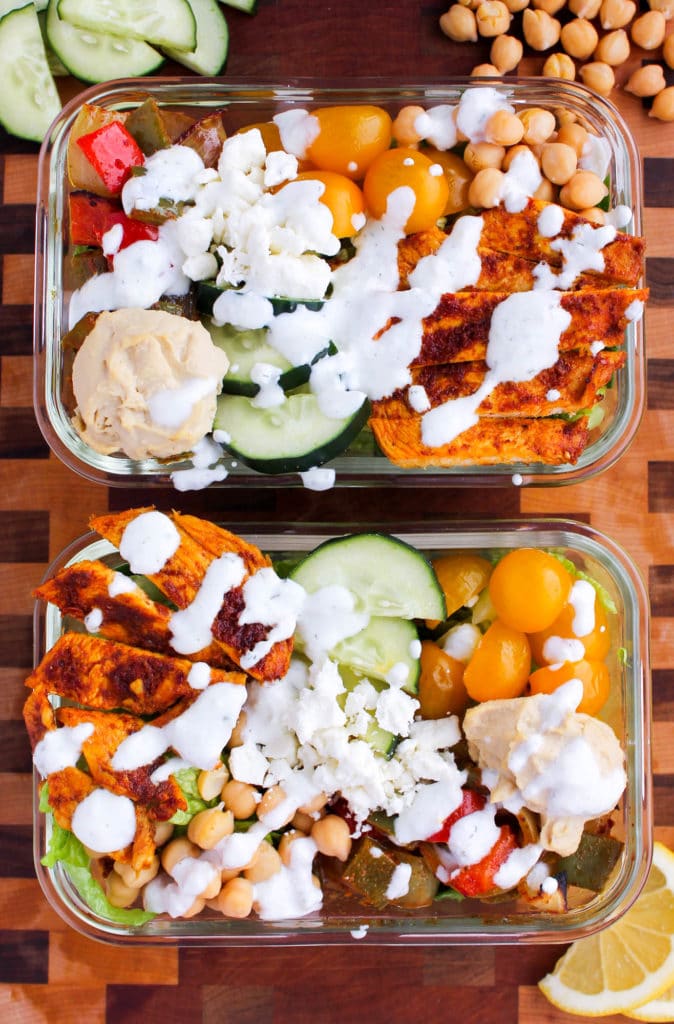 Have you guys heard of air chilled chicken?! Open Nature's new Air Chilled Chicken is cage free, no added hormones, and individually processed with purified air for great flavor. Plus, the chickens are fed a proprietary flaxseed diet, so it's up to 300% higher in beneficial omega-3's and 40% lower in cholesterol compared to conventional chicken.
I was so excited when I heard that Open Nature Air Chilled Chicken is available at Jewel Osco stores in Chicago, and was even more delighted by the fact that it's affordable!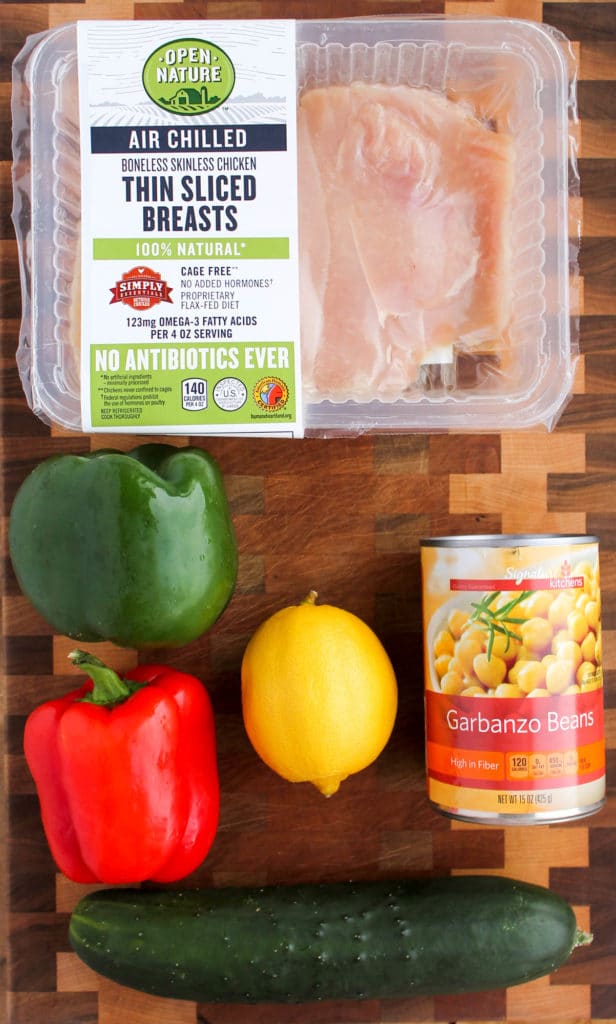 The thing I love about these Mediterranean Chicken Bowls is that they're so full of flavor and nutrients, yet they're so easy to make. The chicken and vegetables get baked all together on one sheet pan, then the bowls can be easily assembled for quick dinners or even meal prep.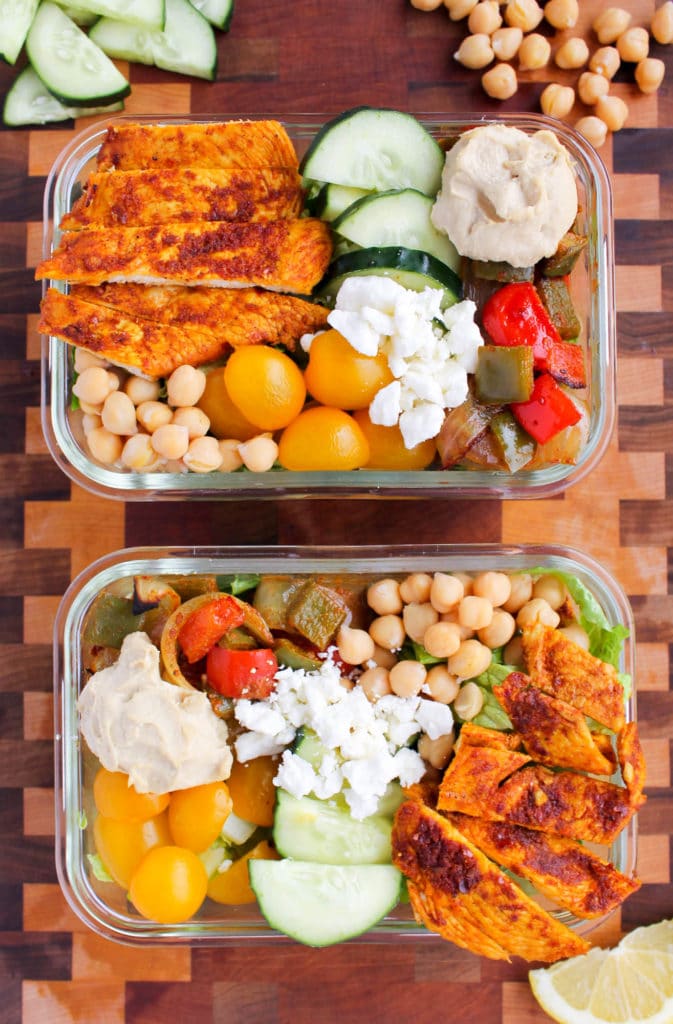 When I meal prep this recipe, I pack the chicken, onions and peppers separately so I can microwave them independently of the cold ingredients. Just nuke them for a minute, add them back to your bowl, and go to town!
If you're in the Chicago area, check out your local Jewel-Osco store to purchase the Open Nature Air Chilled Chicken.
Mediterranean Chicken Bowls
Ingredients
For the chicken:

1 pound Open Nature® Air Chilled Chicken breasts, thinly sliced
2 teaspoons smoked paprika
1/2 teaspoon turmeric
2 teaspoons cumin powder
1/2 teaspoon cinnamon
1 teaspoon red pepper flakes
2 teaspoon ground black pepper
1 teaspoon salt
2 lemons, juiced
1/2 cup olive oil
4 cloves garlic minced
1/2 large onion, sliced
1 green bell pepper, sliced
1 red bell pepper, sliced

For the bowls:

Romaine lettuce, chopped
1 cucumber, sliced
1 cup cherry tomatoes, sliced
1/4 cup feta cheese, crumbled
1/2 cup chickpeas, drained and rinsed
1/2 cup hummus of your choice
1/4 cup tzatziki sauce (store bought or homemade)
Instructions
Preheat oven to 425 degrees F.
In a large bowl, combine all spices, lemon juice, olive oil and garlic. Place the chicken in the bowl with the marinade, cover and refrigerate at least 30 minutes or up to overnight.
Add onion and peppers to the marinade bowl and mix everything to combine.
Spray a baking sheet with cooking spray. Arrange chicken, onions and peppers on the baking sheet. Bake until the chicken is cooked through, about 20-25 minutes. Remove from oven and slice the chicken.
To arrange bowls, fill four bowls with romaine lettuce. Divide amongst each bowl the chicken, onions and peppers, cucumber, tomatoes, chickpeas, feta, and hummus. Top with tzatziki sauce and serve!
Note: If you'd like to make this recipe for meal prep, pack the chicken and peppers in a separate container to easily reheat independent of the remaining bowl ingredients.
7.6.4
266
http://smilesandwich.com/2018/02/02/mediterranean-chicken-bowls/
This is a sponsored conversation written by me on behalf of Albertsons Companies. The opinions and text are all mine.