Let's get things started with a little recipe I like to call … shrimp stir-fry. Sorry if you got excited for a catchier recipe name – I'll leave those up to the Hungry Girl. But one great thing about stir-fry is it takes about as much effort as whipping up a PB&J, or frozen pizza, or cereal, or any other food you could possibly make on the fly that has little-to-no nutritional value. Because let's face it, college women like their recipes like men like their college women: easy. Bad joke? Moving on.
Why, you ask, should you learn to perfect the Asian staple?
It's like the perfect boyfriend: straightforward, uncomplicated and never lets you down – and you can add personality with just a flick of the wrist, sure to satisfy varying stir-fry tastes. (However, unlike the perfect boyfriend in that it's cheap).
Even those who live by the mantra "once dinner is over it's over" make an exception for Chinese leftovers. Store some for lunchtomorrow, and I promise it will still taste good after a 1-minute zap in the old microwaver. BAM two-for-one meal deal, and I'm just getting started. You're welcome.
What you'll need:
Frozen stir-fry vegetables – seriously who measures vegetables; throw a couple servings in a pan and put the rest back in the freezer.
Shrimp, chicken or other protein, cut into stir-fry sized pieces. One serving is about the size of a deck of cards. If you want lunch, you're going to want two decks of chicken.
Sesame oil
Soy sauce – get the less sodium, for your health.
Quinoa, prepared per package directions with low sodium chicken broth.
Quinoa is a grain to be reckoned with – it has one of the highest protein counts of its kind. If you just can't bring yourself to appreciate the glory that is the nutty super-grain, go for brown rice. Baby.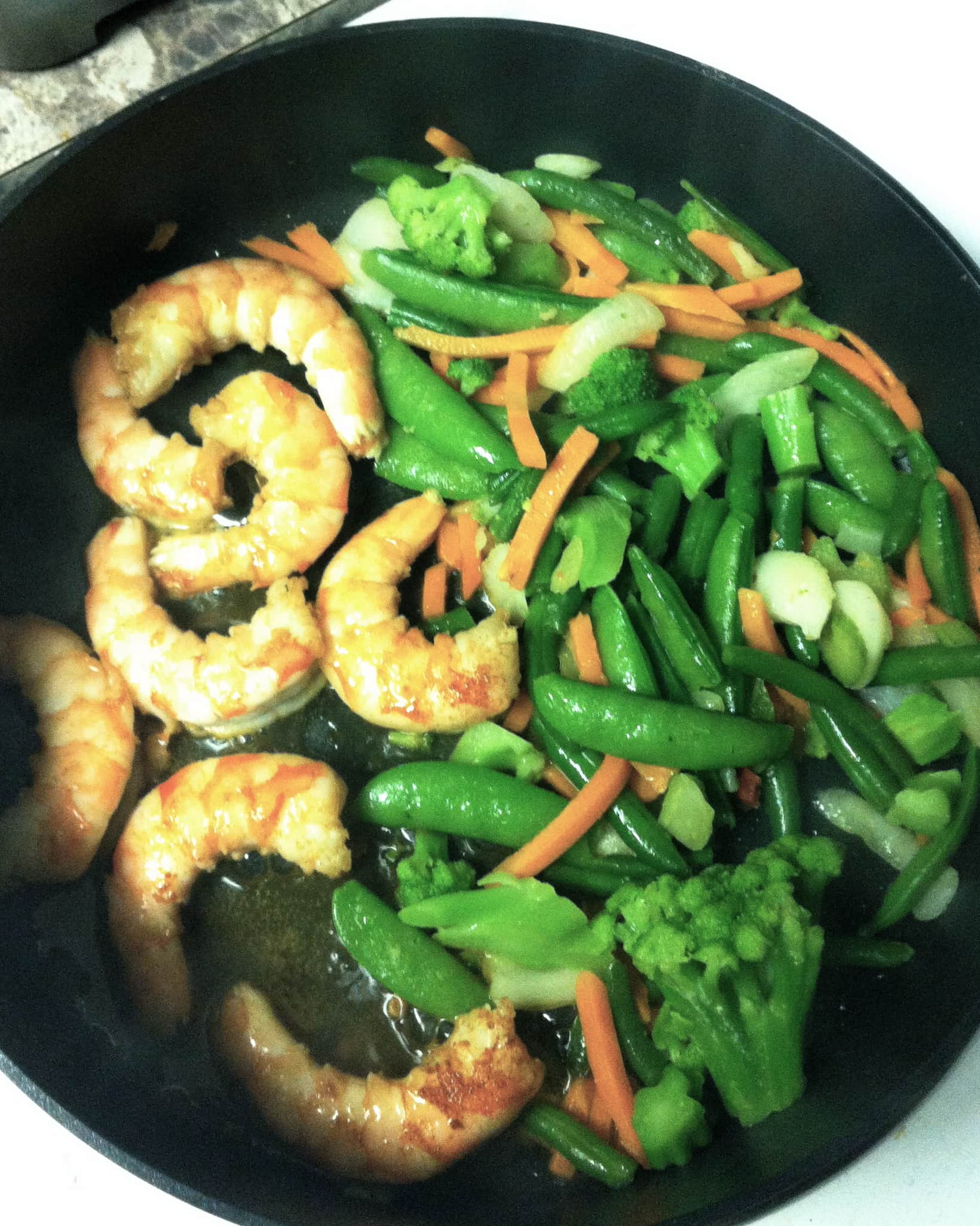 What you'll do:
1. Heat a quarter-sized amount of sesame oil in a pan. Don't skip this step! Just a little bit goes a long way to making your whole kitchen smell good enough to make your roommates hover.
2. Add the shrimp, cook until just under fully done, set aside. If you want to get fancy, marinade the chicken in some soy sauce first. But let's be honest, I can barely remember to thaw my chicken most days.
3. Now comes those vegetables – cook 'em until your fork goes in them without much budge.
4. Put your chicken back in, add some soy (once again, not a fan of tablespoons – or measuring cups for that matter), and let it all enjoy eachother's company enough to fall in love and make a family of deliciousness – like 3 minutes (it's love at first site – you're hungry!)
Since every girl has her own taste in guys – er, stir-fries – here's some variations.
The Jock: let's make this as simple as possible
Instead of sesame oil + soy sauce, stir your fry and add in sesame ginger dressing at the end (but no need for marriage, remove it from the pan right away). I like Newman's Own Lighten Up! Low Fat Sesame Ginger – 2 tbsp is 35 cals, 4g sugar, 390mg sodium, and a wealth of flavor.
The Rebel: one word: hot
Soy + peanut butter + sriracha. Mix them together, throw them in.
The Nice Guy: this one has a sweet side
Use mixed bell pepper stir-fry and add pineapple chunks! One site suggested lubing it up with soy sauce + ketchup + brown sugar. Haven't tried this one, let me know how it goes.