Spoiler alert: I'm a genius.
Okay fine, maybe I'm not the genius, but whoever thought of this definitely is. I've seen recipes for barbecue pulled chicken stuffed sweet potatoes floating around and always wanted to give them a try. I mean, I like BBQ chicken and I like sweet potatoes, so why not stuff them together and call it lunch?!
Don't be scared. If you're one of those people who can't stand the thought of your food touching on your plate (you know those people I'm talking about) then this may not be the recipe for you. But trust me, the combination of the sweetness of the BBQ sauce (Sweet Baby Ray's, duh. As if you had a choice?!) and sweet potatoes is comforting and delicious.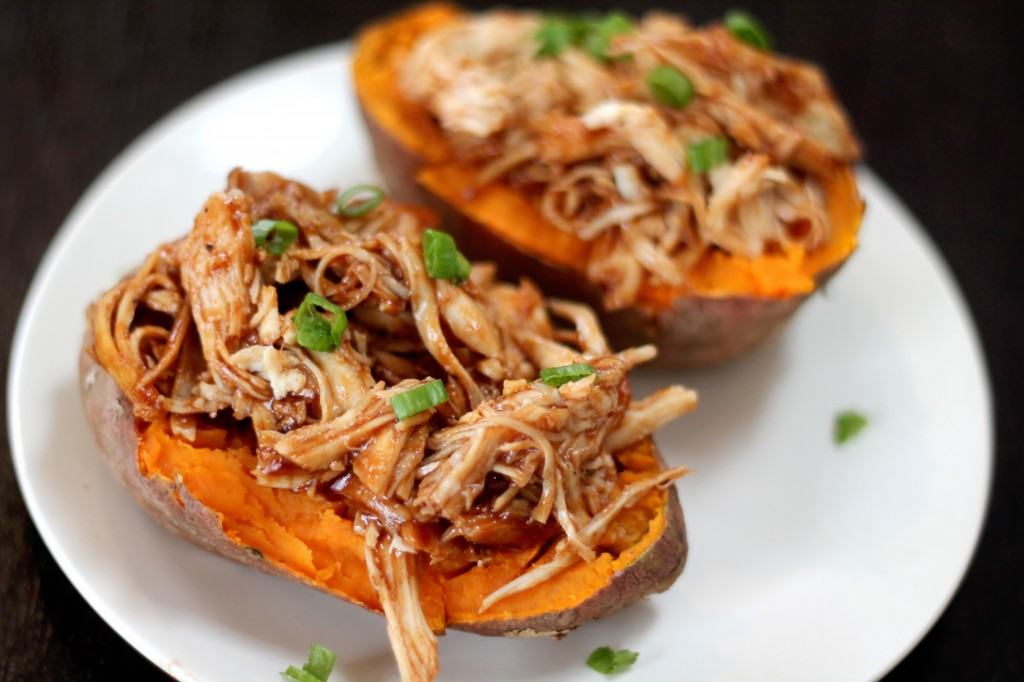 If you close your eyes, you can just imagine yourself eating this meal at a friendly barbecue party …. instead of cuddling up with it in your kitchen during a snow day. Sigh.
Even if you're cooking for one like me, I would advise you to learn how to cook whole chickens. The thought of man handling an entire bird (they're alarmingly heavy) is a little scary, but roasting a whole chicken is budget-friendly and super convenient! Pop the chicken in the oven (or slow cooker) one night and have it for dinner. Then, use the leftovers to make awesome creations LIKE THIS ONE.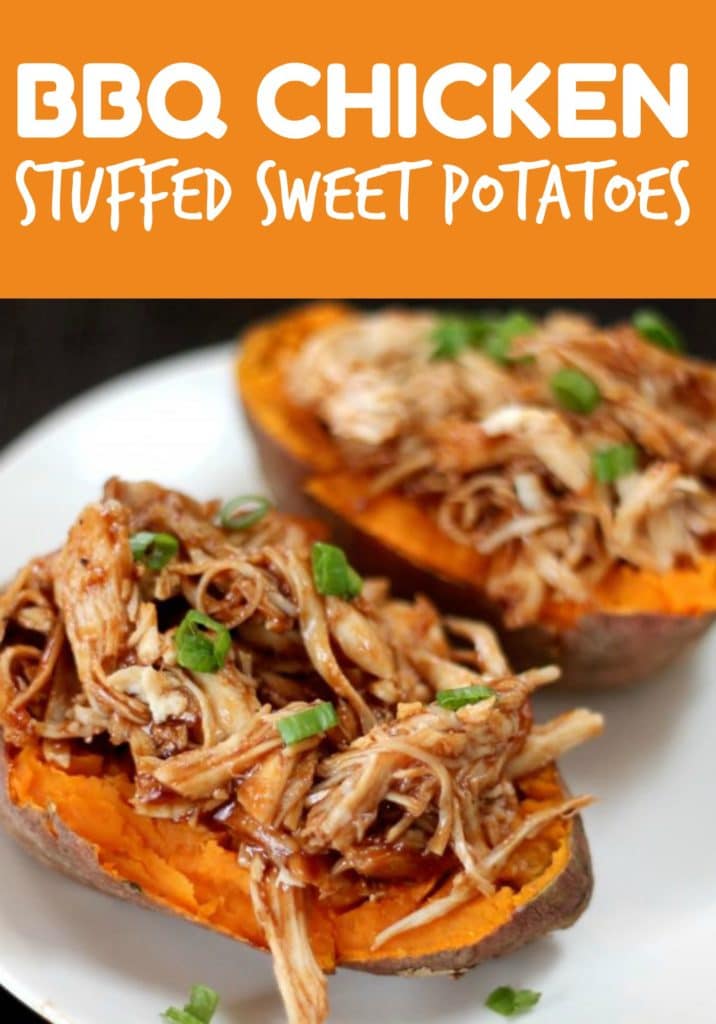 Barbecue Chicken Stuffed Sweet Potatoes, The Lazy Way
Serves: 2 for lunch, 1 for dinner
What you need:
1 sweet potato
2 cups chicken, cooked and shredded
Your favorite barbecue sauce, to taste
Green onion
What you do:
1. Wash your sweet potato and stab it with a fork a couple times. Wrap it in  a paper towel and microwave for 5 minutes or until easily pierced with a fork; turn it over halfway through cooking.
2. Mix the chicken with your desired amount of barbecue sauce. (I went light so it was a bit healthier). Cover and microwave for 2 minutes.
3. Cut the sweet potato in half and top with chicken and green onion.
Barbecue Chicken Stuffed Sweet Potatoes, The Better Way
(This way takes more time, but it tastes better of course)
1. Place 4 boneless, skinless chicken breasts in your slow cooker. Cover with a generous amount of your favorite barbecue sauce (about 2 cups). Cook 5 hours on LOW or 2 1/2 hours on HIGH.
2. Remove chicken from slow cooker and shred with two forks. Assemble the sweet potato as instructed above.
I think you might also like ….
Breakfast Stuffed Sweet Potatoes