Amish One Pan Ground Beef and Cabbage Skillet is one of my favorite ground beef and cabbage recipes that's budget-friendly, uses just a few ingredients and is made in one pan – so little clean-up and it's practically fool-proof.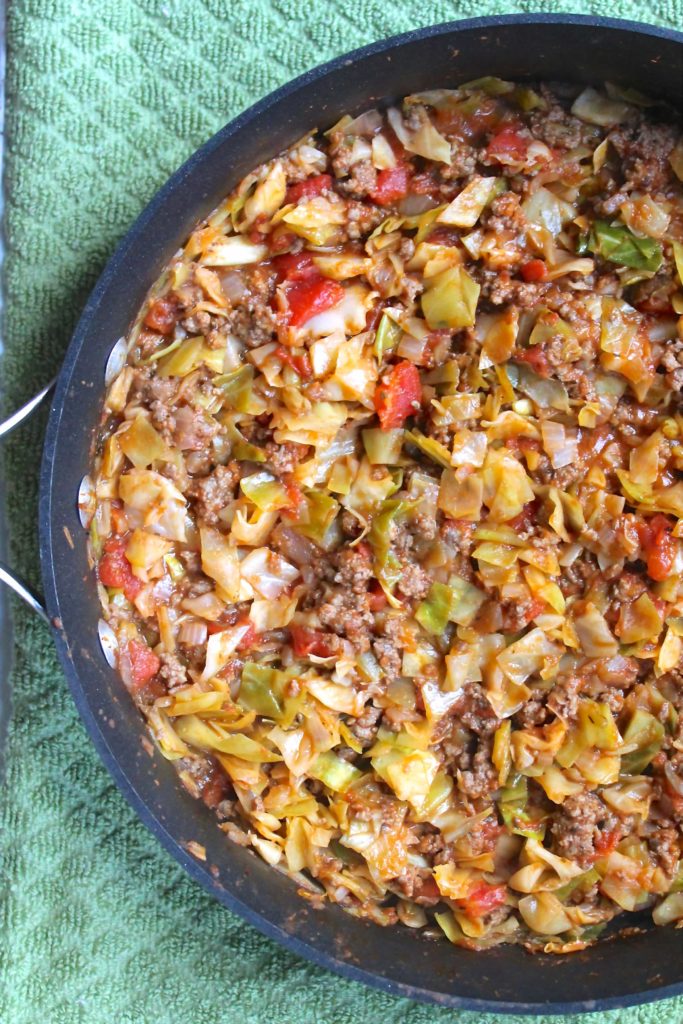 I call this ground beef and cabbage recipe an Amish recipe because it's inspired by their simple lifestyle and comforting recipes. Every time we visit our family's cabin in Montello, WI, I always have to make a stop at the Amish bakery and grocery store.
They make the most amazing cinnamon rolls, yogurt-covered pretzels, and pies homemade every day. Plus, the Amish lifestyle is completely fascinating to me.
There's a small farm there that sells fresh produce from their garden, and rather than monitoring it all day, they simply set everything out in a shed and ask shoppers to leave money in a wooden box. HONESTY AND TRUST STILL EXISTS.
We've heard the farm is trying to raise money for a small girl's Leukemia treatment, but we don't exactly know if that's true.
Nonetheless, I picked up a head of cabbage and a bunch of onions from the Amish farm, along with some grass-fed ground beef from the Madison farmer's market, and by golly I made Amish One-Pan Ground Beef and Cabbage Skillet.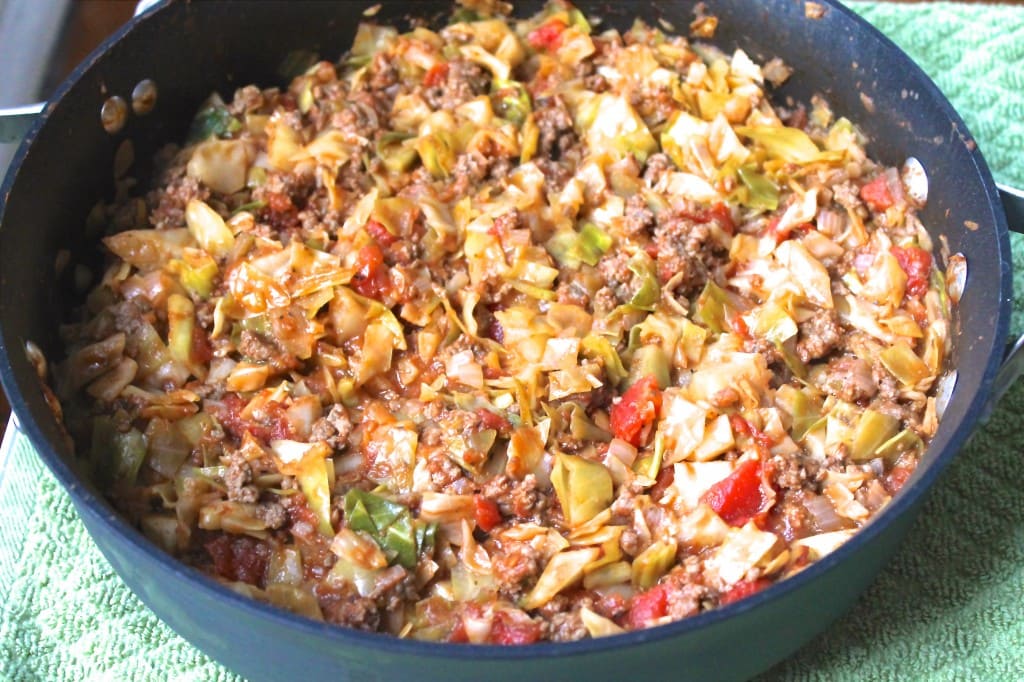 Ground beef and cabbage recipes are a great combination because they're hearty and budget-friendly. This recipe reminds me of a deconstructed stuffed cabbage rolls.
If you turn your nose up at cabbage before … you've gotta trust me on this one! The beauty of cabbage and ground beef recipes is that they're budget-friendly and super delicious.
This whole thing will take you about 30 minutes and is hearty enough to eat for dinner! It's also great as leftovers, and might even taste BETTER the next day.
It may not be the prettiest of all dinner recipes, but even the pickiest eaters will gobble this Amish One-Pan Ground Beef and Cabbage Skillet up.
If you've never tried ground beef and cabbage recipes, definitely give this one a chance. Not only is it budget-friendly, but it's healthy and delicious when combined with ground beef and tomatoes.
Also try a lighter version of this recipe with ground turkey!
Amish One-Pan Ground Beef and Cabbage Skillet
Ingredients
1 pound grass-fed ground beef
1 onion, chopped
1/2 - 1 head cabbage, chopped
1 tablespoon butter
1 clove garlic, minced
1 (14.5-oz) can diced tomatoes
1 (8 oz) can tomato sauce (I've even used pasta sauce)
salt and pepper, to taste
Instructions
In a large pan, brown ground beef until no longer pink. Add onion and continue cooking until translucent. Drain extra fat if needed (or leave it and don't use the butter). Add garlic and continue cooking for 1 minute.
Add butter, cabbage, tomatoes, tomato sauce, salt and pepper to the pan and stir to combine. Cover and simmer about 20 - 30 minutes until the cabbage is soft.
7.6.4
36
http://smilesandwich.com/2014/07/25/amish-one-pan-ground-beef-and-cabbage-skillet/
Looking for more low carb dinner recipes?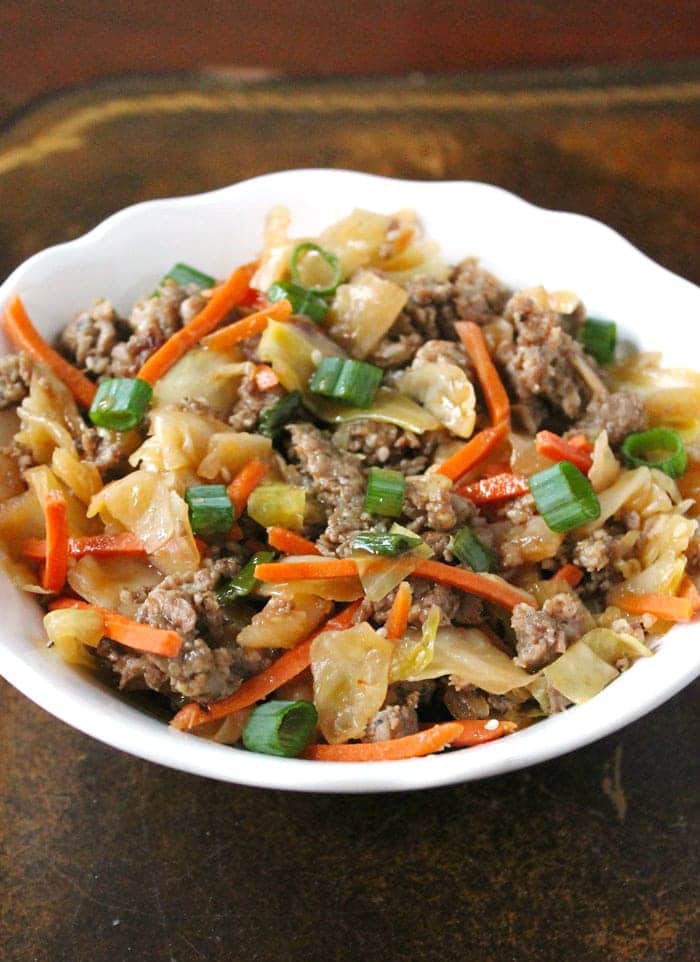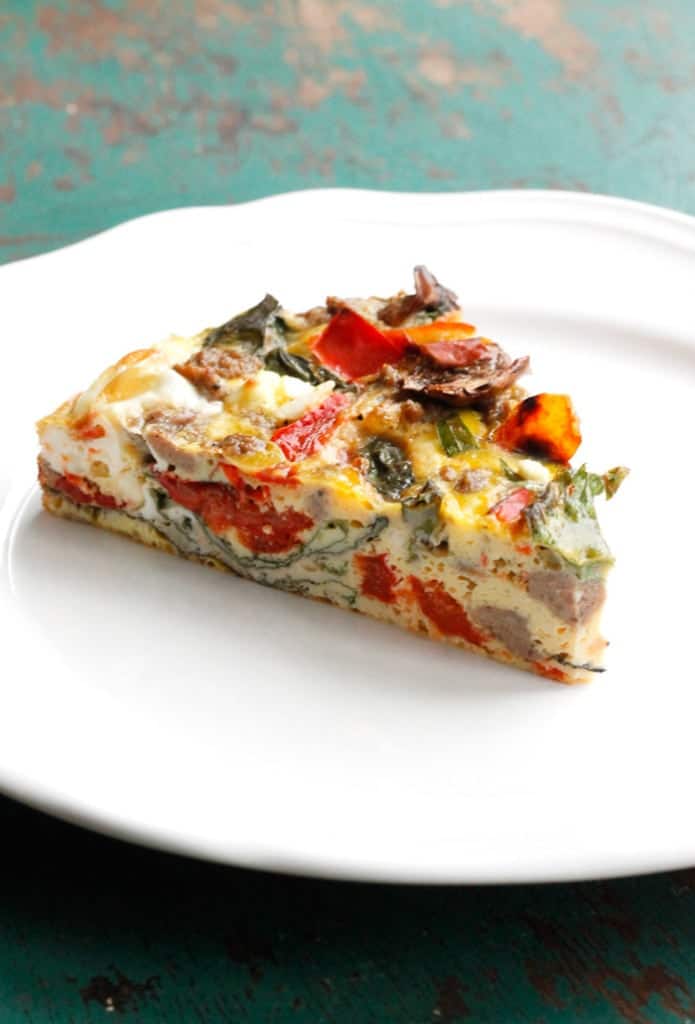 Garden Vegetable, Sausage and Feta Crustless Quiche