This Slow Cooker Pizza Chicken has all the flavors of pizza, in a low-carb and super easy slow cooker chicken recipe. If you're looking to curb those pizza cravings, this dinner recipe is a must-try.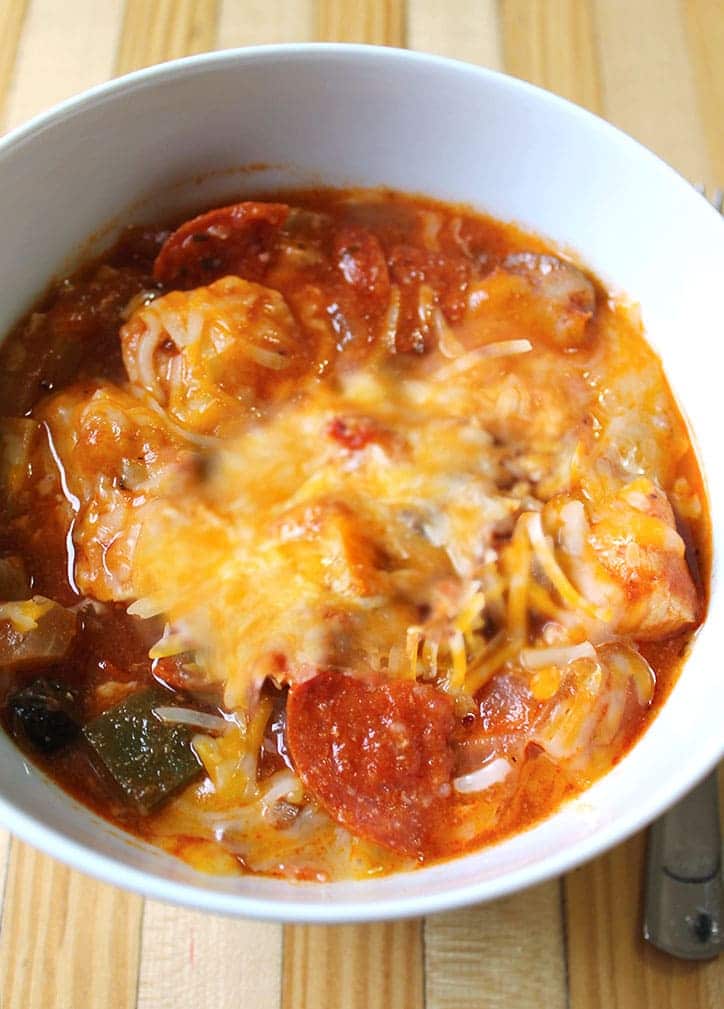 I think I might be obsessed with slow cooker meals … particularly, slow cooker chicken recipes.
When you're too busy to stir something on the stove, or wait for something to bake in the oven, throwing dinner in a slow cooker is just so convenient.
This Slow Cooker Pizza Chicken takes convenience to the next level because it requires just 4 basic ingredients and no prep time! Just chop everything up, dump it in the slow cooker, and let it do its thing.
Slow Cooker Pizza Chicken is a low carb recipe that has all your favorite pizza ingredients – pizza sauce, pepperoni, and cheese – yet it's healthy for you! I love the combination of tender chicken, spicy pepperoni, and a few vegetables to boot.
Another thing I love about slow cooker chicken recipes is that they're so customizable. Feel free to throw in anything you want – black olives, green pepper, onion, mushrooms … there are endless possibilities.
Serve this clean eating recipe for dinner and I bet even the pickiest eaters will enjoy it. Slow Cooker Pizza Chicken would be great served over rice, pasta, or just in a bowl by itself.